Al Capone's Ritzy Miami Estate With a Private Beach Is for Sale for $15 Million. See Inside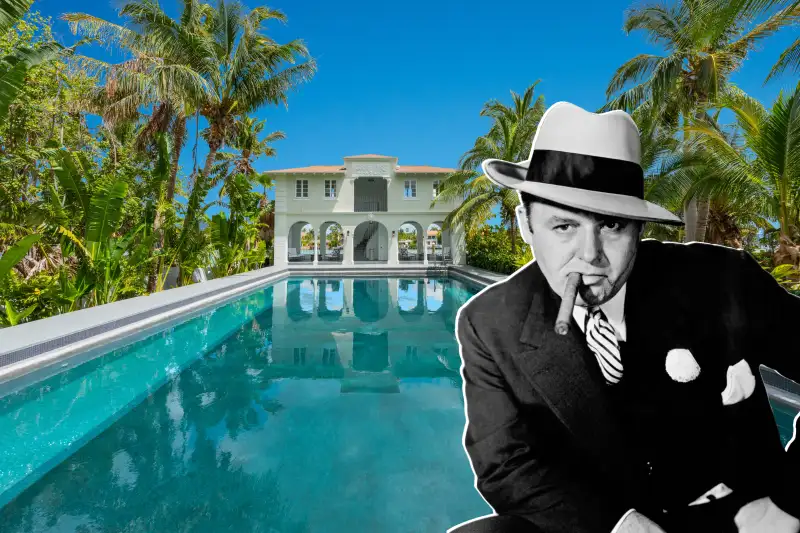 (Al Capone) Getty Images; (mansion) Felipe Ariano
Al Capone's Miami Beach estate -- complete with private beach and gatehouse once outfitted for armed guards -- is on the market for $14.9 million.
The recently restored Palm Island estate overlooking Biscayne Bay is comprised of three buildings: a 3,700-square-foot villa, a two-bedroom gatehouse and a waterfront cabana set against a 100-foot private beach. The notorious Chicago mob boss purchased the property in 1928 for $40,000 -- the equivalent of about $575,000 today.
While Capone was jailed for tax evasion in 1932, he returned to his Miami Beach estate following his release in 1939, eventually passing away in one of its bedrooms in 1947. Throughout his 20-year ownership of the home, Capone spent $100,000 ($1.46 million today), on property renovations, according to state tourism website Visit Florida.
Many of those commissioned renovations, from the oversized swimming pool to the gatehouse, which originally served as a house for guards, and cabana, are included with the sale of the recently restored estate.
"In Miami Beach, there's a lot of people buying homes and tearing them down," says Nelson Gonzalez, a broker with EWM Realty International and the home's listing agent. "but over the years, people have kept this house intact."
The estate has changed hands several times over the past decade, last selling for $7.9 million in 2014. The property underwent a restoration in 2015, according to the agency listing 93 Palm Avenue, during which time the gatehouse was converted into a guest house and original features, like a red coral bridge, Art Deco powder room and porch were preserved.
Take a look around Capone's lavish former estate in the photos below:
(The main villa measures 3,700 square feet. An earlier version of this story put the figure at 6,000 square feet. That is the total for all three buildings.)