How Emma Stone Dropped Out of High School and Became the World's Highest Paid Actress at Just 28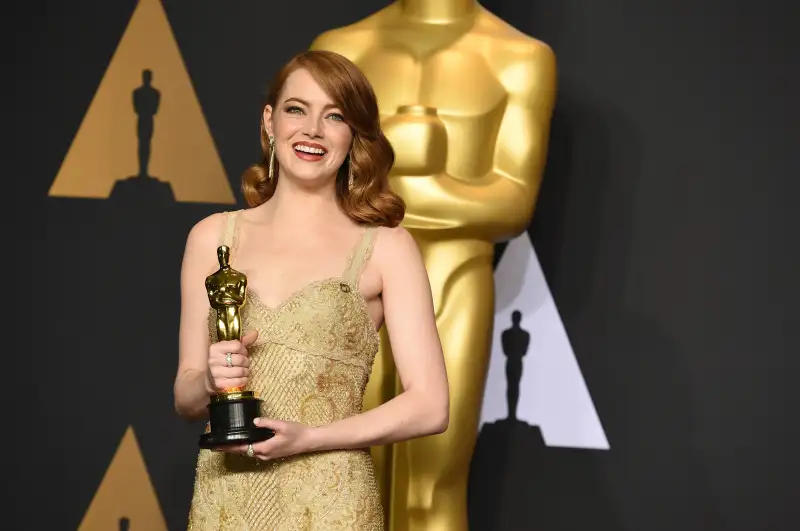 Jordan Strauss—Invision/AP
It seems like the world just discovered Emma Stone, and in fact it wasn't so long ago. The actress's breakout leading role in 2010's Easy A earned her acclaim and a lot more interest in Hollywood. Only seven years later, she won her first Academy Award for La La Land, and propelled herself to being the highest-paid actress in the world, according to Forbes' new list, which reports that she earned $26 million between June 1, 2016, and June 1, 2017. Here's the unlikely story of how the 28-year-old climbed the movie business's ladder so quickly.
She was a nervous child with panic attacks.
M. Tran—FilmMagic/Getty Images
Emma Stone grew up far from Tinseltown, in Scottsdale, Arizona, the daughter of a homemaker mother and a contractor father who successfully started his own company. Despite a loving home environment, Stone says she was an extremely anxious child with debilitating panic attacks. "My brain naturally zooming 30 steps ahead to the worst-case scenario," she told Rolling Stone . "When I was about seven, I was convinced the house was burning down. I could sense it. Not a hallucination, just a tightening in my chest, feeling I couldn't breathe, like the world was going to end. There were some flare-ups like that, but my anxiety was constant."
But she was an instant performer.
In addition to therapy, performing helped Stone calm her anxiety. She gave her first performance at age six, in a Thanksgiving-themed school musical called No Turkey for Perky. She eventually joined the local youth theater community and was homeschooled for two years. Her first stage role was in a production of The Wind in the Willows.
She ditched high school and headed for Hollywood.
Patrick McMullan—Getty Images
Stone entered an all-girls Catholic high school, but dropped out after only one semester to pursue an acting career. To convince her parents that she should move to Los Angeles, she made a PowerPoint presentation called "Project Hollywood," which was set to Madonna's song "Hollywood." It worked: At age 15 in 2004, she moved to an LA apartment with her mom.
She bombed her All That audition, but Superbad paid off.
Instead of going to school, Stone enrolled in online courses. Meanwhile, after a failed audition for Nickelodeon's sketch-comedy show All That, her career started taking off. She gave standout performances in Superbad and Zombieland. She doesn't regret skipping out on the school experience. "I did Superbad in what would've been my senior year," she told Vanity Fair. "I was playing a senior, and had I graduated I would've missed that opportunity, and had I missed that opportunity I wouldn't be here right now."
Easy A was a major turning point.
Adam Taylor/Screen Gems—courtesy Everett Collection
The 2010 comedy Easy A put Stone in another category. Her comedic chops, presence, and charm made the small-budget movie a commercial and critical hit. Stone then won over wider audiences with roles in The Help, The Amazing Spider-Man opposite Andrew Garfield (the two also dated), and Birdman, which won the Best Picture Oscar in 2015, and for which Stone got a Best Supporting Actress nomination.
Stone is "modern," but also "timeless" in the musical La La Land.
©Lions Gate/Courtesy Everett Collection—©Lions Gate/Courtesy Everett Collection
Stone then stepped up to sing in the 2016 modern musical La La Land. She admitted she was nervous to test her musical talents, but director Damien Chazelle was convinced that she was the right choice. "I needed someone who'd make the traditional musical feel relevant and accessible to people who think they don't like musicals," he told Rolling Stone. "Emma's very modern, but there's a timelessness to her, too."
She also clinched her first Oscar with La La Land.
La La Land was a leading awards contender and grossed $445.3 million globally at the box office. Stone won her first Best Actress Oscar for the role opposite Ryan Gosling. She plays Mia, a would-be actress working as a barista in LA. "I moved here when I was 15 to start auditioning. I knew what it felt like to go on audition after audition," she said after winning the Oscar in 2017, likening herself to the character.
Now she's in a feminist tennis movie with Steve Carell.
Melinda Sue Gordon—Fox Searchlight Pictures/courtesy of Everett Collection
Stone's latest role is in Battle of the Sexes (released September 22), which retells the story of the 1973 tennis match between Billie Jean King (Stone) and ex-champ Bobby Riggs, played by Steve Carell. Stone says she "put on 15 pounds of muscle" for the film, which has feminist overtones.
And she's making bank.
She's also shot up into a new income bracket, with help from her post-La La Land visibility. Stone's $26 million earnings make her the top-paid actress in the world, ahead of high-wattage stars like Jennifer Aniston and Jennifer Lawrence, according to Forbes.