Entry-Level Jobs Are Non-Existent Right Now. What's a New Grad to Do?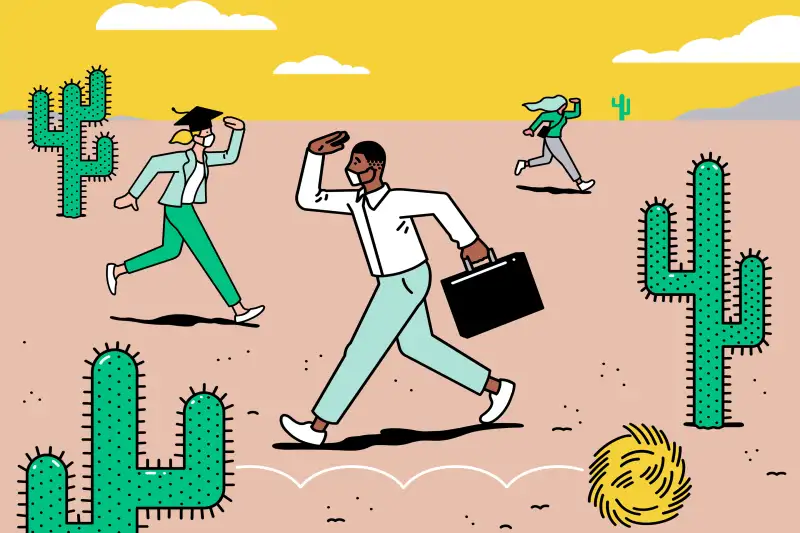 Vanessa Rivera has dreamt of working as an elementary school teacher for years.
When the 25-year-old graduated from California State University Los Angeles this spring with a shiny new degree in child development, she expected to do precisely that. Then COVID-19 threw her a curveball.
Rivera needs to log hundreds of "classroom experience" hours before she can get her teaching certification, which is going to be pretty difficult this fall, since schools in Los Angeles County aren't planning to fully reopen anytime soon.
At first, Rivera thought she could still get a job as a teacher's assistant, or maybe tutor at an after-school program, but she's only found a few openings so far. She got furloughed from a retail gig at the start of the pandemic, so she's now relying on unemployment benefits to make ends meet.
Rivera lives with her father and grandmother, who are at high risk for a severe infection if they catch the coronavirus, she says. So when she finally starts interviewing for jobs—whenever that may be—she'll have to carefully consider every offer.
"I don't know if I want to go out into a setting where I'm putting myself at risk, and then in turn putting my family at risk," she says.
Recent college graduates like Rivera face one of the shakiest job markets in generations. Unemployment rates are high across industries, but newcomers to the workforce are bearing the brunt of the burden. A recent analysis by Glassdoor found that the number of job ads containing the phrases "entry-level" or "new grad" declined 68% in May 2020 compared to last year.
Internships, long considered the be-all-end-all to providing students with real-world experience, also aren't a reliable bridge to employment these days.
According to a CareerUp survey of 2,000 internship applicants, more than 50% of summer internships were canceled this year because of COVID-19.
Lauren McCabe, a recent University of Central Arkansas graduate, worked two part-time internships this year. She'd hoped one of those gigs, a paid marketing internship at an equipment manufacturing company in Conway, Ark., would hire her full-time, but the company just instituted a hiring freeze.
McCabe, 22, says she makes about $1,000 a month without benefits, which is barely enough to make her $730 monthly rent. She's applied to more than 200 marketing jobs over the last five months.
"I haven't really had any luck so far," McCabe says.
Despite all the challenges, opportunities do exist for the class of 2020, says Maggie Tomas, director of the Graduate Business Career Center at the University of Minnesota.
Interviewing and networking is mostly virtual now, and employers have embraced remote work.
"Students are less tied to an actual physical location in a way that they never have been before," Tomas says. And that's opening doors for entry-level workers across industries.
Some new graduates are re-routing their career paths based on industries that are still hiring right now, like tech, sales and health care. Nearly 30% of internship applicants told CareerUp they were considering changing careers due to COVID-19.
Others are using volunteerism and social activism to help their resumes stand out. The rise of Black Lives Matter protests, as well as the pandemic itself, has inspired young people to donate their time to mask-making initiatives, local food banks, and other community service efforts, Tomas says.
In the absence of career opportunities, many new graduates are trying to create their own.
That's the route Ethan Udell, a 22-year-old psychology major who graduated from Duke University in May, is taking.
In school, Udell headed Duke's student-run record label and recording studio and spent his summers interning at record labels, marketing firms and a concert venue. Halfway through college, he started his own company, Ryder MGMT.
Udell always planned on getting a job after graduating, he says, but the pandemic job market has made that goal next to impossible. Until things change, he's figuring out how to be his own boss.
Ryder MGMT represents a handful of artists, Udell says, and he hopes to keep growing the business. For now, he's living with his parents in New York until he can fully support himself.
"I never thought the music business was something I could do, and it's certainly not the most lucrative industry to come into," he says. "But there's not a lot of job openings."
More from Money:
As Their Suits and Stilettos Collect Dust, Employees Are Making Quick Cash Selling Old Office Clothes Online
Seasonal Jobs Will Be a Lifeline to Unemployed Americans This Year — But Getting Hired Won't Be Easy
What if the Coronavirus Makes us Work From Home Forever?