'Never Been a Better Time to Buy an Electric Car' Due to Price Wars and EV Tax Credits: Auto Expert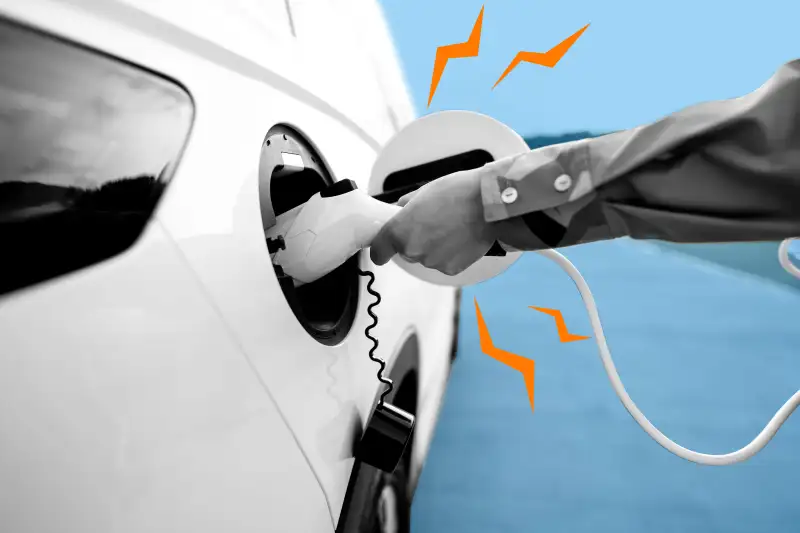 It's highly unusual for a car manufacturer to slash the MSRP of a vehicle after a launch. But that's exactly what's happened to the four best-selling electric vehicles in the U.S. now that Ford has joined Tesla in announcing major price cuts.
Could this be the start of full-fledged electric car price war? The two manufacturers' moves certainly put pressure on other players in the EV industry to make cars more affordable, according to Alain Nana-Sinkam, SVP of business development at the automotive pricing company TrueCar.
"There hasn't been a whole lot that's been conventional about the way Tesla has gone to market in selling vehicles, but the concept that there would be significant changes in manufacturer suggested retail prices in the middle of the model year is a very uncommon thing in our industry, especially at these levels — thousands of dollars," he says.
Whether Ford and Tesla's competitors will announce price cuts of their own remains to be seen. The overarching trend in the market is actually the opposite: Prices have been rising steadily, and the average new car is now selling for an all-time high of nearly $50,000.
Price cuts aren't the only way to make cars more affordable. The more traditional way to accomplish that and entice buyers is with incentives, which can take the form of financing deals or cash rebates. But the option of cutting sticker prices has particular appeal in the EV market right now because cars that cost over certain amounts (which depend on the type of vehicle) aren't eligible for new EV tax credits of up to $7,500.
What's happening
On Monday, Ford announced price cuts ranging from $600 to $5,900 on its Mustang Mach-E SUVs. The move occurred just a few weeks after Tesla dropped some of its prices, including lowering the base price of its Model Y SUV by $13,000. (Note: Tesla then raised that base price by $500 last week.)
Following all the price cuts, the Mach-E starts at $45,995 and the Model Y starts at $53,490. The cuts mean that more of the manufacturers' electric vehicles are eligible for the tax credits.
Moody's analyst Rene Lipsch says Ford's price reductions "highlight the conundrum facing automakers" as they seek to balance their goals of gaining market share and making money. "The increasingly competitive pricing for electric vehicles could prolong Ford's timeframe for a meaningful contribution from its electric vehicle offering to profitability," he adds.
Ford did not announce a price cut on its highly-regarded F-150 Lightning electric truck, likely because it is in hot demand, according to Nana-Sinkam.
The next step
The big question now is whether other EV manufacturers will cut sticker prices. A few companies have already said they don't have plans to do so, but the situation is still developing.
General Motors CEO Mary Barra said in an earnings call Tuesday: "We think, right now, we're priced where we need to be. Of course, we're going to monitor it, and we'll make sure we remain competitive."
Volkswagen Group CEO Oliver Blume made similar comments to a German newspaper, explaining the company believes in its current EV pricing and is focused on reliability.
Brian Moody, executive editor for vehicle valuation company Kelley Blue Book, says some brands may soon find that cutting prices is necessary, noting that interest in Teslas surged on its website in January. "Considering Tesla's substantial price cuts, other automakers will likely follow. They may not say Tesla is the reason for the price cuts but that certainly adds pressure," he says.
What it means for you
In light of the price cuts and the new tax credits, Pat Ryan, CEO of car shopping app CoPilot, says "there's probably never been a better time to buy an electric car."
The Tesla price cuts will likely force competitors including Ford to lose money on at least some of their electric cars to gain market share, which is great news for buyers, he says.
If you're considering a used EV, those prices have also declined significantly. "For the first time since November 2021, the average used EV on the market is below $50,000 — it's about $48,700, so prices have really come down," Ryan says. Lower gas prices and Tesla's cuts on new vehicles have contributed to the softening.
Bottom line
Tesla's price cuts were a shock to the EV industry and Ford's move could be the first major indication that EV prices overall could be more affordable this year.
More from Money:
Auto Experts Have a New Favorite Electric Vehicle (Hint: It's Not a Tesla)
One Kind of Car Is Skyrocketing in Sales While the Rest of the Market Is Slumping