Everything You Need to Know About CVS's Buyout of Aetna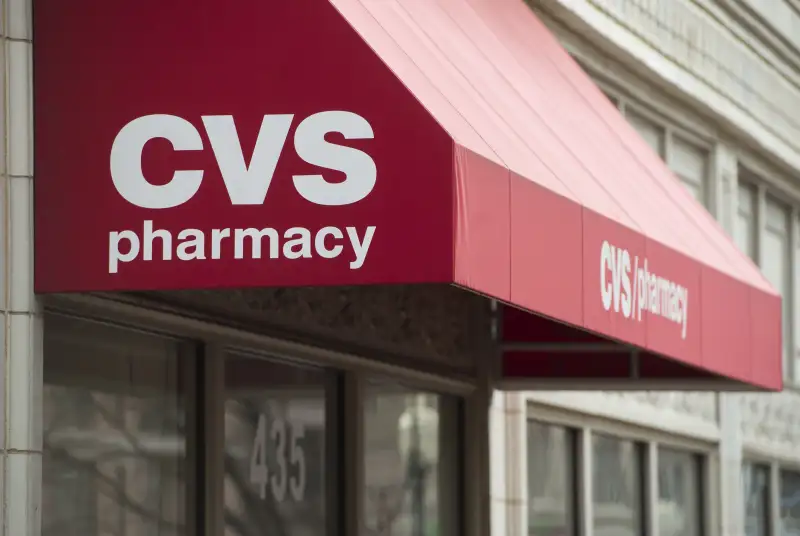 SAUL LOEB—AFP/Getty Images
(Bloomberg) CVS Health Corp. will buy Aetna Inc. for about $67.5 billion, creating a health-care giant that will have a hand in everything from insurance to the corner drugstore.
CVS will pay $207 a share for Aetna, with $145 a share in cash and the rest in stock, the companies said in a statement Sunday. That's a 29 percent premium to Aetna's share price on Oct. 25, the day before the companies were reported to be in talks.
The deal is among the biggest health-care mergers of the past decade, combining the largest U.S. drugstore chain with the third-biggest health insurer. CVS also manages drug-benefits plans for employers and insurers, a business that could help steer some of Aetna's 22 million customers into CVS drugstores when they fill a prescription. The deal will give Aetna's insurance plans a closer on-the-ground tie to where customers get care.
Including CVS's assumption of Aetna's debt, the deal will be valued at $77 billion, the companies said in the statement. It's expected to close in the second half of 2018, the companies said.
In a joint interview, CVS Chief Executive Officer Larry Merlo and Aetna CEO Mark Bertolini said combining the companies would help CVS expand a variety of retail medical services, from vision care to nutrition advice to audiology, making basic care more convenient and less costly for consumers. Aetna will be operated as a separate business unit, and any new services will be designed to appeal broadly to customers of other insurance companies as well, the executives said.
The immediate financial benefits of the deal are projected to be relatively modest. The companies said they expect $750 million in synergies, and profit improvements in the low-to-mid single digits the second full year after the merger is completed. The companies are betting on longer-term profit from reshaping how their customers get care, by creating what the executives are calling "10,000 new front doors for the health-care system'' at CVS's stores and clinics.
"Think of these stores as a hub of a new way of accessing health-care services across America,'' Merlo said in the joint interview. "We're bringing health care to where people live and work.''
The deal will be financed with a mix of cash and debt. Barclays Plc, Goldman Sachs Group Inc. and Bank of America Corp. have committed to provide $49 billion of financing, the companies said.
Amazon Lurks
CVS and Aetna are joining hands as the health sector is looking over the horizon at Amazon.com Inc., and how the Internet retailer could shake up the business of buying, distributing and selling drugs and medical products if it gets into health care. The retail industry has been battered by the online giant. Amazon hasn't revealed its plans.
"One of the problems with the health-care system is it's so fragmented and there's so little coordination," said Steve Kraus, who invests in health firms at Bessemer Venture Partners. "A better vertically integrated, less-siloed system is a good thing in my mind."
Merlo, the chief executive of CVS, disputed the idea that the deal was a defensive move against Amazon's possible entry into the pharmacy business.
"This transaction is really about growth, it is about expansion, it is not about contraction," Merlo said.
The deal could also set off a new round of takeovers as CVS and Aetna's competitors look at the reshaped landscape. On Nov. 30, Express Scripts Holding Co.'s top executive said the company would be open to a deal at the right price, though wasn't actively looking for one.
"We don't need to sell to be very successful in the future, but we are always open to others who may all of sudden conclude they want what we have," Express Scripts CEO Tim Wentworth said in an interview. He also mentioned the possibility of partnering with Amazon on an online-pharmacy arrangement.
More Deals?
Express Scripts is just one company in a universe of independent drug plans, insurers and supply-chain middlemen.
WellCare Health Plans Inc., Humana Inc. and Centene Corp. could become merger targets after the CVS-Aetna deal, according to Matthew Borsch, an analyst at BMO Capital Markets. Drug distributors like Cardinal Health Inc. or McKesson Corp., and retailers such as Walgreens Boots Alliance Inc. could also face pressure to find partners.
CVS, which operates about 9,700 retail stores and 1,100 walk-in medical clinics, has been moving beyond its drugstore roots for years. In 2007, it bought pharmacy-benefits manager Caremark Rx -- a business that made up almost half of the Woonsocket, Rhode Island-based company's operating profit in the third quarter. In 2014, CVS stopped selling cigarettes and added "Health" to its name.
The biggest U.S. health insurer, UnitedHealth Group Inc., is also the most diversified. United owns doctor clinics and an outpatient surgery chain, and has a pharmacy-benefits management, called OptumRx, built on the acquisition of Catamaran Corp. in 2015.
Potential Obstacle
Consolidation is picking up among health-care suppliers and administrators, as insurers seek more control over how their consumers get care. But two proposed megamergers among insurers -- including a deal between Aetna and Humana Inc. -- were blocked this year on antitrust grounds, leading the companies to look beyond rival insurers for potential deals.
The CVS-Aetna deal's antitrust prospects may depend on which U.S. regulator is tasked with reviewing it, according to Bloomberg Intelligence analyst Jennifer Rie. The Federal Trade Commission has been less critical of tie-ups among companies in adjacent businesses, known as vertical consolidation. The Justice Department, on the other hand, last month sued to block the merger of AT&T Inc. and Time Warner Inc., a vertical deal.
Michael Newshel, an analyst at Evercore ISI, said the DOJ effort to block the AT&T-Time Warner deal does raises concerns but a CVS-Aetna deal does have a path forward. Aetna would likely need to divest some or all of its Medicare drug plan business, he said.
In the joint interview, the CVS and Aetna executives declined to comment on whether they might have to divest parts of the Medicare drug business. But Bertolini said the companies are prepared to work with regulators to do what it takes to get the deal approved.
"We are obviously going to get some scrutiny. We are prepared to deal with whatever comes along to make this work," said Bertolini.