Why the Market Was Weirdly Cheered By Hints of Rate Hike
Money is not a client of any investment adviser featured on this page. The information provided on this page is for educational purposes only and is not intended as investment advice. Money does not offer advisory services.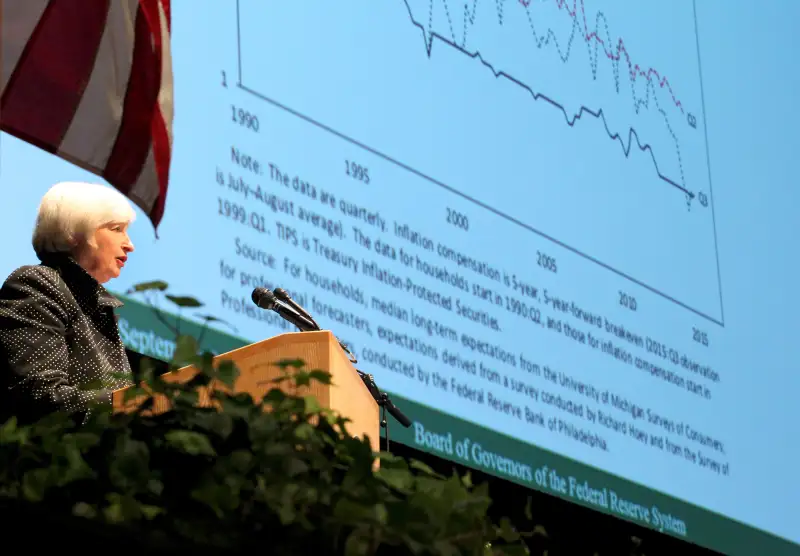 Sometimes even hardened and analytical Wall Street traders need a pat on the back and a soft whisper letting them know everything will be all right.
Fed Chair Janet Yellen gave a talk yesterday evening at the University of Massachusetts Amherst in which she reiterated the central bank's commitment to raising short-term interest rates from zero. The federal funds rate, which is what banks charge one another on overnight loans, has held there for the better of a decade. Yellen did leave the bank wiggle room to hold off on a rate hike in the event that economic conditions turn south.
Yellen said that she and her colleagues expect an "increase in the federal funds rate later this year," given a generally improving domestic economy and the likelihood that inflation will pick up as well. This followed last week's decision by the Fed to keep rates low, in part because of a lack of inflation and difficulties overseas.
This less-than-dovish speech was manna for stock traders, apparently, as the Dow Jones Industrial Average jumped about 200 points by late morning, an increase of 1.2%.
Now followers of the Fed's movements and policies since the Great Recession may be confused: Doesn't Wall Street want low interest rates?
Well, yes. Low rates generally stimulate the economy and boost investor demand for assets with higher potential returns, like stocks. But this time, it seems, traders were looking for something a little different from the Fed—reassurance. They wanted to know that the world economy, which has been rocked by the slowdown in China, was going to be okay.
"I think yesterday was better communication from the Fed Chair than what she did after the last meeting," says USAA head of equities John Toohey. "Investors were reassured. The discussion of global risks in her last press conference was a bit of a curve ball."
With today's stock market bump, investors might be telling the Fed that they will not only tolerate a modest rate hike, but they want it because traders see it as a signal about the strength of the economy.
Wall Street hates to be the dumb money, and is apparently relieved that the Fed doesn't know something about the economy that it doesn't.