The Fifty Shades of Grey Stimulus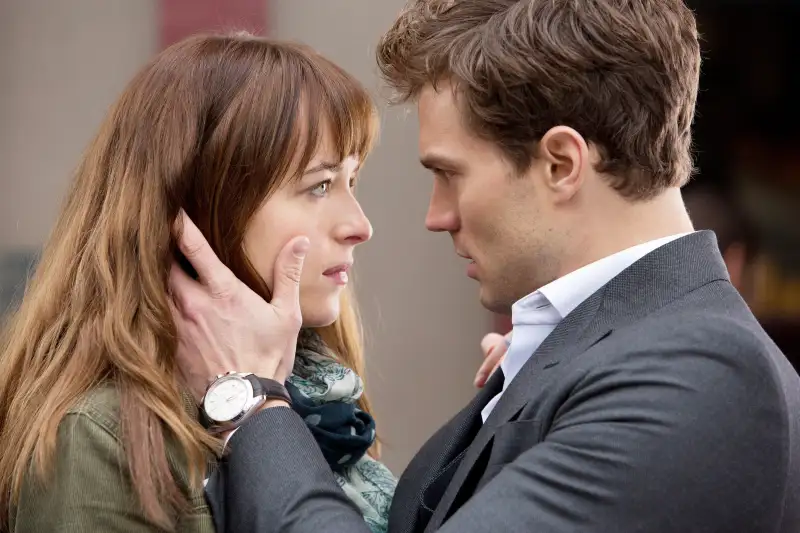 Chuck Zlotnick—Focus Features/courtesy Everett
The marketing campaigns and product tie-ins related to Fifty Shades of Grey range from the wholly expected (condoms, "toys" you'd never see in toy stores) to the puzzling (craft beer and marijuana-themed hotel packages), sometimes venturing down the path of just plain icky (S&M Teddy Bear). Among the categories banking on the arrival of Fifty Shades in theaters delivering a big sales stimulus:
Online Movie Tickets
Fifty Shades of Grey was considered a hit at the box office a full month before being released in theaters. It achieved status as the fastest-selling R-rated movie in the history of online sales four weeks ago at Fandango, and Fifty Shades alone constituted 60% of advance sales at the site on Tuesday, February 3. Advance sales have been particularly hot in Bible Belt states such as Mississippi, Arkansas, West Virginia, and Alabama.
This week, the Wall Street Journal reported that Fifty Shades has become Fandango's fourth best seller for online tickets prior to opening weekend—behind only films from storied franchises "The Hunger Games," "Harry Potter," and "Twilight"—and that the phenomenon could even help get filmgoers more into the habit of buying movie tickets before showing up at the theater.
BoxOffice.com is predicting that that the movie's four-day gross at theaters will be a whopping $95 million, offering this insight as to why Fifty Shades is bound to draw such in epic crowds: "To be blunt, curiosity and sex sell—even, and perhaps especially, to those who are reluctant but simply want to know what the fuss is all about."
Movie Theater Advertising
According to AdAge, the arrival of Fifty Shades of Grey at theaters has prompted several brands that have never advertised during movie previews to jump into the game. Calvin Klein Jeans and the apparel retailer Vibez are showing their first-ever commercials before the film in the U.K., while brands like Revlon and Renault are also advertising at movie houses before customers start watching Fifty Shades.
Alcohol
Fifty Shades of Grey wine hit the market two years ago, and it's "hardly been a best-seller," liquor store owners recently told Marketplace. Still, the arrival of the film should certainly help boost sales of Fifty Shades-branded White Silk and Red Silk wine, if only for the sake of kitsch.
Meanwhile, plenty of bars and restaurants have concocted special Fifty Shades of Grey cocktails that'll surely be best sellers in certain circles. The luxury movie theater chain iPic, which features oversized leather recliners and, in the premium section, pillows, blankets, and iPads for ordering food and drink, has created a cocktail especially for the film called the "Red Room of Pain." The drink is made with hibiscus, ginger rum, and rose petals. "It's a decadent, slightly naughty cocktail while you're watching the movie," an iPic mixologist said to the Miami Herald. "I think we'll sell a gazillion of them."
There's even a new limited-edition Fifty Shades of Grey craft beer that incorporates 50 different hops and other ingredients that supposedly have aphrodisiac qualities. It's selling for $46 a bottle.
Adult Toys, Hardware Supplies
The New York Times recently reported that the success of the Fifty Shades books resulted in a sizeable increase in sales of once-obscure sex-themed products, and that the film's release is expected to bring about a second wave of "adult toy" sales. Perhaps what's most surprising of all is that some of these Fifty Shades-themed products are being sold by mainstream retailers like Target and (in England) Tesco. Another British retailer, hardware store B&Q, has alerted staffers to become familiar with Fifty Shades, be sensitive about inquiries into seemingly odd product inquiries, and to "monitor stock levels of rope, cable ties, masking tape and [duct] tape to ensure that supplies do not run low."
In related news, authorities in London have expressed concern that the release of the film is likely to lead to a spike in emergency calls from couples trying to imitate what they see on the screen. "The Fifty Shades effect seems to spike handcuff incidents so we hope film-goers will use common sense and avoid leaving themselves red-faced," a London Fire Brigade official said.
Condoms
Naturally, condom manufacturers have had some fun with Fifty Shades. Trojan released this hilarious ad online showing a couple's slapstick attempts to channel their inner Christian Grey and Steele, and the commercial is also being shown in theaters before the film:
https://www.youtube.com/watch?v=h-BFLlqY598
Hotel Packages
Hotels in Portland, Ore., (where Fifty Shades is set) and South Florida, among other spots, are offering Fifty Shades-themed guest packages with amenities like a gray silk tie, Champagne, chocolates, and "a sensual love kit."
Meanwhile, in Denver, the Curtis Hotel has a deal that would only make sense in Colorado, or perhaps Washington—the two states where recreational marijuana is legal. The "totally dope package" that goes by then name "Fifty Shades of Green" costs $420—a number that means something to cannabis enthusiasts—and includes two movie passes, roses, and in-room munchies like brownies and Cheetos. Curiously, like most hotels, the Curtis is a completely nonsmoking property.
Teddy Bears
Perhaps the strangest and creepiest tie-in of all is the Fifty Shades of Grey Bear being sold by the Vermont Teddy Bear Company. The bear "features smoldering eyes, a suit and satin tie, mask – even mini handcuffs," along with the understated warning: "Contains small parts. Not suitable for children."
The Actual Book
Many of the reviews of Fifty Shades the movie say that it's better than Fifty Shades the book—which isn't saying much, considering what awful things people said of the writing.
Nonetheless, as with most film releases, the arrival of Fifty Shades in theaters looks like it is helping renew interest in the book. Fifty Shades of Grey has been in the top five of the New York Times Best Sellers for the past two weeks. Prior to that, it hadn't been in the top five in terms of overall print and e-book fiction for quite some time.