New Fingerlings Glitter Monkeys Just Went on Sale at Amazon for Black Friday 2017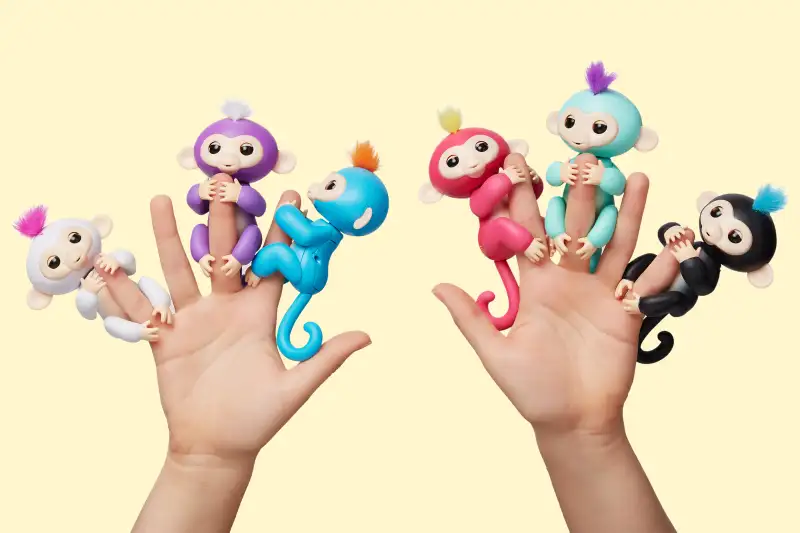 Fingerlings are one of the most sought-after toys this holiday season, and these little robot monkeys are also among the hardest items to find on store shelves. But for Black Friday 2017, there are four new Fingerlings glitter monkeys — and you can buy them right now on Amazon.
The new Amazon Fingerlings come in four varieties, each with a cute name: Sugar is white glitter, Rose is pink, Amelia is turquoise, and Kiki is purple.
UPDATE: Amazon seems to be rolling out the new Fingerlings Glitter Monkeys one at a time, starting with turquoise Amelia. Frustratingly, however, Amazon appears to be making each new Fingerlings Glitter Monkey available for sale for a limited period only. We spotted the turquoise Amelia Fingerlings from around 11 a.m. to noon ET, when it promptly disappeared from the site. Since then, Sugar (white) and Rose (pink) have popped up, briefly, before either selling out or being removed by Amazon. (If you don't see the new Fingerlings immediately in those links, click on the drop down menu under the "colors" option and look for the new Glitter Fingerlings.)
Fingerlings are listed at a retail price of $17.99 each — that is, provided you can snap one up before they sell out. The sparkly foursome join a collection that includes six colorful monkeys, a unicorn named Gigi and a sloth named Kingsley. Gigi was a Toys "R" Us exclusive and Kingsley was a Walmart exclusive, but that didn't really matter in the sense that these interactive pets — which chatter, blow kisses, giggle and fart — pretty much sold out immediately wherever they were sold.
For manufacturer WowWee, Fingerlings have been the breakout toy hit of Black Friday 2017 and the holiday shopping season overall. But good news for WowWee has meant frustration for parents, who been posting to the brand's Facebook page looking for advice on where to find Fingerlings and commiserating with other users who don't want to pay markups of up to three or four times retail price for Fingerlings toys.
The new glitter Fingerlings monkeys are an Amazon exclusive. While the site has these Fingerlings in stock now, you'd better move fast if you don't want to pay the insane markups third-party resellers are sure to charge for these chattering critters.
We've included affiliate links into this article. Click here to learn what those are.