5 Fire Pit Ideas Worth Investing In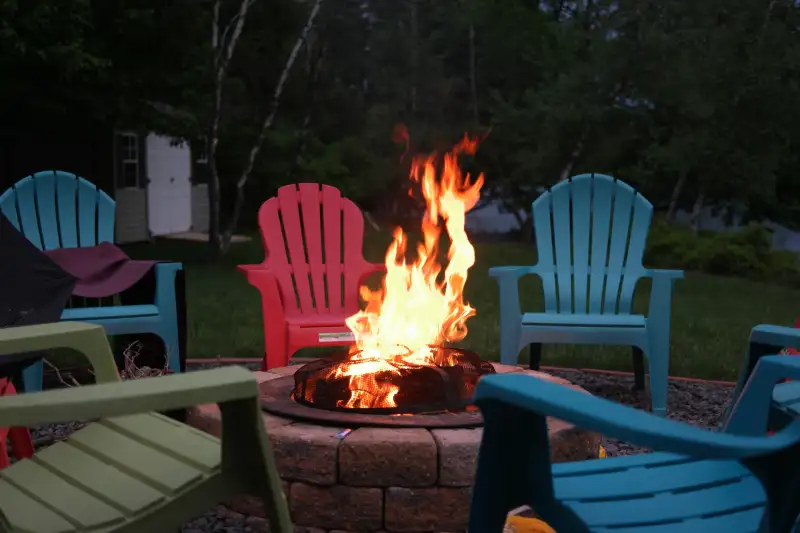 When the weather gets cooler, there's nothing better than gathering around a warm fire with your family and friends. You'll need an outdoor fire pit to create the perfect outdoor area to enjoy with your loved ones. Fire pits are perfect for roasting marshmallows and telling stories — and they can also add a touch of style to your space.
In this post, we'll share five of the most popular fire pit ideas to take your outdoor space to the next level. We'll also share some tips on picking the right fire pit for your needs, so you can ensure you're investing in an option that you'll love and enjoy for years.
1. Pre-made fire pits
For pre-made fire pits, convenience should top the list of benefits. They are typically easy to install, require no special tools or materials, and can be moved if needed. Pre-made fire pits are also available in different materials to help ensure they withstand the elements for long-lasting use.
When it comes to pre-made fire pits, there's a range of options from wood burning, gas-fueled, electric-powered and even smokeless fire pits! When looking for the perfect pre-made fire pit for your outdoor living area, make sure to consider the material type (metal, stone or concrete), size (small round, large square or patio set with an attached fire pit) and intended fuel source (wood logs, gas logs or electric logs).
2. Building your own fire pit
Constructing your own fire pit offers several benefits that pre-made models lack. One advantage is the ability to customize the size and shape of the fire pit to perfectly fit your outdoor living space. Additionally, building your own allows you to have greater control over your budget and the option to use recycled or salvaged materials. It can also be a bonding project for family and friends, promoting unity while working toward a common goal.
Various material options are available for building your fire pit, ranging from brick pavers and blocks for a more permanent structure to river rocks and gravel for a rustic touch. Suppose you opt for stone as your primary material. In that case, including a layer of sand beneath the stones is important to minimize heat transfer and create a comfortable seating area around the perimeter. To ensure safety when burning fuel sources within the pit, it's crucial to choose fireproof materials such as concrete or metal, like steel or copper plating, for liner walls in enclosed designs.
To build your own fire pit, follow these step-by-step instructions. Start by contacting your local zoning office to gather information about fire-related codes and regulations for your area, including any restrictions on proximity or natural gas lines. Next, use spray paint to mark your desired design on the ground. Then, dig out approximately 8-12 inches of soil from within the marked perimeter. Once the pit is excavated, layer the bottom with 4-6 inches of gravel, followed by 1-3 inches of sand. Arrange the stones in alternating rows on top of the sand, ensuring they fit tightly together. Fill the gaps between the stones with ¼-inch of mortar and allow it to dry. Remove any excess mortar material once it's hardened. If necessary, connect gas lines according to safety regulations. Test the burner system before using the fire pit according to the manufacturer's instructions. Finally, fill in any remaining areas around the outside perimeter with soil and then you can enjoy your newly constructed fire pit!
3. Gas fire pit
Gas-fueled fire pits offer homeowners an alternative to wood-burning models that require constant attention. With gas pits, you only need to turn on the burner system and enjoy the warmth. They require less maintenance and produce minimal smoke and residual ashes. Additionally, gas-fueled models provide more flexibility regarding placement since they don't rely on nearby fuel sources like wood logs. Some gas pits even have built-in lights, allowing you to create a captivating ambiance by changing colors remotely.
When searching for gas-fueled fire pits, you'll find options powered by natural gas or liquid propane (LP). These include table-top models with diameters of 2-4 feet, low bowl models with diameters of 4-5 feet and larger round patio-sized versions with diameters of 6-8 feet. Your choice between natural gas and LP will depend on the availability of installation options in your area. Natural gas lines are commonly present in many neighborhoods, while LP tanks need to be separately purchased and connected via hose before use.
4. Tabletop fire pits
Tabletop fire pits provide homeowners with a convenient and space-saving option to enjoy warm evenings outdoors. These compact versions can be placed on existing furniture arrangements, allowing you to experience their radiant heat without taking up much floor space. They come in various materials, including copper or brass bowl fixtures set on marble bases and more contemporary glass panel options for a modern yet subtle look. With proper care, these mini fire pits can even outlast larger patio models, making them a worthwhile investment for outdoor entertainment.
When searching for tabletop fire pits, you'll find many options on the market. Traditional wood-fired versions and larger table set versions with propane-powered burners are available. Additionally, some options utilize electricity to create flame-like effects embedded within ceramic shells. These models often come with dimmer switches, giving you full control over the brightness when lit up during gatherings in your outdoor entertainment area.
5. Portable fire pits
Portable fire pits provide homeowners with a high level of flexibility and convenience when entertaining outdoors, as they don't require any prior installations. These lightweight structures typically feature metal frames with ceramic trays on top, allowing users to have complete control over the placement of the fuel source once they are lit. This eliminates the risks associated with stray embers often present when burning wood or using propane tanks in regular outdoor patio units. Plus, portable fire pits allow users to choose temporary locations, allowing for versatile outdoor entertainment.
When searching for portable fire pits, there are several types available. Smokeless varieties are designed with weave baskets, while others feature traditional wood-fueled designs that include built-in ash pans, facilitating easy cleanup after each use. As mentioned earlier, these highly mobile structures grant homeowners full control over the fuel source, making them valuable investments when planning outdoor entertainment areas
Conclusion
From pre-made fire pits to build-your-own options, there are plenty of ways to add warmth and style to your outdoor space. Whether you invest in gas, wood-burning or even a portable fire pit, you'll be sure to enjoy gathering around the fire with your family and friends. No matter which fire pit you choose, research and find one that fits your space and needs. Consider the materials, fuel sources and safety protocols when designing and using your fire pit. With these tips in mind, you'll surely find a fire pit you can enjoy for years!