Want to Boost Your Salary? Try Learning German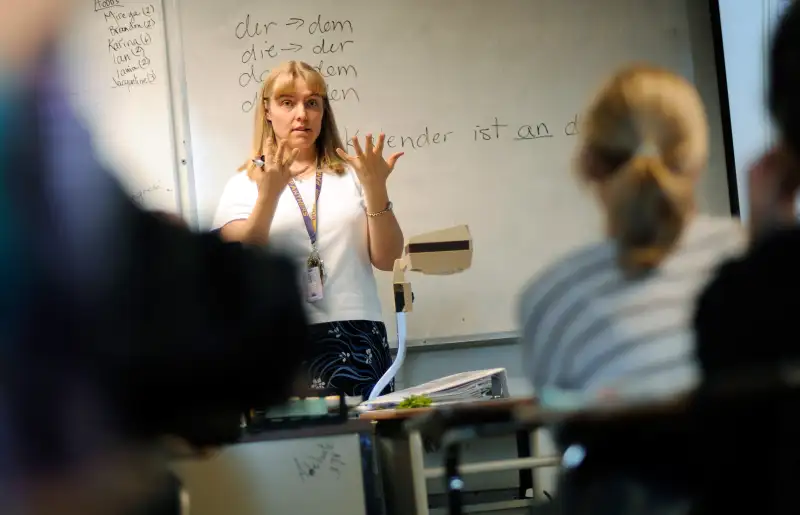 RJ Sangosti—The Denver Post/Getty Images
The rewards of learning other tongues are many: more potential friends, easier travel, and even, some studies suggest, better decision-making. But what about greater earnings potential?
Research from Wharton and LECG Europe found that studying a second language is correlated with about 2% more in annual income.
That's a pretty low return, on the face of it—and probably not even as good as the minuscule raise your boss gave you this year. As study author Albert Saiz points out in a recent Freakonomics podcast, for someone making $30,000 annually, 2% amounts to only about $600 more per year. But Robert Lane Greene at The Economist shows that once you factor in compounding, a foreign language could mean nearly $70,000 more in savings by retirement. Put that way, it's not too shabby.
Of course, broad correlations aren't so helpful if you're looking for a concrete pay bump in the real world. But there are many specific cases where a second (or third) language could increase your job opportunities and income.
For example, interpreters and translators are among the top five fastest growing occupations, according to the Bureau of Labor Statistics, with opportunities expected to increase by 46% between 2012 and 2022. And for those who dream of being a real-life Jason Bourne, the C.I.A. loves polyglots.
When it comes to money, members of the U.S. military can earn up to $1,000 more per month if they are proficient in multiple languages.
A foreign language can also amp up your desirability—and therefore your pay—in business or law, particularly if you speak Chinese or Japanese, says Charles Volkert, executive director of the legal department of staffing agency Robert Half. Recently, 42% of employers at top law firms surveyed by Volkert's team saw an increase in legal jobs requiring a second language.
"With so few qualified candidates, there's a huge demand for professionals who can speak Asian languages, particularly at globalized auto and tech companies," says Volkert.
If learning a whole new alphabet sounds intimidating, there is good news: Saiz's study found that the pay premium for learning German was higher than the average, at 4%. And if you, say, want to test drive Deutsch before committing to a costly class—some top programs charge thousands of dollars to get you proficient—there are plenty of ways to learn beginner language skills for free.
Duolingo, for example, starts off by teaching you to read, write, and speak basic phrases like "Ich bin ein Junge," then ramps up difficulty—while giving you opportunities to compete with Facebook friends who are also learning languages. Next stop might be one of the BBC's well-reviewed free online courses. After that, you might want to shell out—either for Berlitz or plane tickets.