Hundreds of Forever 21 Stores Are Closing After the Fast Fashion Retailer Files for Bankruptcy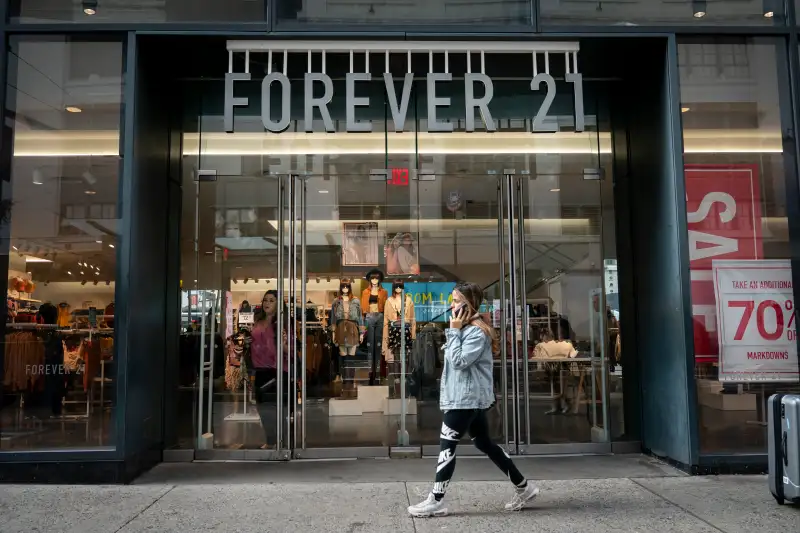 Drew Angerer—Getty Images
The "retail apocalypse" has struck again, and this time the victim is fast-fashion giant Forever 21.
Los Angeles-based Forever 21 filed for Chapter 11 bankruptcy on Sunday night. Hundreds of Forever 21 stores are closing too: Somewhere between 300 and 350 Forever 21 store closures will take place in the near future around the world, CNN reported, including up to 178 closures in the U.S.
All 44 of Forever 21 stores in Canada will close, and most of the retail brand's presence in Europe and Asia will disappear. Right now, Forever 21 operates roughly 800 stores around the globe. After the forthcoming round of store closures, the number could be down to around 450.
Which Forever 21 Stores Are Closing?
No specifics have been released regarding which Forever 21 stores are closing in the U.S. "The decisions as to which domestic stores will be closing are ongoing, pending the outcome of continued conversations with landlords. We do however expect a significant number of these stores will remain open and operate as usual, and we do not expect to exit any major markets in the U.S.," a Forever 21 letter addressed to customers explained.
Subscribe to Money on YouTube for more videos.
Forever 21 stressed that filing for bankruptcy "does NOT mean that we are going out of business." It will continue operating its website, and hundreds of stores will remain open. "You will not see any changes in our stores, gift cards will continue to be accepted, and our policies, including returns and exchanges, remain the same," Forever 21's letter explains. The retailer says that customers should use its store locator tool to find the most up-to-date information about which stores are open.
Like many other fashion retailers, Forever 21 has struggled to be profitable in today's incredibly fast-moving and competitive retail environment. Shoppers can browse endlessly for inexpensive clothing at Amazon and other e-retail sites, as well as primarily brick-and-mortar low-price sellers like H&M. Forever 21 has had a difficult time in particular competing with other fast fashion retailers that have a stronger social media presence and are based solely online, such as Fashion Nova and ASOS.
The news of Forever 21's bankruptcy comes less than a month after Ariana Grande sued the retailer for allegedly using a lookalike model in its advertising.
Forever 21 was founded in 1984 by Do Won and Jin Sook Chang, who planned to pass along the company to their two daughters, according to the New York Times. It has long been a prime example of the fast fashion industry, with most items in stores priced anywhere from $5 to $25. Reportedly, the Changs hope to keep consumer product prices under $50 in the future.
Forever 21 plans to restructure following the bankruptcy filing in order to keep things running. While it will keep up production of men's and women's clothing merchandise, it will cut back on its cosmetics and home decor lines.