5 Ways the Fortune 500 List Shows How Your Shopping Is Changing
Money is not a client of any investment adviser featured on this page. The information provided on this page is for educational purposes only and is not intended as investment advice. Money does not offer advisory services.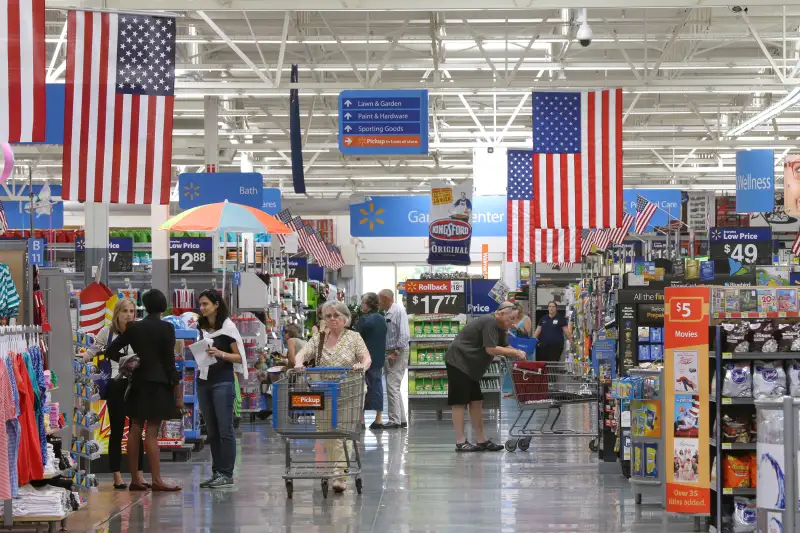 Every year, the Fortune 500 from our Time Inc. colleagues chronicles the latest performances of the biggest players in corporate America. While its focus is ranking the largest companies based on total revenues, the list published this week also offers insights into the spending habits and behavior of everyday consumers—which is right up our alley here at Money.
Here are five broad consumer trends based on how major retailers fared over the past year, according to the Fortune 500. (For more info about the list, check out the AMA on Reddit featuring Scott DeCarlo, the editor who oversees the annual list.)
Lots of Big Box Stores Are Flailing
The Fortune 500 reveals that revenues for big box retailers such as Staples, Macy's, Target, Best Buy, Toys R Us, and Barnes & Noble all fell over the last year. Other traditional mall staples, like Gap (which owns Banana Republic and Old Navy in addition to its flagship retail brand), showed revenue declines as well.
It's not just that shoppers are making fewer purchases through these outlets, but in many cases it's also that there are fewer stores, period. Staples, Toys R Us, and Barnes & Noble have been closing locations for several years now, as have mall "anchor" stores like Macy's and Target.
You Can Guess Where People Are Shopping Instead
Amazon.com has soared up the Fortune 500 list over the last 15 years, moving from the #492 spot in 2002, up to #100 in 2010, onward to #29 last year, and #18 in 2016. The company's success, which Fortune notes includes "four consecutive quarters of record profits" after years of infamous unprofitability, is coming partially on the back of a huge push to expand Amazon Prime memberships. It's been estimated that there are well over 50 million Prime members in the U.S. now, and that 70% of the all-important affluent American households are Prime subscribers—who tend to dramatically increase their Amazon spending after they've coughed up $99 annually for membership.
Read Next: Walmart and 4 Other Rare Retailers That Aren't Floundering Right Now
Naturally, a lot of that increased Amazon spending comes at the expense of brick-and-mortar-based competitors like Target, Barnes & Noble, and Toys R Us. But Amazon hasn't been obliterating all traditional big box retailers. Home Depot and Lowe's have fared well, showing revenue increases and movement a few spots up on the 2016 Fortune 500 list, apparently because shoppers remain fairly reluctant to buy paint, garden supplies, and other DIY gear online. For much the same reason, many grocery retailers have been doing fine (for now) according to the Fortune 500 list.
We'll Still Show Up for Big Discounts
Walmart held on to the #1 spot on the 2016 Fortune 500 list, and should be the world's biggest company for years to come due to solid grocery sales and improving e-commerce performance—not to mention a huge footprint with locations pretty much everywhere. Yet Walmart's revenues were down slightly in 2016 thanks to a multitude of challenges including a strong U.S. dollar, increased online spending (see: Amazon), and aggressive pricing by discount competitors. Dollar store chains Dollar General and Dollar Tree, as well as discounters TJX (owner of T.J. Maxx, Marshall's, and Home Goods) and Ross Stores, boasted strong revenue increases last year, built on pushes to challenge Walmart in the low-price retail space.
We'll Shop for Convenience Too
Cheap prices are only part of the attraction of dollar stores. The category also benefits because stores offer the convenience of quick one-stop shopping and abundant locations in urban downtowns, suburban strip malls, and beyond. The other convenient and ubiquitous category for shoppers—the chain drugstore—also had a strong showing on the Fortune 500 list. Revenues were up 10% for CVS and 35% for Walgreens, and both companies moved significantly higher up the list this year, from #10 to #7 and #35 to #19, respectively.
Read Next: 12 Things Americans Are Suddenly Buying More Than Ever
We're Buying Less and Less Soda and Cereal
It's an oversimplification, but for years consumers have increasingly been deciding that soda is too unhealthy and cereal takes too long to consume. Hence the main explanations given that sales of both products have been falling for years. These broad consumer trends have translated into declining revenues by the world's biggest sellers of soda (Coca-Cola, Pepsi) and cereal (General Mills, Kellogg), according to the Fortune 500.
And what are people buying if they're not opting for soda and cereal? The performance of Starbucks, which moved from #187 to #146 on the Fortune 500 list amid an impressive revenue rise 16.5%, offers one pretty big clue.