Mortgage Rates Slip Closer to 6%: Freddie Mac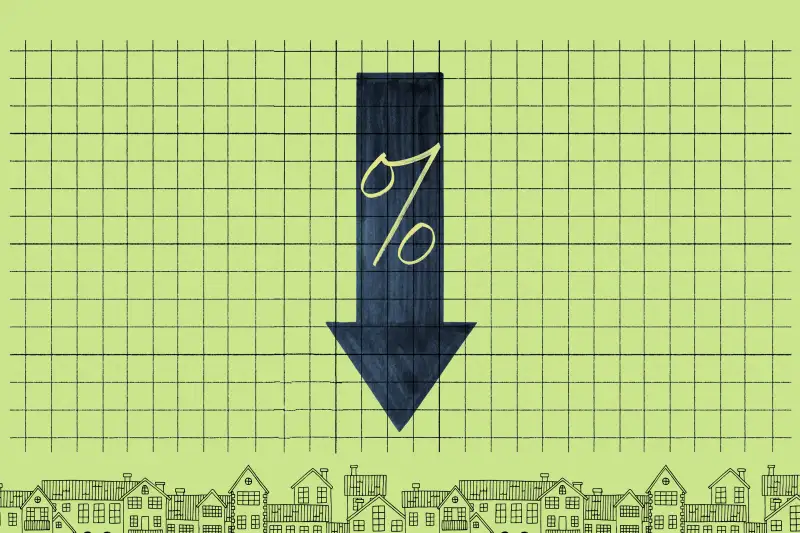 Potential homebuyers waiting for mortgage rates to move lower got a little bit of good news today. Freddie Mac's mortgage rates decreased once again this week. While slight, the drop will increase affordability for many who were priced out due to much higher rates last year.
The average rate on a 30-year fixed-rate loan decreased by 0.04 percentage points to 6.09% for the week ending February 2. This is the fourth consecutive week where rates have moved lower, decreasing by a total of 0.99 percentage points from November's peak of 7.08%.
Rates on the 15-year fixed-rate mortgage were also lower this week, averaging 5.14%.
"According to Freddie Mac research, this one percentage point reduction in rates can allow as many as three million more mortgage-ready consumers to qualify for and afford a $400,000 loan, which is the median home price," said Sam Khater, Freddie Mac's chief economist, in a press release.
The increase in affordability is already being seen in the market. While the last half of 2022 was extremely slow for home sales, there were signs of life at the end of the year. Pending home sales increased by 2.5% in December, according to the National Association of Realtors. It's the first monthly increase in the number of signed contracts since May of last year.
"Mortgage rates are the dominant factor driving home sales," said Lawrence Yun, chief economist at NAR, adding that the recent downward trend in rates is bringing stability to the housing market.
The Federal Reserve eases up on rate hikes
As many market analysts expected, the Federal Reserve announced a 0.25 percentage point rate increase to the federal funds rate on Wednesday. The increase brings the rate, which is the interest charged for overnight loans between banks, to a top range of 4.75%.
The rate hike was the eighth, and smallest, increase in a series of hikes that began last March when the Fed began its battle against inflation. So far, the central bank's aggressive monetary policy has reduced the rate of inflation from a peak of 9.1% in June to 6.5% in December.
Despite the pullback, Fed Chairman Jerome Powell reiterated the central bank's stance that more rate increases will be required to bring inflation back down to its target rate of 2%. How many more will depend on how the economy behaves over the next few months.
"Shifting to a slower pace will better allow the Committee to assess the economy's progress towards our goals, as we determine the extent of future increases that will be required to obtain a sufficiently restrictive stance," Powell said at the press conference announcing the increase.
Powell also stated that the Fed's terminal rate, or when the central bank will pause its rate increases, should be somewhere between 5% and 5.25%, indicating that at least one more rate hike of 0.25 percentage points is likely.
Markets are hoping that the Fed will pause rate hikes after the next meeting in March, with some analysts predicting a reduction in the fed fund rate by the end of the year.
"I think what remains uncertain is what happens going forward as investors are more optimistic about inflation's path than the Fed is willing to discuss at this point", says Selma Hepp, chief economist at CoreLogic, in an emailed statement to Money.
Indeed, the market's rosy view was not echoed by Powell after the Fed meeting, noting that while prices for goods are coming down, the same is not true for services (excluding housing), meaning inflation is still a major problem in the central bank's view.
As a result, Powell doesn't anticipate any rate reductions this year, although he added there could be change if inflation improves faster than expected.
"We will continue to make our decisions meeting by meeting, taking into account the totality of incoming data and their implication for the outlook for economic activity and inflation," Powell noted.
More from Money: