Mortgage Payment Calculator
Use Money's mortgage calculator to estimate your monthly payments based on home price, current mortgage rates, and loan type. You can also use our calculator to assess how much you will pay according to your credit score and what you have saved for a down payment. Input your information, see the results, and find out how much house you can afford.
Ads by Money. We may be compensated when you click on this ad.
Ad
i

You can enter the mortgage loan amount, or the total home price if you have a downpayment.
i

If your cash down payment is less than 20% of your loan amount, we will automatically apply PMI to your results.
i

We use an average daily interest rate, but feel free to adjust if you have a pre-approved interest rate.
i

In order to get the most accurate estimate, select the credit score that best represents your credit history.
i

Not sure which loan type to choose? Go with a 30 Year Fixed Rate Loan, 90%+ of Americans do.
Money's calculator results are for illustrative purposes only and not guaranteed. Money uses regional averages, so your mortgage payment may vary.
2

See Your Results

i

We try to keep our information current and accurate. However, interest rates are subject to market fluctuations and vary based on your qualifications. Calculator results assume a good credit score and factor-in regional averages; your actual interest rate may differ. Calculator results are for educational and informational purposes only and are not guaranteed. You should consult a licensed financial professional before making any personal financial decisions.
Estimated Monthly Payment
---,---
Estimated monthly payment
Private Mortgage Insurance
Thank you for your service! 0% downpayment and $0 PMI applied.
Rate for yesterday Jun 16 was
3.375%
Find your actual rate at QuickenLoans today!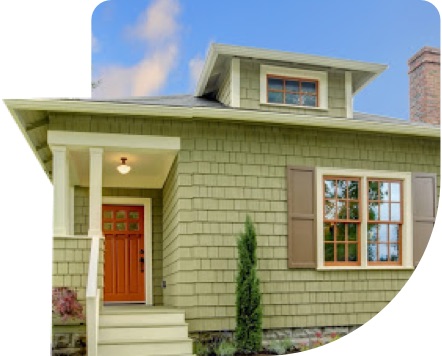 Powered by
How to Calculate Your Mortgage Payment
Three main factors determine your monthly mortgage payment: loan size, interest rate, and loan term. Your credit score and your home's location will also affect your interest rate and, in turn, how much you pay. Additional expenses such as homeowner's association (HOA) fees and mortgage home insurance should be factored in with your monthly housing expenses.
Mortgage Calculator Guide
Our mortgage calculator allows home buyers to see how different inputs — purchase price, credit score, interest rate, and down payment size — impact their total payment to help determine how much real estate they can comfortably afford.
When looking for a new home, keep in mind that mortgage rates change every day and vary from lender to lender, so use this calculator to get a ballpark estimate and then make sure to get quotes from multiple lenders. (We recommend one of the top mortgage lenders of the year.)
Once you start actively looking for a home, make sure to get pre-approved, so you can move quickly once you find a home you want to bid for. Your starting mortgage balance will be the price you pay for the house minus your down payment.
To see your estimated mortgage payment, you will need to input the following values:
Down Payment
Putting 20% down allows you to avoid paying for mortgage insurance. More equity also gives you more financing options down the road, but the average down payment is about 6%, and it is possible to secure a home loan with as little as 3% down.
With our calculator, you can enter the portion of the home's cost you plan to pay upfront either as a percentage or a dollar value.
Interest Rate
This is the cost of your loan. Interest on a mortgage is calculated monthly. Our calculator auto-populates with an average mortgage rate based on the information you enter but you can override this to see how rate changes could impact your costs.
Zip Code
Your location can impact your mortgage rate.
Loan Type
The most common mortgage is a 30-year fixed-rate conventional loan, but some people opt for 15-year loans to pay off debt faster or adjustable-rate loans to snag a lower rate. In most of the country, if your mortgage is larger than $510,400 you'll need to take out a jumbo loan.
An estimation of your credit health. Fair (580-669), Good (670-739), Very Good (740-799), and Excellent (800 and above).
Ads by Money. We may be compensated if you click this ad.
Ad
Your credit reports and scores play an important role in your future financial opportunities.
Identifying any potentially fraudulent activity and responding to it can alleviate any damages to your credit. Click below to get a copy of your credit today!
Get a copy of your credit report today
How Your Mortgage Payment Is Calculated
While our calculator takes the computing out of your hands, math whizzes can do it themselves with the following formula:
M = P*[(i/12*(1+i/12)n)]/[(1+i/12)n-1]
M – your monthly mortgage payment
P – the principal loan amount
i – the monthly interest rate, which should be divided by twelve (corresponding to the months of the year) since lenders give an annual rate
n – the number of payments over the life of the loan (number of years), or amortization. For instance, for a 30-year mortgage, n would be 360 payments, (12 payments a year over 30 years, or 12*30).
How Mortgage Interest Rates Changed in 2021
Many experts expected the economy to finally start its recovery in 2021 since the Coronavirus pandemic sent it spiraling last year. This much has proven true, and a gradual rise in mortgage rates was seen in the first few months of the year.
Nonetheless, rates have declined nearly a quarter of a percent after having peaked in April and they remained under three percent for the past month. These low rates are a boon for the housing market, especially for individuals who want to refinance their loan to lower their monthly payments.
Because inflation has accelerated at its fastest pace in more than twelve years, first-time homebuyers can expect higher mortgage rates in the coming summer.
How To Lock in the Lowest Mortgage Rates in History
Before applying for a mortgage, we suggest you follow these steps:
Get loan estimates from different lenders and compare offers by APR.
Keep track of these offers in a spreadsheet to see them side by side.
Remember to consider appraisal fees, property taxes, potential penalties, homeowner's insurance, HOA fees, and any other closing costs.
Compare all the numbers to find the offer that best suits your needs.
Get pre-approved after you select a lender so you can act quickly when you find a home you want to buy.
Consider getting a rate lock once you've accepted an offer. These can help you secure a low rate during a specified timeframe (30, 45, 60 days) or until the mortgage's closing.
Read up on the details regarding when your rate lock to have a full picture of a lender before deciding to begin this process with them. If your lock expires before closing, some lenders offer to extend it at no cost, while others might charge a fee.
Ads by Money. We may be compensated if you click this ad.
Ad
There's never been a better time to buy a home.
Mortgage Experts can help you get there. Click below and request your free quote today.
Get Started
Understanding Mortgage Payments
Factors That Affect Your Interest Rate
Your mortgage rate will play a vital role in determining your total monthly payment. Interest rates are influenced by several factors. One of them is your credit score — the lower it is, the higher the total interest you'll pay on your mortgage loan. A low credit score represents a risk, and your rates will go up to compensate for being seen as a high-risk borrower.
The loan type you choose will also affect your rates. A shorter, 15-year loan represents less risk than a 30-year one. Likewise, whether you choose a fixed-rate mortgage or adjustable-rate mortgage will also have an impact. Furthermore, the down payment amount you can afford will be important in determining the interest rate you end up locking in.
Down Payments and Private Mortgage Insurance
If you put less than 20% of the home value upfront, you'll need to pay private mortgage insurance (PMI). This type of insurance policy may cost upwards of 3% of the loan dollar amount per year. It's worth noting that this insurance is put in place to protect the lender, not the borrower.
The only exception to this would be an FHA loan, which does not require private mortgage insurance. Additionally, a VA loan doesn't require a down payment or mortgage insurance. If you are eligible, we recommend looking at the top VA mortgage lenders of the year.
Home Buying Mortgage Points
One way to lower your interest rate and, as a result, your monthly payment is to buy mortgage points from your lender at closing. These points are fees that essentially buy you a lower interest rate. The cost of each mortgage point is 1% of the loan's total value.
Mortgage Calculator FAQ
How much mortgage can I afford?
How much you can afford to pay for a home will mostly depend on your household monthly income, monthly debts (credit cards, student loans), and amount of available savings for a down payment. It's important to be realistic about these factors so as to not stretch your budget to its limit. Your debt-to-income ratio (DTI) will also affect affordability. The higher your DTI, the harder it will be to get a mortgage.
How to pay off my mortgage faster?
There are several ways of paying off your mortgage faster. These include making biweekly payments (as opposed to monthly ones), establishing an offset account, and recasting your mortgage, meaning making a large payment towards the loan's principal amount, and the lender, in turn, reamortizes the loan. You can also refinance your mortgage to settle on a shorter term. This means you'll most likely have higher monthly payments, but less interest over the life of the loan.
Use our mortgage refinance calculator to see how much you could save by refinancing your loan. We also recommend that you choose one of the best mortgage refinance companies of the year.
What's the best loan term for my mortgage?
More than 90% of mortgages are 30-year conventional loans. Still, you may find that a fixed-rate 15-year mortgage term suits you best because you'll pay less interest over the life of the loan — though you will have higher monthly payments.
How much should my down payment be?
In general, lenders require a minimum down payment of at least 3% of the home price. To avoid paying private mortgage insurance premiums — which protects the lender, not the homeowner — borrowers will usually need to put 20% down (though low down payment, no-PMI options exist for qualified borrowers). The average homeowner pays a down payment of between 3% and 7%.
Can my monthly payment change over the life of the loan?
If you take out a fixed-rate loan and do not refinance, your monthly payment will stay the same for the entire loan term. If you opt for an adjustable-rate mortgage, your payment will stay the same for a set period, commonly five or seven years. Once that time is up, your mortgage rate resets annually based on market conditions, sending your monthly payment up or down. The risk of a higher rate later is why it only makes sense to get an adjustable-rate mortgage if you plan to move or refinance before the fixed term is up.
How accurate are the estimates in this mortgage payment loan calculator?
Rates are individualized and are based on your specific circumstances, such as credit score, down payment, and location. While our estimates are within range of what a lender will ultimately offer you, the best way to find out is to get a quote from one of our top partners and get pre-qualified.
How do I reduce my monthly payment?
Buying a less expensive home will mean lower monthly payments. Putting more money down upfront also reduces the amount of money you need to borrow. Finally, longer loan terms will reduce your monthly payment (though you will ultimately pay more interest over 30 years than 15). A better rate also means a lower monthly payment, so if you're not in a rush, do what you can to increase your credit score.