How to Get Preapproved for a Mortgage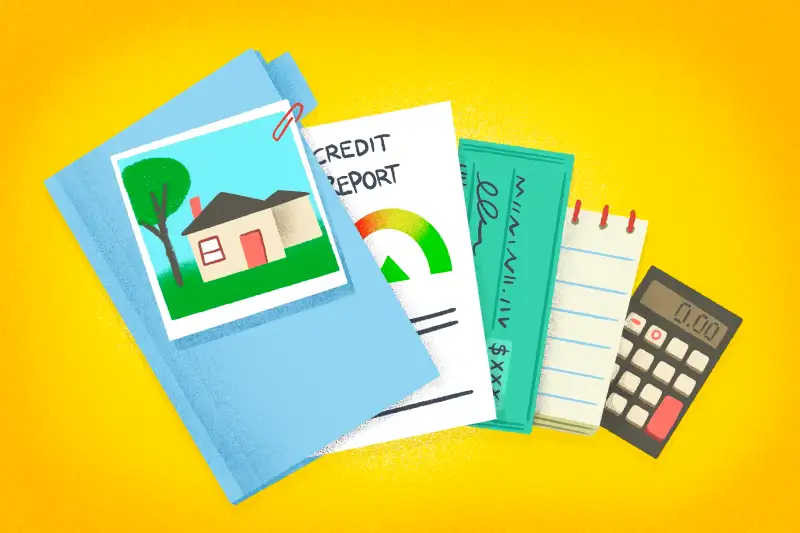 A mortgage preapproval is a written statement from a lender affirming that you've qualified for a home loan under specific terms. With a preapproval, the lender pulls your credit report and examines your documents, so be prepared to provide details about your income, debt, and financial accounts. Read on to learn more about how to get preapproved for a mortgage.
Step-by-Step Guide to Get Preapproved for a Mortgage
Step 1: Get preapproved as early as possible
If you are starting your homebuying process, a mortgage preapproval letter says how much that lender is willing to lend to you. In other words, you will know how much house you can afford, making your house hunting process easier for you and your real estate agent.
Bear in mind that the letter may have an expiration date (typically 30 to 60 days).
Step 2: Understand the difference between preapproval and prequalification
Both "mortgage prequalification" and "mortgage preapproval" are two key steps in the mortgage application process. Some people use the terms interchangeably, but there are significant differences that you should understand.
Prequalification, or "prequal," is a cursory overview of your income, assets, debt, and credit by a lender, but you don't have to provide any paperwork. In other words, the lender is taking your word and, in exchange, giving you a cursory judgment of whether you'll be approved and for how much.
| | |
| --- | --- |
| Preapproval | Prequalification |
| The lender reviews information, including income and employment history | No paperwork |
| Requires a credit history check | No credit check |
| It tells how much you what you can actually borrow | Gives you an estimate of what you can borrow |
| Sellers frequently require it before accepting your offer | Helpful if your financial situation will change in the future |
Getting preapproved for a mortgage carries more weight because it's a more comprehensive application process (more on that below).
"Sellers would prefer to see a preapproval letter from the lender to know this is a [serious] buyer over a prequalified buyer," said Nancy Newquist-Nolan, a real estate agent at Coldwell Banker in Santa Barbara, California.
A prequalification can be helpful, though, if you're just dipping your foot into the water. The process will give you an idea of what size mortgage you may qualify for and help you narrow down the search for your new home. Prequalification may also be worthwhile if your financial situation will change shortly — say, because you're looking for a new job.
Step 3: Take stock of your finances
Most lenders determine what mortgage loan amount you can get by applying the 28/36 rule. According to the rule, your monthly mortgage payment (which includes property taxes and homeowners and private mortgage insurance) should be no more than 28% or less of your gross monthly income. You should also only spend 36% of your gross income on all your debts, including your mortgage and other recurring debts, such as a car or student loan payments.
For example, if you earn $3,500 a month pretax, your monthly mortgage payment should be no higher than $980, which would be 28% of your monthly income. Some lenders may let you borrow more, but experts say it's best to avoid taking on a larger payment so that you don't stretch your finances too thin and risk falling behind on your mortgage.
To avoid surprises, take a close look at your household income, monthly expenses, investment bank accounts, and credit score before applying for preapproval. You're entitled to a free copy of your report from each of the three major credit bureaus — Equifax, Experian, and TransUnion — at AnnualCreditReport.com.
This process will also help you determine how much you're comfortable spending each month, which may be less than what a lender will offer, and how large a down payment you can make.
Step 4: Gather your documents
To determine your eligibility for a mortgage, a lender will want to see your pay stubs, tax returns, W-2 forms, and proof of funds for your down payment. A lender will also do a hard credit check, which will have a small impact on your credit score.
If you're self-employed, be prepared to provide a two-year history of earnings to show lenders your long-term averages. And if you have a couple of steady paying clients that are the anchor of your business, letters affirming that relationship can't hurt. If you have your paperwork in order, you can get preapproved quickly. Many mortgage lenders offer preapproval to buyers within 24 hours of a mortgage application submission.
Some online-only lenders, such as Quicken Loans and Better Mortgage, say they offer preapproval in minutes. Preapproval letters are typically valid for 60 to 90 days. Most lenders will allow you to get an extension, but you may need to resubmit some documents.
Step 5: Shop around for the best mortgage lender
Todd Sheinin, chief operating officer at Homespire Mortgage, a lender in Gaithersburg, MD, recommends applying for mortgage preapproval with at least three lenders. (Don't worry, your credit score will only be hit once.)
If you're denied a loan, find out why and then take steps to address the issue. You may need to pay off credit card debt or buff up your down payment funds to get preapproved. Some types of loans are designed for low-income homebuyers or first-time homebuyers. VA Loans typically require no down payment.
A no from one lender does not mean you'll be turned down everywhere, but it is often a sign your finances need some work, and you may not qualify for the best loan terms. Lender shopping can also lead to significant savings.
According to the Consumer Financial Protection Bureau, rates offered to a borrower with good credit on a 30-year fixed conventional mortgage can vary by more than half a percent.
Step 6: Consider locking in your rate
Usually, you can apply for what's called a mortgage "rate lock"— a guarantee from a lender to honor a specified interest rate for a set period (typically, 60 to 90 days) — once a seller accepts your offer.
Some lenders will let you lock in a rate once you've been preapproved, although you may need to pay a fee to extend the rate lock if it expires before you buy a home.
Step 7: Maintain financial health
A preapproval letter is not a guarantee. The lender can decline to fund the loan if your financial situation or other conditions change before closing. That means it is crucial to avoid extravagant spending and to keep your credit in good shape.
There are some mistakes you'll want to avoid making after getting a mortgage preapproval. Don't apply for new lines of credit, make large credit purchases, miss any credit card payments, or co-sign a loan for others — these actions can hurt your credit score, and it can take several months or more to mend your credit.
If you can help it, don't make any last-minute job changes that would require an underwriter to verify your new job and income, which could delay your loan's underwriting and force you to delay closing.
Step 8: Put in a bid
Ready to make an offer on a home? Getting a custom preapproval letter from your lender lets the seller know that you are a serious buyer.
It will also give your loan officer a head's up that you may sign a purchase agreement soon, which can help them prepare for the next steps in the mortgage approval process, such as arranging a home appraisal.
Home Loans Preapproval Checklist
A driver's license or U.S. passport
A Social Security number or card. If not a U.S. citizen, a copy of the front and back of your green card(s)
Verification of employment
Copy of their credit reports from the three national credit bureaus
Recent pay stubs covering the last 30 days
W-2 forms from the previous two years
Proof of any additional income
Last two years of personal federal income tax returns with all pages and schedules. If self-employed, last two years of individual federal income tax returns with all pages and schedules, as well as a business license, a year-to-date profit and loss statement (P&L), a balance sheet, and a signed CPA letter stating you are still in business
Bank account statements proving that you have enough to cover the down payment and closing costs. If someone is helping you with the down payment, a gift letter stating that the fund is a gift and not an IOU
Last quarterly statements for asset accounts (401(k), IRA, stock accounts, mutual funds)
Mortgage Preapproval: What To Know
What affects your home loan preapproval
Your income and saving are two key factors that lenders will consider during the mortgage process. However, other factors can affect how long preapproval will take and whether or not you'll be preapproved at all.
Employment Status
Self-employed individuals almost always have a more challenging time getting preapproved. In addition to meeting standard loan requirements, they are asked to prove their line of work and/or the ownership of their business.
Only borrowers who have an ownership interest of 25% or more in a business and are not W-2 employees are considered "self-employed." However, there is an exception if the borrower can show a two-year history in a similar line of work, which includes having documentation that proves an equal or higher income in the new role compared to the W2 position.
Debt-to-Income Ratio
The debt-to-income ratio is the percentage of your monthly gross income that goes toward paying debts. There are two types of DTI that lenders will consider during the mortgage process: front-end and back-end. The first consists only of your housing-related expenses, whereas the latter also includes all your minimum required monthly debts.
The lower your DTI, the better your chances of securing a home loan. Anything over 50% is considered unacceptable by lenders, but keep in mind that the specific DTI requirements will vary depending on the type of loan you're getting.
For example, FHA loans secured by the government have more lenient requirements — you can have a DTI of up to 57% and still get approved for an FHA home loan. USDA loans used to buy homes in rural areas have a lower maximum DTI of 41%.
Loan-to-Value Ratio
The loan-to-value ratio (LTV) is a number lenders use to determine how risky a loan to a potential borrower might be. It measures the relationship between the loan amount and the market value of the property you want to buy, and it can also determine whether mortgage insurance will be required.
All mortgages have a maximum LTV to qualify. However, just like with DTI, the LTV varies depending on the loan. FHA loans, for example, have an LTV of 96.5% since they allow down payments of as little as 3.4%.
Going for an LTV of 80% or less is "ideal" because you get unique benefits as a buyer, but that requires a down payment of 20%. Ultimately, each buyer will need to figure out their own LTV based on how large a down payment they can afford.
Credit History and FICO Score
Your credit history is one of the most important factors when it comes to getting a mortgage.
| | |
| --- | --- |
| Type of Loan | Minimum Credit Score |
| Conventional Loan | 620 |
| Jumbo Loan | 680 |
| FHA loan with 3.5% down payment | 580 |
| FHA loan with 10% down payment | 500 |
| VHA Loan | None, but 620 is preferred |
| USDA Loan | None, but 420 is preferred |
You don't need a perfect credit score to buy a house, but those with outstanding scores are usually rewarded with lower interest rates and a greater variety of payment options. Buyers with very poor credit have the option of finding a co-signer who has better credit than them to help secure the loan.
Why Getting Preapproved Is Such a Big Deal
Getting preapproved for a mortgage helps you shop for homes that you can afford and shows you are a serious buyer.
But a letter of preapproval is more than just a way to look good to sellers. It also helps you find the right mortgage lender and provides some flexibility in bargaining or negotiating for a better price range or specific costs, repairs, and improvements to a home.
Getting preapproved makes the entire closing process faster, too. It takes an average of 50 days to close on a house, and part of that period is due to the process of mortgage approval.
How to Get Pre-approved for a Mortgage FAQ
How long does it take to get preapproved for a mortgage?
Getting preapproved can take from as little as three days to as long as three months. It all depends on the health of your finances and how well prepared you are documentation-wise.
Being self-employed or having issues such as a low credit score previous, previous foreclosures, and outstanding debt can elongate the process.
When should I get preapproved for a mortgage?
The best time to get preapproved is right before you start shopping for homes. Letters of preapproval last from 40 to 90 days. If you wait too long to seal a deal with a seller, your letter could become voided. It's also a good idea to wait to get preapproved until you're out of debt, have an emergency fund, and can provide a down payment of at least 10%.
Do preapprovals hurt your credit score?
When getting preapproved, a loan officer at a bank or other lending institution will provide you with a detailed review of your finances. This requires a hard inquiry into your credit score, which will lower by a few points. Hard credit inquiries may stay in your credit report for two years, although they typically affect your credit for one year.
How much does it cost to get preapproved for a home loan?
Many lenders won't charge you anything for the pre-approval process. Some charge an application fee, which averages from $300 to $400, and may be credited back toward your closing costs — but only if you decide to move forward with that lender.
Can I get preapproved for a mortgage online?
The preapproval process doesn't have to be done in person. You can get preapproved online or through a phone call, so long as you have the required documents and financial information. Some companies even have apps now that will let you complete a loan application on your smartphone.
Summary of Money's Guide for Mortgage Preapproval