Mortgage Rates Slide Below 6.5%: Freddie Mac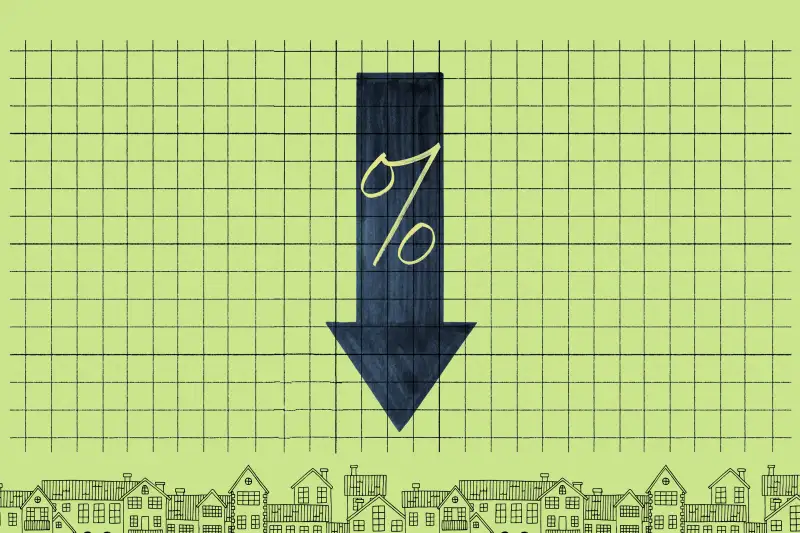 Homebuyers craving relief from high mortgage rates got it this week as mortgage rates moved down for the second time this month — if only by a little. The drop brought rates below 6.5% for the most popular (30-year) loan term.
The average rate on a 30-year fixed-rate loan decreased to 6.42%, according to Freddie Mac, an 0.18 percentage point drop over the past week. The rate on a 15-year fixed-rate mortgage also moved lower, with the new rate averaging 5.68% — down by 0.22 percentage points.
Although the rate declines may lure some buyers back into the market, they shouldn't necessarily be taken as the start of a prolonged downward trend. Experts warn there is too much uncertainty as to where the economy is heading to make any type of long-term prediction.
While higher mortgage costs in 2023 have thwarted the home-buying dreams of many, those who remain actively searching are adapting to the new normal of higher rates by finding ways to work around them. For one, more buyers are turning to FHA and VA loans, which tend to have lower interest rates and down payment requirements compared to conventional loans, when opting for a mortgage, according to online broker Redfin.
Another increasingly popular option for deep-pocketed homebuyers is to buy entirely with cash — thus skirting the obstacle of high mortgage rates. Almost a third of Redfin buyers in January paid cash for their homes, the highest percentage in the past nine years.
The Fed raises rates but changes its stance on future hikes
The week also brought a rise in interest rates from the Federal Reserve, but that was widely greeted with enthusiasm — since, until recently, the hike was expected to be higher.
As expected, on Wednesday the Fed announced a 0.25 percentage point increase in the federal fund rate, bringing its target range to 4.75% to 5%. It's the ninth straight increase in a series that started back in March 2022.
The federal fund rate is the interest banks pay each other for short-term loans. While it doesn't have a direct effect on mortgage rates, any change in the fed fund rate has a similar effect on all kinds of interest rates, including home loans.
Although the small rate hike met analyst expectations, a modest increase wasn't always a sure thing. Up until two weeks ago, comments made by Federal Reserve Chairman Jerome Powell in testimony before the U.S. Congress indicated that a more aggressive rate hike would be necessary in order to bring inflation back under control. Markets were pricing in a 0.50 percentage point hike, with several more rate increases likely later in the year.
Why the change? It appears that the recent turmoil in the banking sector managed to achieve what steadily declining inflation and market analyst warnings about a recession couldn't — make the Fed blink. The collapse of both the Silicon Valley and Signature banks, followed by signs of weakness in other banks in both the U.S. and Europe, seemingly prompted the Fed to moderate its inflation-fighting policy.
Part of the Fed's reasoning for the smaller increase is that banks are likely to tighten their lending standards due to economic uncertainty around the banking system. That, in turn, could (unfortunately) make it harder for consumers to borrow money, and the reduced borrowing could slow down the economy. The upshot: the modest hike might dampen inflation as much as a bigger rise might have done.
"Recent developments are likely to result in tighter credit conditions for households and businesses," Powell noted in the Federal Reserve statement. Those tighter conditions, added Powell, are likely to "weigh on economic activity, hiring and inflation."
What is unclear is how much of an effect those tighter conditions will have. For now, the Fed is adopting a wait-and-see attitude before deciding on future increases in its fed-fund rate. At the press conference following the Fed meeting, Powell indicated that there might be "some" additional rate increases. That's a change in tone from his previous statements, which implied that more aggressive rate hikes would be necessary to bring inflation back down to a target range of 2%.
As a result of those remarks, markets are now anticipating there could be one additional rate hike, again of a modest 0.25% percentage points, before the Fed pauses increases completely.
More from Money:
How to Get the Lowest Mortgage Rate: A Step-by-Step Guide