Here's an Easy Way to Score a Free Beer—and Get the 'Beer Mile' Some Respect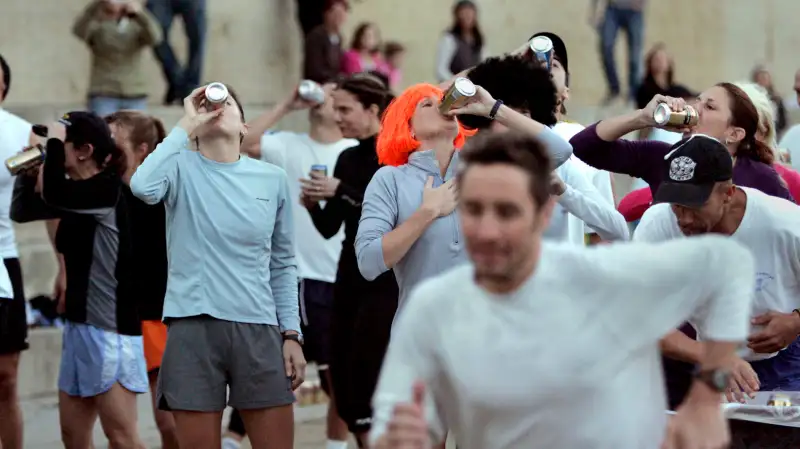 Don Kohlbau—ZUMA Press/Alamy
Yes, the Beer Mile is a thing. The Wall Street Journal even did a story on it—specifically, the historic, controversial quest to break the five-minute "Beer Mile"—a couple years ago.
The Beer Mile should probably really be called the Four-Beer Mile. As BeerMile.com explains, traditional versions of the race require the competitor to chug a 12-ounce beer, run one quarter of a mile, and then repeat both three more times until four beers are drunk and one full mile is run. (Competitors who vomit at any point are penalized by the requirement of an extra quarter-mile lap on the track.) The site traces the origins of the Beer Mile back to college campuses in the late 1980s, and its database includes more than 7,000 different Beer Mile races around the globe.
And now, the Beer Mile wants some respect, in the form of inclusion in the Olympics—or rather, in "the games." The pub chain World of Beer is running a new promotion "Get the Beer Mile into the Games," asking fans to sign an online petition in support of the movement. (As with the Super Bowl, only official sponsors are supposed to use the term "Olympics" in promotional material, and World of Beer is not an Olympics sponsor. Hence the use of the phrase "the games" rather than "Olympics.")
"If trampoline, ballroom dancing and equestrian dressage can be in, so can beer mile," the plea to sign the petition states.
Read Next: The Smithsonian Will Pay Someone $64,000 a Year to Drink (and Research) Beer
What "games" is World of Beer referring to, if not the Olympics? It doesn't really matter. The promotion is basically just a goofy way for World of Beer to get your email address.
But there's a reason you might not mind typing it in to the company's database: Once you give your info and virtually sign the petition, you'll be sent a voucher via email for a free draught beer at a World of Beer location. In states where it's illegal to give away free drinks, you'll receive a voucher for $5 worth of food instead.
In other words, unlike at the Olympics, pretty much everyone can win.