National Crisis! Free Bread Disappearing at Restaurants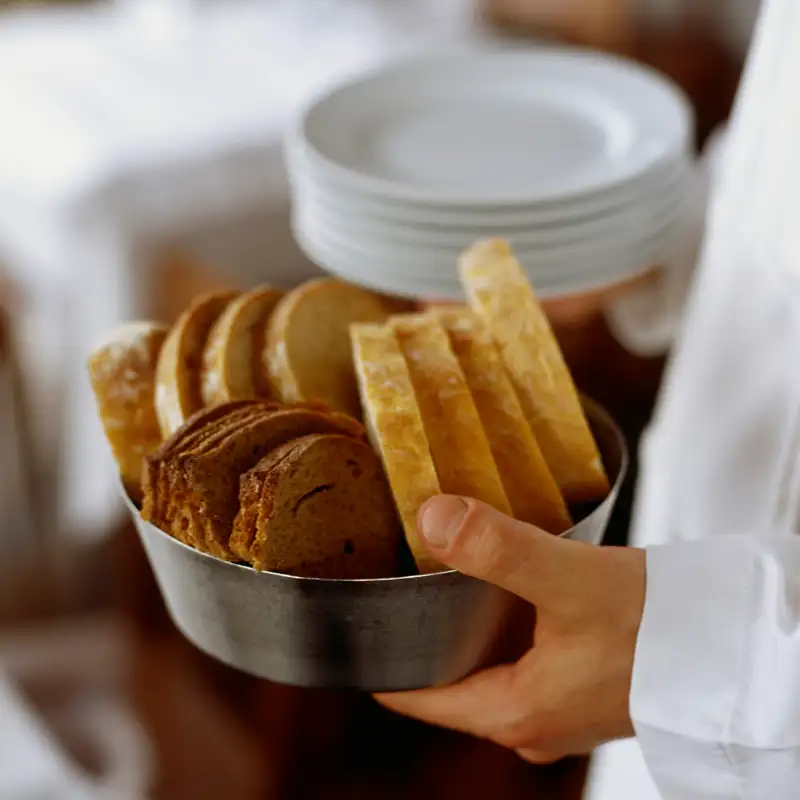 Kieran Scott—Getty Images
You want bread with your meal? Then be prepared to pay up. More and more restaurants around the country are upending decades of tradition by doing away with the bread basket.
The obvious reason that free bread is disappearing—or being offered upon request instead of showing up automatically—is that it's expensive. According to one baker interviewed recently by the Boston Globe, "a restaurant used to be able to get a roll for 10 cents. Now it can be 50 or 55 cents. Bread used to be cheap, but now it's a serious cost."
Even worse, restaurateurs are facing the proposition of paying more for bread during a time when diners are less likely to eat it, thanks to dietary restrictions and trends—in particular, the two big pushes to eliminate or restrict carbs and gluten. These shifts in eating habits don't appear to be going away anytime soon. The National Restaurant Association trade show in Chicago last week featured no fewer than 75 booths with gluten-free products.
In San Francisco, where it's become common for restaurants to either charge for bread or offer it only upon request, the new policies are promoted as a means to limit unnecessary waste. "I'm all for" it, wrote the San Francisco Chronicle restaurant critic Michael Bauer, because in the past, much of the free bread wound up in the trash, untouched. "Why waste bread if the diner really doesn't want it?"
Baby boomers, who have lived for decades with complimentary carbs, seem to be much more upset than younger generations about the disappearing act. The Arizona Republic, which last fall noted the phenomenon at restaurants in the retiree-heavy Phoenix area, quoted one 51-year-old man who spoke for many when he said the change was a way for a restaurant to "chintz out." A 20-year-old customer, on the other hand, felt quite differently: "I usually prefer that [restaurants] don't give me bread because it fills me up."
For restaurant owners, the decision to bread or not to bread tables comes down to figuring out a way to keep customers happy while maximizing sales and limiting unnecessary costs. Sensitive strategizing is needed to avoid putting off patrons.
Earlier this year, The Record (N.J.) reported that many restaurants in northern New Jersey have either stopped placing free bread at tables or deliver it only by request after customers have placed their orders. Why the latter? Because restaurants want people to order when they're hungriest, and customers are less likely to spring for appetizers and big entrees if they've already started chowing down on bread.
"If we can't sell plates because people are filling up on bread, it's a financial burden," said one New Jersey restaurant owner. "We're in the business to sell food, not to sell bread."
One sneaky strategy, employed by Abby Lane Food & Spirits in Boston, involves subbing homemade spicy barbecue blue potato chips for free bread at tables. The chips cost a fifth as much to produce as bread, and they are gluten-free, the Globe reported, which works out brilliantly for the restaurant. Even better—for the restaurant—because the chips are so salty, customers tend to spend more on drinks.