All the Places in the U.S. Where You Can Go to College for Free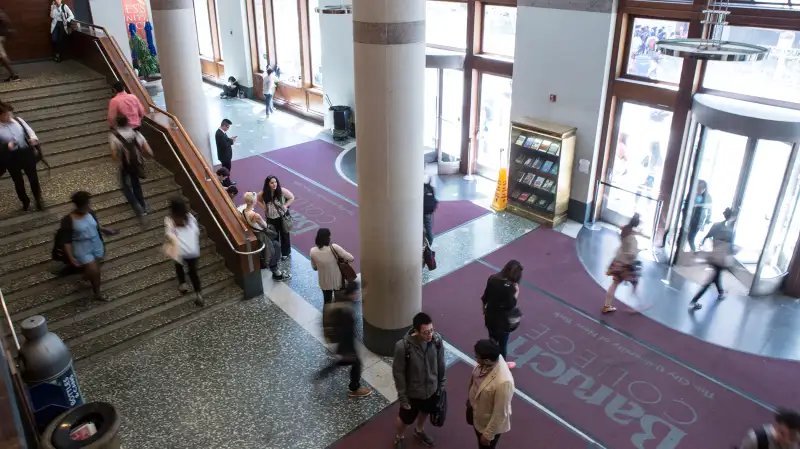 courtesy of Baruch College of the City University of New York
You've probably seen headlines recently about free public college programs in New York and Tennessee. But free college tuition programs aren't quite as rare as some politicians would have you think.
Long before free public college became a liberal rallying cry during the 2016 election, dozens of local programs had for years been offering high schoolers access to some form of either free or dramatically reduced tuition.
The newest statewide entrants are unique in the sense that the programs are funded entirely by the government. Most other free tuition programs rely on a mix of private donations and public funding. Often called "promise" programs, the offers are incredibly diverse, says Morley Winograd, president of the Campaign for Free College Tuition—and they're growing in number, he says, partly as a result of tremendous movement in state legislatures this year to develop programs.
"There are tens of thousands of families across the country who can experience free college tuition at some level," Winograd says.
Money wanted to highlight programs that reached the largest number of students in their respective areas, so we focused on programs that have near-universal eligibility; we allowed few restrictions beyond income cutoffs, community service or attendance requirements, or a 3.0 GPA. (That means we excluded new programs in Arkansas and Kentucky that are reserved for students in certain high-demand fields.)
"The research is clear that simplicity is critical to making these programs works," says Michelle Miller-Adams, who researches promise programs for the W.E. Upjohn Institute for Employment Research.
The list below also allows local programs that prorate their benefits based on how long students have lived in the community—giving the full award only to those who've been residents for the longest period, but it excludes any programs that operate more like merit scholarships, with high GPA or any standardized test score requirements. Nearly all programs require you to fill out a FAFSA.
Finally, we focused only on programs that offered enough funding to pay tuition for an associate's degree or bachelor's degree, excluding programs where the dollar caps fell below the state's average tuition or that paid for only the first semester of tuition—as is the case for many California community college promise programs.
Here are 44 programs in 24 states where residents have access to at least two years of free college tuition.
Arizona
Arkansas
California
Connecticut
Delaware
Florida
Illinois
Kansas
Kentucky
Maryland
Massachusetts
Michigan
Minnesota
Missouri
New York
North Carolina
North Dakota
Oklahoma
Oregon
Pennsylvania
Rhode Island
Tennessee
Virginia
Wisconsin
Sources: List compiled from information from the Upjohn Institute, the Campaign for Free College Tuition, and the College Promise Campaign.
Do you know about an eligibility change to one of the programs above or a free tuition program we missed? Tell us at college@moneymail.com.
Note: Money initially produced this list with programs that had a GPA cutoff no higher than 2.5. After hearing feedback from some program officials and readers, we increased the limit to a 3.0 GPA, which is equivalent to a B grade.