$13 Tattoos Are Back for Friday the 13th. Here's Where You Can Get One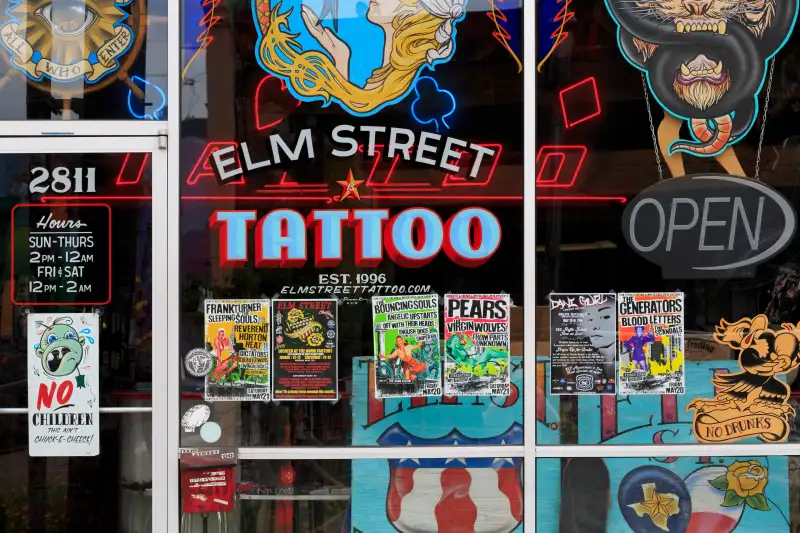 Richard Cummins—Getty Images/Lonely Planet Images
Don't freak out, but this Friday is April 13—i.e., Friday the 13th. It's traditionally a day for worrying about superstitions, watching scary movies and, perhaps surprisingly, cheap tattoo deals.
Tattoo shops all over the country have come to embrace Friday the 13th as a big day for tattoo specials—often with $13 tattoos, but sometimes with other tattoo deals and discounts.
How much do tattoos cost normally? Well, the price of a tattoo varies widely, based on size, color, and how much time the tattoo artist needs to do the job, among other factors. The average cost of a small tattoo can be $50 and up in many markets. So the $13 tattoo deals on Friday the 13th are indeed good deals.
Bear in mind that you'll probably pay more than $13 for a tattoo advertised as starting at $13. Most of these deals require a "lucky" tip of $7. And it's common custom to tip your tattoo artist regardless of whether a gratuity is required. You should expect to pay $20 or more, even when there are Friday the 13th tattoo deals being promoted.
Also, keep in mind that tattoo shops tend to attract big crowds when they're hosting Friday the 13th deals—so be prepared to endure a long wait. Most shops have a simple "first come, first served" policy. The list of tattoo styles available to customers is likely to be very limited on Friday the 13th as well.
There is no single comprehensive spot to search for Friday the 13th tattoo deals, so check shops in your area to see if they have special promotions for April 13. Here are some examples around the country where tattoo parlors have great Friday the 13th deals.
California
The Riverside Harley-Davidson outside Los Angeles is hosting a Friday the 13th Tattoo Marathon with $13 tattoos (plus a required $7 tip). The North Hollywood Tattoo Shop also has $20 tattoo deals, and Orange County Tattoo has tattoo specials for $13 or $31 on Friday.
Colorado
Endless Ink Tattoo in Denver and the Black Voodoo Tattoo Parlour in Lakewood are advertising $13 tattoos on Friday, April 13.
Connecticut
Body Art and Soul Tattoos in New Haven has what seems to be the standard Friday the 13th deal: a limited selection of small tattoos for $20 ($13 plus $7 tip).
Kentucky
Brother Raven's Tattoo and Art Emporium in Louisville is offering over 100 different designs of Friday the 13th flash tattoos for $20 ($13 plus $7 tip) on Friday.
Illinois
Several tattoo shops in the Chicago area have Friday the 13th deals. Mark of Excellence Tattoos in Park Forest, for example, is offering a selection of small tattoos for $13 (plus a $7 tip so $20 total) from noon to 4 p.m. on Friday. Jade Dragon Tattoo in Chicago, meanwhile, has Friday the 13th deals like $40 tattoos ($31 plus $9 tip) and $20 piercings ($13 plus $7 tip).
New York
Daredevil Tattoo in Manhattan (Chinatown) and Body Art and Soul Tattoos in Brooklyn (Bushwick) are among the tattoo shops in New York City with $13 tattoo deals for Friday the 13th.
Tennessee
Grace & Glory Tattoo in Murfreesboro has a $20 tattoo special ($13 plus $7 tip) and One Drop Ink Tattoo Parlor and Gallery in Nashville has tattoos from $31 and nose piercings from $20 on Friday.
Texas
There are tons of tattoo deals and special events for Friday the 13th in the Dallas metropolitan area. Among the shops with a selection of $20 tattoos ($13 plus $7 tip) are Daddy Jack's Body Art Studio in Fort Worth and Elm Street Tattoo in the Deep Ellum district. Some shops in Austin, Galveston, Houston, and San Antonio also have $13 tattoo deals this Friday.