These Tattoo Parlors Around the Country Have $13 Specials for Friday the 13th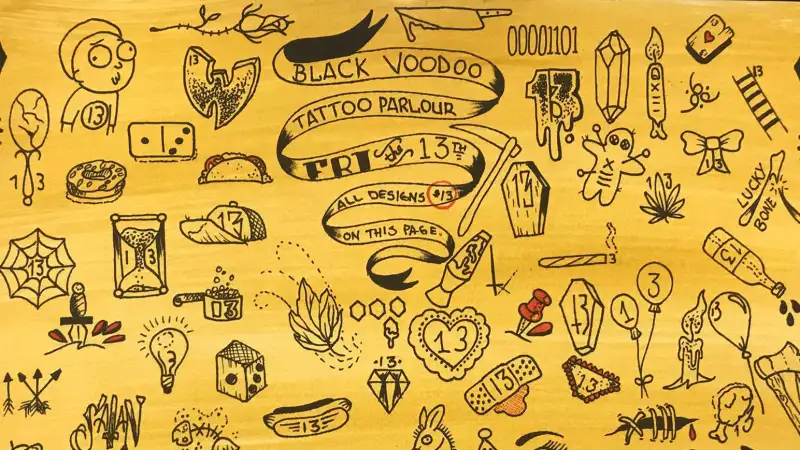 courtesy of Black Voodoo Tattoo
Friday the 13th is associated with dark deeds and bad luck. But this Friday, Oct. 13, is definitely good luck for anyone seeking a deal on a tattoo: Participating shops are promoting Friday the 13th tattoo specials, with tattoos starting for as little as $13.
It's become something of a tradition in recent years for tattoo shops in cities around the country to offer $13 tattoo deals when Friday the 13th pops up on the calendar. Tattoo fans have come to expect the $13 promotions, which have grown extremely popular. The lines of people waiting for $13 tattoos on Friday the 13th sometimes stretch around the block outside tattoo shops.
Each tattoo shop's Friday the 13th special is a little different, so check the local pricing and policies before deciding where to get inked. While many shops have $13 tattoos this Friday, others are promoting higher-priced deals—like $31 tattoos in Philadelphia, for example, and tattoos at the discounted rate of $60 in San Francisco.
For the most part, the shops with $13 tattoo deals limit the possibilities to a select few designs—often those with ghost, vampire, or other Halloween themes. Some shops stipulate that the $13 price is only for tattoos on arms or legs, not on trickier body parts like necks or ribs.
Oh, and the $13 tattoo deals will wind up costing you more than $13. That's because the $13 price doesn't include a tip, and in most cases a tip of $7 is mandatory. So a $13 tattoo typically costs at least $20 total out of pocket, and cash is often the only form of payment accepted.
Still, that's quite a deal for a permanent piece of art on your skin. Here are some of the tattoo parlors around the country with $13 Friday the 13th specials on October 13, 2017.
Brooklyn, New York
Several tattoo shops in Brooklyn, including Abuela's Tattoo Parlor in Bedford-Stuyvesant and Citizen Ink in Sheepshead Bay, have special Friday the 13th tattoo deals. The specials vary, but typically a limited selection of tattoos is available for $13 plus a $7 tip, for a grand total of $20.
Chicago
The Hard Core Element Tattoo Shop, in Chicago's Bridgeport neighborhood, is charging $13 for some tattoos from noon to midnight on Friday, October 13.
Lakewood, Colorado
The Black Voodoo Tattoo Parlour in Lakewood, just outside of Denver, has several Friday the 13th special offers, including basic piercings for $13, as well as select "flash design" tattoos for $13, from noon to 8 p.m. "Please bring a valid photo ID, and patience!!! We sometimes get wait lists up to 4 hours on these specials, so be prepared to wait!!!" the Black Voodoo Facebook page states. "We will have 5 artists available, and hundreds of designs!!!!"
Further south, Pens & Needles in Colorado Springs also has a choice of $13 piercings and $13 tattoos this Friday the 13th.
Las Vegas
Only those who RSVP to Iron Monk's special event on Friday, October 13, are eligible to take advantage of the shop's tattoo deal: $13 for a tattoo of a pre-drawn image, plus $7 for the tip.
Louisville, Kentucky
Black Heart Tattoos Art Gallery in Louisville has what seems to be the standard Friday the 13th tattoo deal on October 13: Tattoos start at $13, and a $7 tip is mandatory.
Nashville, Tennessee
Electric Hand Tattoo in East Nashville is being a little coy on its Facebook page about its Friday the 13th tattoo special, but it and some other Nashville tattoo parlors seem to offer deals every Friday the 13th. There is usually a limited number of tattoos available for a total of $20 ($13 plus a $7 tip). Grace and Glory Tattoo, about 30 miles southeast of Nashville, in Murfreesboro, has the same $20 tattoo special on October 13.
Phoenix
A food truck and DJ will be posted from noon to midnight at Lady Luck Tattoo, where tattoos are selling for $20 ($13 plus a mandatory $7 tip) on Friday the 13th.
Seattle
Rat City Tattoo is hosting its seventh annual Friday the 13th $13 tattoo deal. The selection of tattoos available for $13 on Friday include a creepy jack-o-lantern, vampire's teeth, and a ghost raising a certain finger.
Virginia Beach, Virginia
Ancient Art Tattoo is offering tattoos for $13 on Friday the 13th, and the total price comes to $20 because a $7 tip is mandatory. All payment must be in cash as well.
West Palm Beach, Florida
From noon to 7 p.m. on Friday, October 13, the Harley-Davidson location in Palm Beach welcomes a tattoo artist from Aces High Tattoos, who will be offering Harley-Davidson tattoos for $20 ($13 plus $7 tip). Aces High Tattoo itself has a different tattoo deal on Friday: Tattoos featuring ghosts, skeletons, the number 13, and marijuana paraphernalia are being priced at $31 plus a $9 tip, for a total of $40.