Gas Prices Are Under $3 in Every State Except One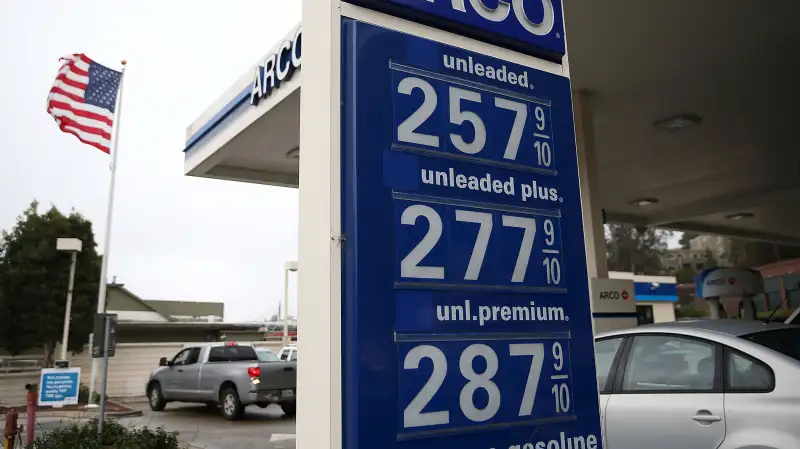 Justin Sullivan—Getty Images
Gas prices in California have been freakishly expensive compared to most of the country for months. In much of southern California, gas stations were charging over $4 per gallon during peak weeks in the summer, at a time when the national average was about $2.75. For most of the year, California gas prices have even been higher than Hawaii and Alaska, which are normally the two outliers in terms of fuel costs—understandable based on how remote they are.
As of Friday, though, the average price for a gallon of regular gasoline in Hawaii stood at $2.90, and it finally inched down to a flat $3 in California, according to the AAA Fuel Gauge Report. That means that there's only one state still averaging above $3 per gallon. It's Alaska, which is also nearing that mark with an average of $3.06.
Don't feel bad for Alaskans, who are paying 35¢ to 40¢ less per gallon than they were a month ago—and about 80¢ less than they were a year ago. What's more, starting next week nearly every Alaskan resident will receive a dividend check for $2,072 thanks to the Alaska Permanent Fund, a program that pays locals a percentage of the state's oil and mineral royalties and revenues every year. The 2015 check is $188 more than last year's cut ($1,884), and it's one of the largest-ever dividends paid out by the state, even after adjusting for inflation, according to the Alaska Dispatch News.
The takeaway is that even if Alaskan drivers pay more than drivers in the Lower 48 at the pump, they're more than making up the difference in light of the annual dividend check they receive. According to the 2015 AAA study detailing the cost of owning a car, the average American driver spends $1,681.50 on fuel. So the annual dividend check cut by the Alaska fund probably covers the average driver's gas expenses for the year.
As for the country as a whole, the national average was $2.29 on Friday, down 38¢ compared to one month ago, and roughly $1.05 cheaper than a year ago at this time. While there's always some unpredictability with gas prices, most analysts are forecasting that prices at the pump will keep decreasing in the months ahead. GasBuddy recently noted that drivers "on the West Coast are likely to see some of the larger declines yet to come" in particular, because of continued improvements with regional refineries and the switch to cheaper winter strains of gasoline.