Florida Is Running Out of Gasoline. This App Is Helping People Find It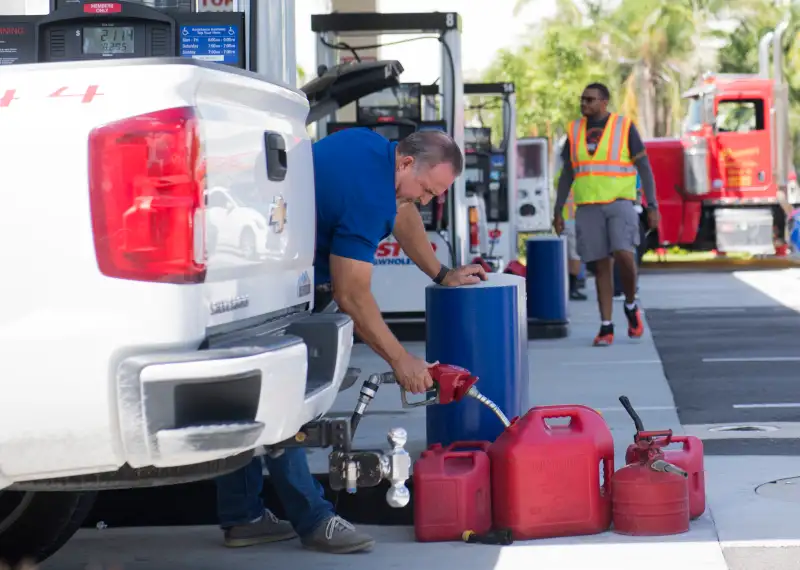 SAUL LOEB—AFP/Getty Images
Hurricane Irma is causing destruction throughout the Caribbean, and it appears like Florida is next in the deadly storm's crosshairs. Millions of Florida residents are expected to flee the state, and the torrent of drivers seeking to fill up ahead of Irma has led to huge lines at gas stations, price increases, and fuel shortages in coastal areas.
To help drivers out, the gas-price app GasBuddy has posted an emergency Gasoline Available Tracker that allows users to get live updates on which stations do and do not have fuel throughout the state. Even so, confusion remains, as do excruciatingly long lines at the stations that aren't sold out.
It's hard to gauge exactly how many gas stations actually still have gas in Florida, partially because new supplies are arriving all the time. Earlier this week, AAA spokesman Mark Jenkins told the (South Florida) Sun Sentinel that despite "some spotty outages in South Florida," overall "supplies are good right now." By Thursday morning, GasBuddy reported to Bloomberg that more than 1,500 Florida gas stations were without fuel. As of 10:30 a.m. on Thursday, 30% of the gas stations in Tampa, 31% in West Palm Beach, and 43% in Miami had no fuel, according to GasBuddy.
The GasBuddy app allows users to report that a station does or doesn't have gas (or power) with a quick tap of a button. Drivers looking for spots that still have fuel can conduct a quick search on the app to check the latest user-generated info. When we searched "Miami" at noon on Thursday, for example, the service immediately pulled up 25 area gas stations and revealed that 18 had gas, according to updates from users who had posted within the last 10 minutes.
While Florida drivers are likely to encounter long lines and fuel shortages, reports of price gouging have been relatively rare thus far at gas stations. Florida gas prices are up an average of 30 cents to 40 cents over the past week, which is about on par with the rise in gas prices nationally—thanks largely due to the impact of Hurricane Harvey followed by Hurricane Irma.
But drivers can still pay widely different prices based on where they fuel up in Florida. Several gas stations in Miami Beach have been charging $3.30 to $3.50 per gallon, compared to roughly $2.50 per gallon at some Costco and Sam's Club fillup stations in Miami's suburbs.