Price Gouging Is Already an Issue in Florida As Hurricane Irma Draws Near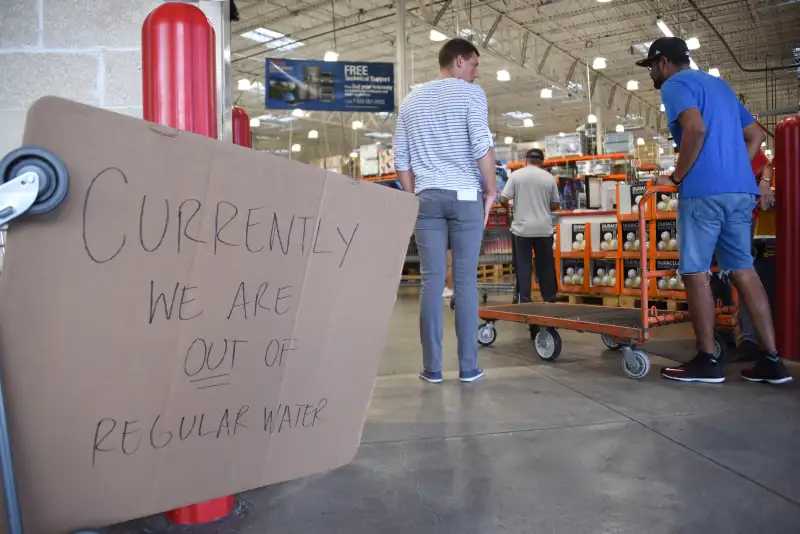 MICHELE EVE SANDBERG—AFP/Getty Images
As Hurricane Irma, the most powerful hurricane ever recorded in the Atlantic Ocean, hits the northeast Caribbean, Florida residents are already seeing price gouging for items like water, food and gas as they prepare for the storm that is on track to reach parts of the state by the weekend.
Florida State Attorney General Pam Bondi opened a price-gouging hotline for residents to report these instances, and a "high volume of complaints" have already rolled in since it opened on Monday, a spokesperson for the office told Money. Many of the reports detailed price gouging for water, ice, lumber and fuel.
Oftentimes during preparations for natural disasters, necessities like water, gas, food and airline tickets are sold for higher prices since they are in high demand, and a number of states — including Florida — have laws against in this practice. In the Sunshine State, price gouging during emergencies like the impending Hurricane Irma are illegal. Violators of this law can receive civil penalties of $1,000 for each violation, and up to $25,000 for several violations within a 24-hour period.
"By reporting suspected price gouging you can protect yourself and your fellow Floridians," Bondi said in a statement. The hotline — which can be reached at 866-9-NO-SCAM — was last opened at the end of July as the state prepared for Tropical Storm Emily.
Ahead of Irma, Amazon came under fire this week for selling cases of water for higher prices than usual, according to CBS. In one instance, a 101.4 ounce jug of Poland Spring water is listed for $63.95 on Amazon. Packs of bottled water — which typically sell for around $5 to $10 — are marked up to at least $20 on Amazon as well, and some have reached above $40.
The higher prices came as a result of Amazon's pricing algorithms that are based on popularity, according to CBS. But a spokesperson from Amazon told Money that the company does not do surge pricing. "Prices on bottled water from Amazon, and third-party sellers that are doing their own fulfillment to customers, have not widely fluctuated in the last month," the spokesperson said.
Later on Wednesday, Amazon told Money it was removing bottled water selling for prices that "substantially exceed the recent average sales price." It said it's possible some of these heftier prices are being sold by third party sellers, and many of the lower priced ones have been sold already.
"If customers think an offer has substantially exceeded in price we encourage them to contact Amazon customer service directly and work with us so we can investigate and take the appropriate action," an Amazon spokesperson said.
Florida's law applies to businesses in the state, and some of the vendors with higher prices for water on Amazon are located outside of it. But a spokesperson for Bondi's office told Money: "If the business is selling an essential commodity to persons who are using it in Florida as a result of the emergency, the business may be subject to Florida's price gouging law."

Similar instances of price surging occurred last week in southeast Texas as record-breaking and catastrophic flooding submerged Houston, the nation's fourth-largest city, in water. Texas Attorney General Ken Paxton created a hotline to report price gouging. In some instances, a gallon of water went for $99 and hotel rooms were three or four times their usual prices. And Best Buy apologized after a video showed one of its stores in Houston selling a case of water fro $42.96.
Hurricane Irma is expected to potentially hit Florida over the weekend. On Wednesday, Florida Gov. Rick Scott activated additional members of the National Guard, with about 7,000 total members prepared to report for duty on Friday morning. Scott also issued an executive order on Monday that declared a state of emergency in all 67 counties of the state. Emergencies have also been declared by President Donald Trump in Florida, Puerto Rico and the U.S. Virgin Islands.
The eye of the Category 5 hurricane hit Barbuda early Wednesday morning, where heavy rain and winds knocked roofs of the island's police station and damage hit many homes, according to the Associated Press.