America's 'Gayborhoods' Are a Lot More Expensive, a Lot Less Gay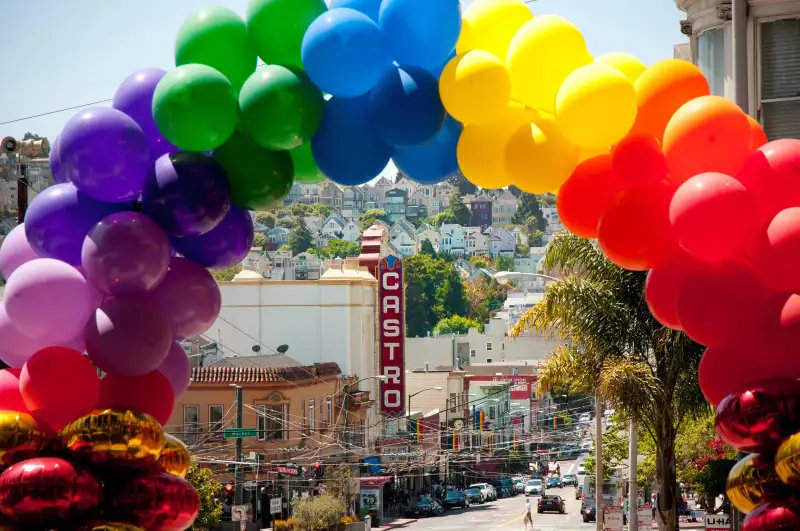 As gay acceptance has risen over the years, gay people have increasingly moved away from historically gay neighborhoods, such as the Castro in San Francisco and Chicago's Boystown. Simultaneously, more and more straight individuals and couples have felt comfortable enough to move into these neighborhoods. As a result, many gay neighborhoods—call them "gayborhoods"—aren't nearly as gay as they used to be.
That's the gist of a new book called There Goes the Gayborhood? by Amin Ghaziani, an associate professor of sociology at the University of British Columbia. His research traces the changing face of gay neighborhoods and explores the implications of these shifts in cities around the U.S.
For instance, from 2000 to 2012, the number of same-sex couple households increased in nearly every neighborhood in Seattle, with one glaring exception: Capitol Hill, described as the "center of the city's gay and counterculture communities," according to Wikipedia, experienced a 23% decrease in same-sex households over the same time span, the Seattle Times noted.
"This isn't unique to Seattle," Ghaziani explained. As gays have moved far beyond gayborhoods to other parts of cities and into small towns and the suburbs, a "straightening" has taken place in neighborhoods like Capitol Hill.
Much of Ghaziani's research is based on Chicago's Boystown, where he lived for nearly a decade, and where the idea for the book was born. "My friends and I began to notice changes in the character and composition of the neighborhood," he said to the Chicago Tribune "We'd notice more straight couples holding hands and more baby strollers. That became a symbol. Oftentimes a sex store would close and a nail salon would open in its place."
The shifting demographics must be viewed as a sign of growing acceptance—that of straight people in traditionally gay neighborhoods, and of gay people throughout the land. Still, many of the sources quoted in Ghaziani's book worry that the blurred lines could mean that much of what makes a gayborhood special will disappear. In an op-ed he wrote recently, Ghaziani quoted Dick Dadey, who was the executive director of Empire State Pride Agenda in the 1990s, explaining, "there is a portion of our community that wants to be separatist, to have a queer culture." Still, Dadey said, "most of us want to be treated like everyone is," and, "we want to be the neighbors next door, not the lesbian or gay couple next door."
Then there are the financial implications of all of these shifts. "It's impossible to discuss gay neighborhoods without considering economic factors like rent and housing prices," Ghaziani said in an email to Money. He pointed out some data from Trulia in the book showing that several traditionally gay neighborhoods, like West Hollywood and New York's West Village, are extremely expensive places to live.
Meanwhile, according to 2013 report from Trulia, prices in urban U.S. neighborhoods have been increasing at a faster pace than the suburbs, and prices soared in gay-friendly city neighborhoods in particular:
These numbers are backed up by other research, such as that highlighted earlier this year by Richard Florida, the celebrated urban theorist and author of The Rise of the Creative Class. In a City Lab post, Florida summed up recent research indicating "a connection between gay neighborhoods and some of the markers of gentrification," and that "neighborhoods that began the decade with larger concentrations of gay men saw greater income growth, and, especially in the Northeast, greater population growth as well."
Ghaziani writes, "I don't think gayborhoods are dying." But Florida doesn't sound quite as convinced, writing, "As these areas of the city continue to change, potentially pricing out some of the gay couples who moved in decades ago, gayborhoods could just as easily become a thing of the past."