Meet the 95-Year-Old Math Geek Who Is Now America's Oldest Billionaire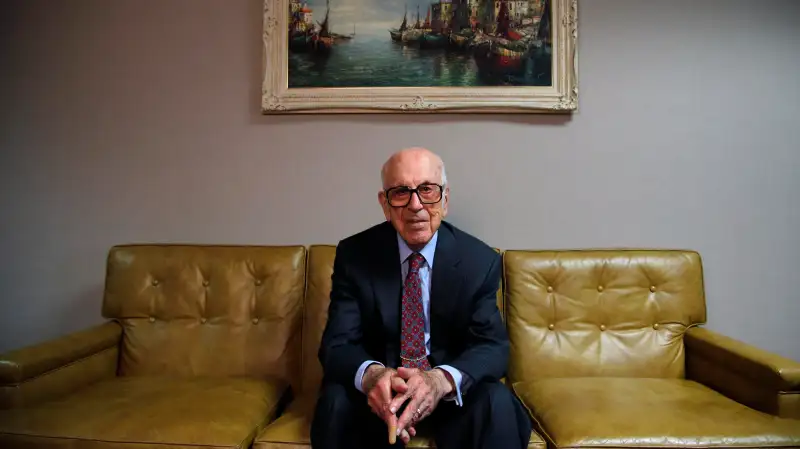 If you ever wondered why your auto insurance rate is tied to your driving record, ask George Joseph. Joseph's story can also explain why you get a discount when buying home and auto insurance from the same company.
When auto insurance was first rolled out en masse after World War II, everyone paid the same rate, regardless of previous driving history.
Joseph, who unlike most insurance professionals at the time had an actuarial background, realized this approach was all wrong. He used the numbers to make the case that drivers with a history of accidents and traffic violations should pay more for insurance than those with clean records.
This insight was key to Joseph's enormous success in the industry, leading to his status as a billionaire decades down the road. And Joseph is not just any billionaire — at 95, he is officially the oldest billionaire in America, according to Forbes, which lists his net worth at $1.6 billion.
Through a representative, Joseph declined to be interviewed for our story.
According to the biography of Joseph published at the website of the company he founded, Mercury Insurance, he is the embodiment of the American dream — a classic 20th century success story.
Joseph, the son of Lebanese immigrants, grew up during the Great Depression in West Virginia. His father earned wages as a coal miner and shopkeeper; his family also raised pigs and chickens. They struggled but survived, Joseph has said.
The surest way to a stable life was the military, so Joseph volunteered for the United States Army Air Corps, just before the U.S. entered the war. When America did get involved, Joseph flew 50 missions in North Africa and Italy. Because of his affinity for math, Joseph became his unit's navigator.
That same skill set allowed him to matriculate to Harvard through the G.I. Bill once the war ended. He graduated in just three years, and soon found actuarial work in insurance, fulfilling his passion for math.
But the work itself was not that fulfilling. According to the biography on Mercury's website, after several years in the industry, "Joseph decided he could create a new system by developing an insurance company that used different factors to create fair and equitable rates for a variety of drivers."
He was ultimately able to raise an impressive $2 million — more than $16 million in 2017 dollars — to found his new company, Mercury Insurance. The company sold its first policy on April 1, 1962, in California.
"We called our company Mercury, because I wanted us to be fast and nimble, just like the Roman God of business and merchants," says Joseph. "He was also responsible for delivering good news to people on Earth, which is exactly what we do for Mercury customers every day."
Rob Hoyt, a professor of risk management and insurance and the department head of insurance, legal studies and real estate at the University of Georgia business school, told Money that Joseph's mathematics background gave him a leg up in an industry largely composed of salesmen.
"That he ultimately started in the industry as an actuary put him in unique position to observe that you could be more precise in your analysis of...pricing the products" being sold, Hoyt said.
Joseph also pioneered bundling home and auto insurance, or what is known in the industry as "cross selling," Hoyt said. Joseph successfully identified that "people had a variety of insurance needs," and capitalized on what at the time was a market gap. (Money and other personal finance resources often recommend the bundling of insurance as a way to save money.)
Mercury went public in 1985, and today has a market cap of $3.3 billion. It is now among the top-30 insurers in the world, servicing states from coast to coast.
It hasn't been entirely smooth sailing. Mercury has been cited for "a lengthy history of serious misconduct," according to the California Department of Insurance, including an attitude of "contempt toward and/or abuse of its customers." At one point it was fined $300,000 over seven different infractions, the Los Angeles Times reported.
Joseph has been politically active in California for decades. He was a vocal, public advocate for a 2010 California ballot proposition that Joseph argued would give more drivers a chance to get discounts. A Los Angeles Times reporter at the time described Joseph as being in his 80s "but work[ing] like a man in his 20s."
"I hope I'll be remembered for the contribution I've made to the insurance industry and the changes Mercury has pioneered that have led to billions of dollars in savings for consumers," Joseph says.
This story has been updated.