Why You Should Get Up From Your Desk and Go Home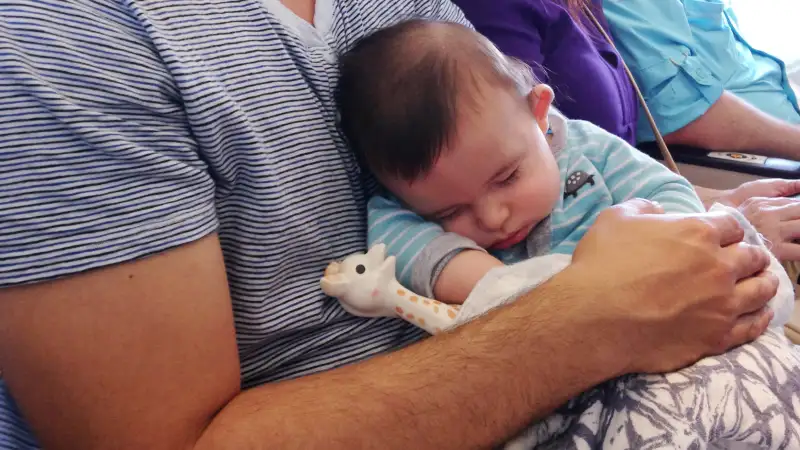 A couple of days ago I was on an airplane with my son. It may be a cliché, but there are truly few combinations as destabilizing as infants and planes. While other passengers may bristle at an infant's shrieking hysterics, that annoyance pales in comparison to the sheer terror borne by the parents of the hysterically shrieking child.
(We know that you—passengers without children—are judging us. But more importantly, our kid is upset. So back off.) Anyway, Luke had a rough go of it on his first flight, so I was on DEFCON 1 for the return trip.
But he did great. Very little muss, almost no fuss. His calm allowed me to reflect on things other than what I'd do if Luke vomited on the lovely couple to my left, and I realized something: This vacation was the first time I had hung out with my son before 7 p.m. on a weekday for as long as I could remember.
Which sucks.
I love my job, but I rarely leave the office before 6:30 p.m. My commute is a little under an hour, and I usually stop by the grocery store to pick up dinner, so I'm lucky to get home before Luke's asleep.
Of course, I'm not alone. Americans, by and large, work too long, take too few days off, and have problems enjoying their vacation time.
For instance, about one in nine U.S. workers puts in more than 50 hours a week, according to the Organisation for Economic Co-operation and Development. Less than 1% of Dutch employees toil that hard. In fact, citizens in only three out of 36 countries devote less time to leisure activities like sleeping and eating than Americans do.
Not surprisingly, America ranks eighth from last on the OECD's Better Life Index.
When it comes to time off for good behavior, Americans get 14 vacation days a year on average, per Expedia's 2013 Vacation Deprivation Study, or less than half as many as workers in France, Denmark, and Spain enjoy. But that's not the really depressing part. The really depressing part is that while Americans receive more than two weeks of vacation, we take only 10 days.
One reason is that workers want to save vacation days for later, or convert them to cash. But 35% (the plurality) report having to cancel or postpone getaways because of work.
And once we're actually on vacation, it's hard to shut our minds off. Much to my embarrassment, I found myself checking emails and social media my first few days at the beach. I had to tell myself to close the browser and shut the laptop and go spend time with my loving family. It's as if we're paid victims of Stockholm syndrome.
I don't want to sound cranky or ungrateful. I derive a fair amount of pride from my work, and more than eight in 10 U.S. workers say they are satisfied with their jobs. The cool thing about what I do is that I get to see a finished product after I'm done, which is affirming.
But I feel almost guilty if I'm the first to leave the office, as if I have it in my mind that I really didn't work hard enough or suffer long enough that day. While this is an especially busy time for us here (with the launch of Money.com), I know that many of my friends feel the same pressure to stay well past closing time.
So I'm here to tell you, workers of America, that it is okay to go home when you should, and that there is nothing inherently better about working 50 hours a week than 40. Don't feel less of a success if your friends put in more hours at the office than you do.
By repeating that mantra to myself long enough, I just might get home in time to put my kid to sleep.
More First-Time Dad: