Why This Millennial Is Kissing the City Goodbye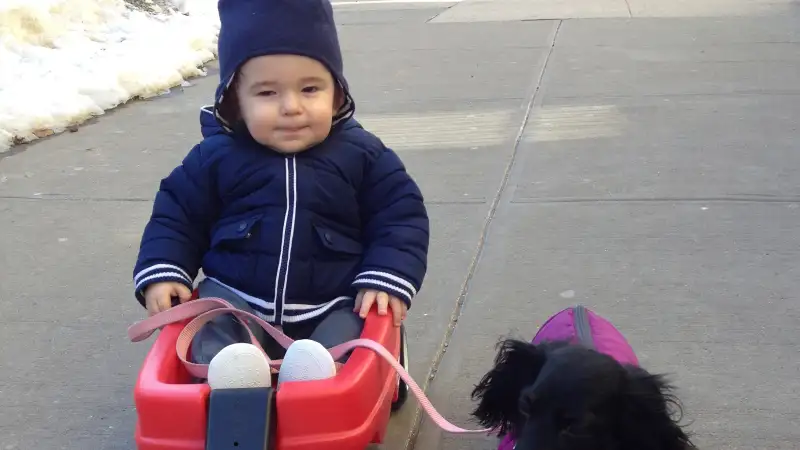 Renters in New York City have a uniquely dysfunctional relationship with real estate: The more time we spend living in some of the most desirable housing in the world, the less happy we become. Or maybe that's just me.
My wife and I pay $2,100 a month for what seems like two square feet and minimal natural light in a converted hospital in a cool Brooklyn neighborhood. There's an artisanal pizza shop, hole-in-the-wall cafe, and kid-friendly beer garden right around the block. I'm a 15-minute walk from a major metropolitan museum, botanical gardens, and the best park in all of New York. When it's warm I bike, toss the frisbee, and drink whisky on rooftops. The beach is only 30 minutes away.
Unfortunately, warmth doesn't last forever, and when it gets cold outside—say, from Thanksgiving to Easter—I spend more time indoors. Which means I'm trapped with a 21-pound baby monster who smashes, grabs, and pounds anything he can get his hands on, from cellphones to lamps. As a result, I'm slowly devolving into madness. Spending hours upon hours inside with two other people, only one of whom yields to reason, punctuated by intermittent excursions into tundra-like conditions, makes it seem as if the walls are slowly inching in on themselves.
Don't get me wrong—I love the city, I went to school in New York, I've lived here for almost the entirety of my adult life. But after 13 months as a father and 19 months as a husband, I'm ready to escape to the land of malls and carpool lanes, single-unit houses and trees, the land of my birth: suburbia.
That said, it's one thing to want move, it's another to actually do it. Here's a window into my thought process—and that of other millennials facing the same decision.
We'd Still Be Renters
Years of high rent and monthly student loan bills, combined with the cost of childcare, made it next to impossible for us to save up for a down payment. So we're looking to rent wherever we go, which should mean more money left over for us. According to NerdWallet.com's cost of living calculator, we could reduce our housing costs by about 25% if we moved to northern New Jersey or Long Island.
Even if we had enough funds stashed in our joint bank account, there are a couple of reasons why a home purchase would be a poor move. For one, conventional wisdom states that your target property should be no more than two and a half times your gross income. The odds that we'd find a New York-area home in the $300,000 range that'd we'd actually want to live in are low.
OK, let's say that we had the savings and lived in a less expensive city. Should we jump into the market then? Not necessarily, says Pensacola, Fla.-based financial planner Matt Becker.
"Don't rush to buy a house just because you want to go the suburbs," Becker says. "That can lead to a quick financial decision as opposed to a good one." Since transaction costs are so high, we'd need to stay in the home for a number of years to for buying to make financial sense. And who knows if we'll want to live in a particular town for that long? My wife and I are still early on in our careers, we could end up lots of places.
Even Though Now Is a Good Time to Buy
If your bank account is fatter than ours and you're ready plant some roots, buying might make sense. In fact, if you can get a mortgage, now is a great time to buy, since 30-year mortgage rates are absurdly low. Mortgage behemoths Fannie Mae and Freddie Mac announced late last year that they would allow down payments of as low as 3% on some mortgages. (These moves were directed at people who haven't owned a home for three years, or are in the market for their first house.)
Once you've made the decision to move, you need to think about where you'd like to spend the next seven to 10 years. While we need more space, I don't want to give up some of the best aspects of the city—good restaurants, a sense of community, hipster/independent movie theaters—in the trade. In that regard I'm like a lot of young buyers, says Greensboro, N.C.-based Realtor Sandra O'Connor. "There's real movement among millennials who are looking for places to live with walkable areas," she says. "They don't want to always be in their car."
If you're still undecided about whether renting or buying is the better choice for you, check out Trulia's rent or buy tool. Those who fall in the rent camp should understand that finding rental units outside of cities can be a lengthy process, per O'Connor and Becker.
All Suburbs Are Not Created Equal
So I want to move, but where should I go? I put the question to Alison Bernstein, president of the Suburban Jungle Realty Group, a firm that specializes in helping its clients find the best New York City suburb for them. Bernstein says that city dwellers eager to jump need to "understand that a house is a house, but the dynamic of a town is very difficult to grasp."
To that end, Bernstein laid out a number of questions that anyone thinking about relocating needs to consider:
Bernstein has also noticed a few trends with today's younger buyers. "They are happiest with a smaller piece of property, a more modest home, and being in a more cosmopolitan suburb. Also they are not plowing every last penny into their house. They are still budgeting for travel."
The Costs of Commuting
Right now I pay $112 a month (soon to be $116) for a 30-day subway pass to get to the office. We are only a 20-minute drive from my wife's work, which means we shell out a very reasonable $50 a month on gas. When we move to the suburbs we will pay more. For the sake of argument, let's say that we end up relocating to Pelham, New York, just north of the city. My monthly bill rises to $222, while my wife's morning drive will consume almost twice as much gasoline, meaning our monthly outlay will jump by about $160.
But that's just the money. The time we spend going from home to work and back will grow as well. Doing some back of the envelope calculations, my in-transit time will increase by 10 minutes each way, while Mrs. Tepper will spend an additional 20 minutes or so in traffic. Combined we'll endure about an hour more per day on our commute, which sends shivers down my spine.
There are a few positives about the longer commute, though. For one, car insurance is generally cheaper outside of the city. According to CarInsurance.com, the average rate in my neighborhood is a little less than two times that of Pelham's. While I wouldn't necessarily expect to cut our car insurance costs in half, this savings would take a bit of the sting out of much higher commuting costs.
Aside from lower insurance rates, we could also dedicate a portion of our new abode as a work space. As Mrs. Tepper and I advance in our careers, we hope to have more leeway in terms of a flexible work arrangement. While our commute might be longer, we'll most likely have to do it less often. And each saved car ride is more money in our pockets.
The Tradeoffs
Getting older involves a series of decisions that have the net effect of limiting one's personal freedom. I became a journalist, which means I couldn't be a doctor (leaving aside the question of whether or not I had skill to do it in the first place). Marrying one woman, and being keen on staying married, means I can't marry a different one. A life in one town is a life not lived in another.
Which is all to say that I'll miss living in Brooklyn. Despite the hipster clichés, I really do enjoy artisanal, delicious, overpriced hamburgers and 17 different IPA varieties at my bars. I like walking everywhere, even if we have a car, and a touch of self-righteousness about your home is good for the soul.
But I think of my sojourn in New York's best borough as I think of college: I wish I could stay forever, but it's time to move on.
Financial planner Matt Becker understands my dilemma. He recently moved from Boston to suburb-rich Pensacola and is still adjusting to his new life. He walks less and drives more. While his young family has more space to play and grow, that also means he has more house to furnish and air condition, which means more costs. I imagine we'll encounter something similar.
The combination, though, of high rent and minimal space has lost its luster. Even if we end up breaking even in our move, or only saving a little bit, our dollars will go further. We can have a backyard for our son and our dog and us. We'll have a laundry machine on the premises, so we don't have to lug 20 pounds of clothes a couple of blocks through the snow. We'll have a full-size dishwasher.
I proudly proclaim without regret what might have depressed my younger self: these amenities are more appealing than staying in Brooklyn.
More From the First-Time Dad: