This Chart Shows What Stores' Gift Cards Have the Highest Resale Value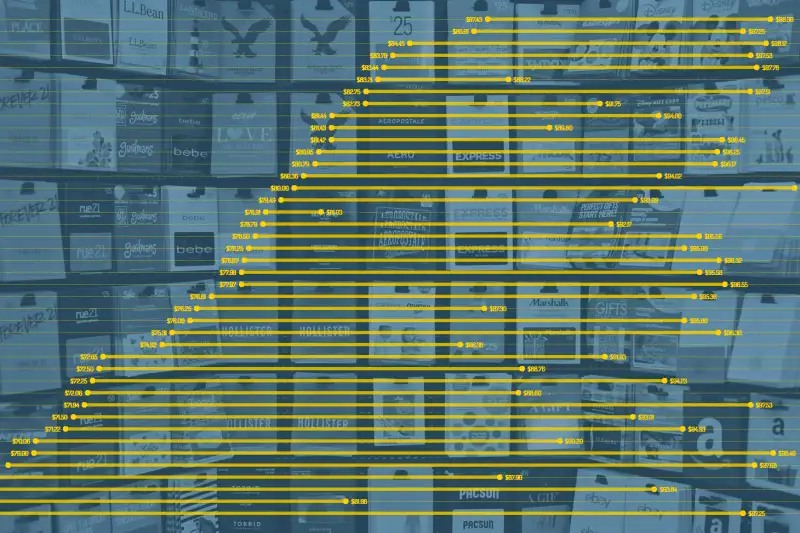 You have a few options when you get a gift card you know you'll never use: let it collect dust and waste money, re-gift it and save money, or sell the gift card and make some money.
In a recent study by WalletHub, the financial site scored 50 of the most popular gift cards based on things like popularity and value, and found that gift cards from H&M, Michaels, and Forever 21 were the least popular. Meanwhile, Amazon gift cards, and cards for Walmart and Visa were the most popular.
Over the years, plenty of platforms have launched to help you trade a gift card in for cash or swap one type of gift card for another from a more desirable store, but it is slightly complicated. The gift card exchange marketplace isn't a dollar-for-dollar system, with gift cards selling at different rates depending on the company associated with the card. And the average amount that you can buy a gift card on the discount market is anywhere from $2 to $40 more than what you can sell it for:
The number to the left represents the average amount a reseller can expect to get for a $100 gift card on exchanges like Gift Card Granny and Giftcard Zen, but the number on the right — the average price tag buyers are seeing on the market — helps determine how likely it is that a reseller will be able to make that sale.
WalletHub found the Average Resale Value and Average Buyer Discount by pulling information from major gift card exchanges and using recommended selling prices. We then used WalletHub's "Average Buyer Discount" and "Shipping Fees" to calculate the average market price. By comparing the two, you can see how a resale price for a gift card you own compares to that of the marketplace, so the grey bar represents your competitive edge: the wider it is, the better off you are.
Say you got a $100 Kohl's gift card for Christmas and your friend got a $100 one for Disney. By reselling her gift card, she has the potential to make about $78.91 — just a few more dollars than the $75.31 you could make. But, even though her gift card is more popular than yours, your chances of selling are higher. Why? Because your resale price is about $20 less than the discounted market; hers is only about $2 less, which means she has more competition.
There were a number of well-known gift cards included on WalletHub's ranking that we couldn't include in our analysis. The American Express gift card was ranked #4 in popularity — which WalletHub determined using search traffic — but the necessary data points weren't available to include it on the chart. The Visa gift card, ranked at #2, only had part of its data available: with its $71.29 average market price, its yellow dot would have been the furthest to the left on our chart (although we don't know how long the grey bar would have been). MasterCard, Etsy, Shell, Hobby Lobby, Michaels, and Costco gift cards, unfortunately, also came short on the necessary data.
Gift card selling becomes the most competitive after the holidays; more sellers means more competitive pricing, which is good for buyers but bad for sellers. Keep that in mind when you're deciding when to sell.
But based on this analysis, we now know that even the most unexpected or oddly specific gift cards have their advantages. A Chipotle gift card, for example, sells for about as much as a Nordstrom one on an exchange, and a Dunkin' Donuts gift card would be the easiest re-sell, by far. Remember that at your at your next White Elephant.