How to Get Cash for All the Gift Cards You Didn't Really Want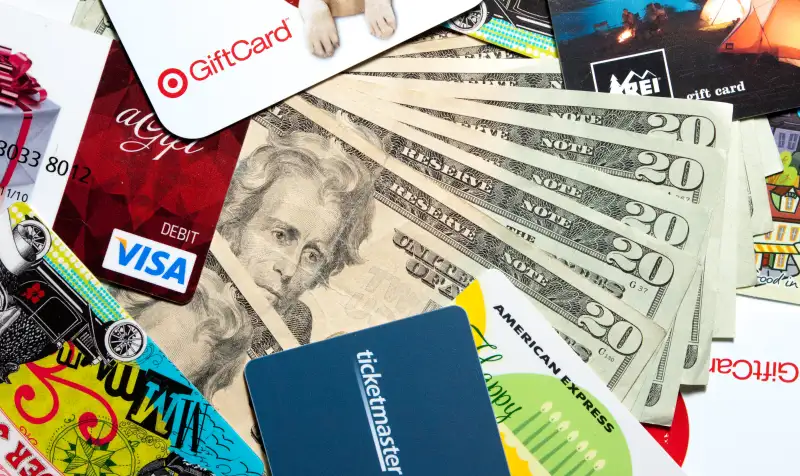 Gift cards are the most desired present this holiday season, according to a poll by WalletHub. But if you get a gift card under the tree from a store you've never heard of—or would never willingly shop at—you may find yourself looking for ways to trade your gift card or exchange it for cash.
While you can't actually return gift cards, there are several different ways you can sell gift cards for cash or trade gift cards online for credit at another store. So you won't actually be stuck with gift card duds, leaving the money unspent or wandering the shop in a desperate search for the least atrocious item.
Here are the best ways to sell or trade your unwanted gift cards.
Trade Gift Cards Online
To get cash for gift cards, you can use one of a number of gift card exchange websites that will offer you cash or another retailer's gift card for your unwanted gift card.
You'll never get 100% back on online gift card exchanges. That's because the exchange itself typically takes a small fee, and shoppers using the exchange won't want to pay full price to buy a gift card secondhand. But if you exchange your gift card online, you should be able to recoup at least half of the full value.
Depending on the type of gift card, the amount, and the supply of similar cards, you could earn anywhere between 54% and 92% of the card's value via an online gift card exchange, says Mark Romanelli, executive vice president of product for GiftCardGranny.com, the largest aggregator of online gift card exchanges.
Sell Gift Cards for Cash
If you want to sell your gift card for cash, your return will be lower than if you exchange it, says Romanelli: "Swapping your gift card for another store's is the best way to maximize your return."
GiftCardGranny.com found that the cards with the highest resale value are for groceries (Safeway takes the top spot), gas stations (Shell and ARCO take No. 2 and 3), or large retailers that offer a wide range of products, such as Amazon and Walmart, which round out the top five. (For a longer list of favorites, see These Are the Best Gift Cards to Give This Year.)
If you don't want to have the value of your gift card dictated by a reseller, use Raise.com to sell your gift card for cash. You set your own price—think eBay, but without the bidding. WalletHub ranked Raise.com as the second best gift card exchange for sellers, with the average resale value on the site topping $81 for an $100 gift card.
You can list any online gift card for free on the site; for physical gift cards, you'll pay $1 or 1% of the total balance, whichever is greater. But you may have to wait to get a buyer who'll pay the price you're asking. And when you sell the card, the company will take a 12% cut—so even if you get someone to pay full value for your gift card, you'll recoup no greater than 88%.
When to Sell Your Gift Card
Gift card exchanges tend to offer lower resale values immediately after the holidays, warns Romanelli. "There is so much supply coming into the market that many cards don't sell for as high as they might in the summer," he says. He notes that some people hold on to their gift cards for an extra month or so, in order to earn a few percentage points more in returns.
Just make sure you don't wait so long that you forget to exchange your gift card at all, warns Shelley Hunter, GiftCards.com's content manager. The longer people hold on to a gift card, she says, the more likely they are to forget about it and never exchange or sell it.
"People shouldn't have heartache over not getting 100% of the card's value back, because they're not getting any value out of it by keeping it," she says.
Get the Most Money for Your Gift Card
To make sure you get the most for any trade, visit a couple of different gift card exchange sites and compare offers.
Start at GiftCardGranny.com. This online gift card aggregator lets you select the merchant of your card and then easily compare offers from other reseller sites, including Cardpool.com and ABCGiftCards.com, to see the best deal among their partners.
CardCash.com was best for sellers, according to a WalletHub analysis of the major gift card exchanges. It offers immediate sales and an average gift card resale value of $76.50 for an $100 gift card.
Note that each gift card exchange uses different fees and payment methods. Be sure to read the fine print so you know exactly what you'll get in return for your card.
Sell Your Gift Card in Person
If you want to sell your gift card in person, rather than dealing with online gift card exchanges, you have a few options.
Cardpool.com (formerly Coinstar) gift card kiosks: If you don't want to make your swap online, you can visit certain in-store kiosks, operated by Cardpool.com. These machines, once owned and operated by Coinstar, accept gift cards from more than 150 retailers and restaurants, as long as they have a balance of at least $15. The kiosk will make you an offer for the card—and if you accept the offer, you'll get a voucher that you can redeem for cash at the register of the shop the kiosk is located in.
Target trade-in: If you love shopping at Target, you'll be pleased to know the big-box retailer will trade store credit for gift cards from more than 100 different retailers and restaurants through its own in-store exchange. Not all Target stores participate in the program, so you should check the website to see if your local store is part of the Target trade-in program.
Typically, in-store trade-ins offers lower resale returns than the online exchange marketplaces, says Hunter, but the payout is more immediate: "You've got to ask yourself if you value the dollar amount or convenience more."
Donate Your Gift Card
If you'd rather keep another service from profiting off your gift card or don't find the exchange worthwhile—or if you'd feel less Scroogelike by giving your unwanted card away—contact your favorite charitable nonprofit and ask if they accept donated gift cards. Giving the card away could even lower your tax bill, if you itemize, and extend that holiday generosity even more.