Warning: Those Gift Card 'Freebies' May Be a Ripoff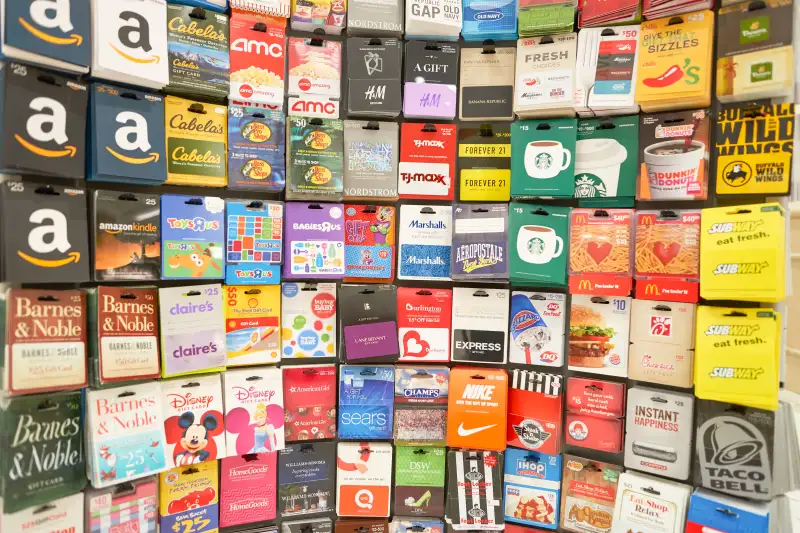 Every holiday season, stores promise shoppers that the "more you give, the more you get." Thousands of signs appear saying you'll get a "bonus" card for every $50 or $100 you buy in gift cards, for instance, as retailers woo shoppers by promising a little something extra for themselves on top of their intended gift purchase.
It's a wildly popular form of promotion—GiftCards.com has collected more than 90 such current offers—and it can in theory be a great way to save a little money down the road. After all, if you were going to buy that $100 gift card to DSW for Mom anyway, getting a $20 bonus card to spend on that pair of boots you need seems like a perfect win-win.
And yet, as with most ads, the truth of these offers can be a little less rosy.
Here's the catch. You'll notice that the store promos almost never call that second card a "gift card." Instead, it is labeled something else—a freebie card, bonus card, prepaid debit card, reward card, promotional gift card, promotional prepaid card, or maybe a loyalty reward card.
This is intentional—and it allows stores to take advantage of a loophole in the current gift card law. (Yes, there are laws governing gift cards.)
Under a federal law known as the Credit Card Accountability Responsibility and Disclosure Act (or CARD Act), gift cards must abide by certain rules: They cannot expire before five years from the date they were issued, for instance, and are exempt from inactivity and/or service fees unless the card hasn't been used for at least a year.
But cards received through a loyalty, award or promotional program don't come with the same protections, says Shelley Hunter, GiftCards.com's content manager.
These "bonus" cards have no expiry restrictions, for instance, so you often must use them quickly.
"The key thing to be aware of is the terms," says Mark Romanelli, executive vice president of product for Gift Card Granny, a gift-card comparison and exchange website. "If the company doesn't call the second card a 'gift card,' it means there are different expiration dates associated with it."
"Typically these bonus cards are good for a very short period of time, like a 60-day window," he adds. "You need to carefully read the fine print and be aware of exactly what you're getting and when you can use it."
For this reason, it is best you keep that "bonus" card for your own use—and use it promptly.
Gifting it could result in an awkward chat with your friend, relative, or colleague—especially if they try to spend it in April and learn the balance is zero.
If you want to pass on the "bonus" card alongside the gift card, says Hunter, just be sure to warn the person about its expiration date. "I just tell people, 'This card you can use whenever, but this one you've got to use by the end of next month,'" she says.