Here's Where to Shop Online for Unique Gifts You'd Never See in a Big Box Store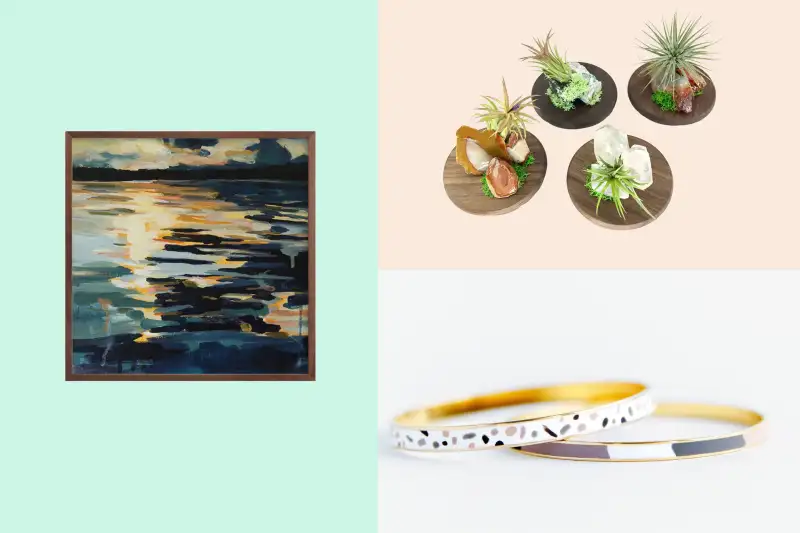 Courtesy of Of A Kind, Minted, etsy
For thoughtful, timeless, and truly special gifts, it pays to think outside the (big) box. It's almost time to start thinking about holiday gifts, and odds are, there's at least one person on your list that is practically impossible to shop for.
There are times when a unique gift idea is called for, when handing over a gift card or mass-produced present is simply out of the quest We at Money don't want to see you waste time or money finding those perfectly unique gifts — for men, or women, or children, or pets. So where should you shop for the best gifts?
Unique gifts can be hard to find at big-box stores, mall chains, and even many major e-retailers because, well, they all tend to sell products that are the same, or very similar. So we ferreted out six places where you can shop online for inspired, personalized gifts, and even one-of-a-kind items that we promise will surprise and delight the special recipients in your life.
Ahalife sells small-batch and handmade gift items ranging from home goods to textiles to jewelry. The goods often skew towards a minimalist aesthetic, but never in a pretentious way. Case in point: Who knew enrobing something as utilitarian as a fire extinguisher in industrial-chic steel ($99) could elevate it to the status of something you'd actually want to hang on your wall? (If you're partial to a little more flamboyance with your fire safety, there are also versions wrapped in bright brass or copper for $249 each.)
Lots of the items on this site are clever in a way you never knew your needed, like this round oak trivet ($55), which brilliantly incorporates grooves for holding up your tablet so you can follow a recipe without risking a screen-fritzing spill.
You might think of Amazon as your go-to destination for bottled water and $18 skirts. But Amazon's Handmade section is a hidden treasure trove of art, jewelry, home goods and more — much of it customizable, and with the added bonus of free Prime shipping on many items.
Some of our favorites here play off other well-known Amazon offerings or riff off other tropes of our digital life, like a black-and-white speckled camp mug ($18.95) with this tongue-in-cheek (and somewhat self-serving) plea of wishful thinking: "Alexa, make me coffee."
If you think your recipient would appreciate something stronger than coffee, there's this alternative: A stemless wineglass ($14.99) etched with, "Alexa, bring me wine."
There are dozens of items like these at Amazon Handmade with hundreds of different personalized messages and images. And although we'd suggest you really know somebody's sense of humor before gifting them this wall hanging with a roundup of faux Yelp-style bathroom "reviews" ($14.95), we'll admit "Five stars... Would poop here again," made us giggle.
As a destination for gift-givers seeking handmade and one-of-a-kind items, Etsy hardly needs an introduction but what absolutely is worth a shout-out is the site's new offer of free shipping on orders of $35 or more from participating shops.
If you're looking for a gift that will spread some holiday cheer, these 18" square throw pillow covers ($12.32, on sale from $14.49) are customizable with the name of your (or the lucky recipient's) family.
For something that's not quite as personal but no less unique, this gorgeous desktop air plant "garden" ($49.99) features a minimalist round wooden base with natural agate crystal clusters and a live air plant (that's really, really hard to kill — so feel free to gift this to someone with a black thumb without fear).
Although nominally a stationery site, Minted.com also can be thought of as an upscale version of photo print-and-gift site Shutterfly. It's a great destination for customizable photo and name gifts like this très tranquil personalized weekly planner ($26) or this adorably retro heart-shaped photo collage (starts at $29 for an unframed 8" x 8" print.)
Minted also sells amazing fine art prints at truly reasonable prices, like this lush oceanic abstract (starts at $23 for an unframed 8" x 8" print).
We have a tough time recommending any one gift from this site, because its intriguing concept — items are made in limited runs, sometimes as small as a 10 or less each — means that you're unlikely to see the same inventory from month to month. Of course, the flip side of that means this site is a perennially excellent place to source brand-new creations.
We're currently besotted with this pair of slim, uber-mod bangles ($99) that look like they could have been designed by Kate Spade's artsy Italian cousin.
Happily, this site does have a permanent apparel collection that features wardrobe workhorses like this Brooklyn-made, black, A-line midi skirt ($75, on sale from $115).
Julia Robbs Photography, courtesy of Of a Kind
This site promises "unique and unusual," and it doesn't disappoint: Scarves are a pretty fail-safe holiday gift, but as a result, they can be kind of… blah. This site steps it up by offering you options we can virtually guarantee they'll never see around a friend or coworker's neck, like this cozy felted wrap ($52) in a peacock-hued palette of bright and deep blues shot through with gold.
Courtesy of Uncommon Goods
Last but certainly not least, this make-your-own View-Master kit ($29.95) might be the best-gift ever for every nostalgic Gen Xer you know.
Courtesy of Uncommon Goods
The set comes with an old-school viewer and a code to redeem for a seven-image reel of 3-D images made out of their own pictures. (Of course, if you have access to high-res scans of the lucky recipient's life story, you could surprise them with both the viewer and the reel by Christmastime.)
We've included affiliate links into this article. Click here to learn what those are.