Nestlé Is Pulling a Willy Wonka and Selling Edible Gold Kit Kats for $16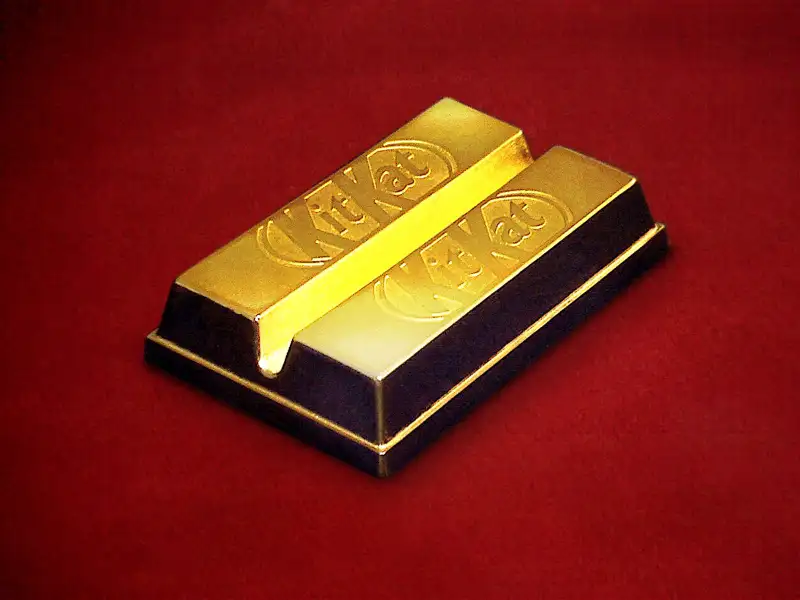 Nestle Japan/REX Shutterstock—AP
A special Kit Kat "Choclatory" boutique store in Japan sells special versions besides the standard chocolate, and it's approaching the milestone of a million customers. To celebrate, Nestle is producing some Wonka-inspired golden Kit Kats.
Unfortunately, these golden Kit Kats aren't going to be hidden within the global supply as tickets to a factory of chocolate wonders. On the bright side, these treasures can simply be purchased by customers, though only a limited supply of 500 of these candy bars will be sold (and only in Japan). And yes, in each special Kit Kat, an extremely thin layer of 24-carat gold leaf envelops the chocolate and wafer bar inside. Gold isn't digestible—it's incredibly non-reactive—so it won't harm you. This isn't unheard of in food—you've probably heard of that ridiculous cinnamon schnapps Goldschläger, which was featured in Superbad.
And yes, this means that you will likely literally flush gold down the toilet.
For Kit Kat, making edible gold bars has a nice corollary besides being a cool marketing ploy: it doesn't cost much. The amount of gold is so minuscule that the bars will retail for the equivalent of just $16, leaving you with plenty of leftover funds to book your ticket to Japan.
Besides making edible gold Kit Kats, Nestlé is also making inedible Kit Kats, which are solid 230-gram 24-carat gold bars containing no chocolate or wafer whatsoever. According to Kotaku, the store is raffling them off to its members.
Read Next: How to Score Free Samples at Your Favorite Retailers