Want Your Kid to Be an Olympian? Here Are the Sports You Should Choose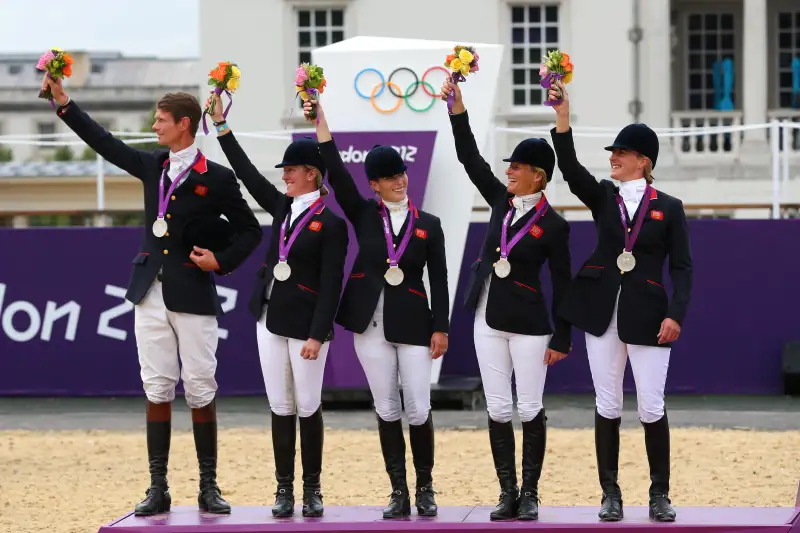 Alex Livesey—Getty Images
Behind most Olympic success stories—and plenty of also-rans—stand gamblers who have made enormous financial bets: the parents.
The cost of making the Olympics is astronomical, with every Olympics bringing fresh tales of outrageously expensive sports academies, parental comfort sacrificed in support of young athletes, and careers forsaken in order to shuttle budding Olympians to various competitions along the way.
And parents don't even known whether their family's dreams of Olympic gold are realistic until the costs have long been borne, because money and time can only help buy an Olympic berth. (Of the child's sacrifice, you ask? Ah, 'tis nothing! They've never known the untrained life first hand until they retire, though they may have muggle friends.)
Yes, it's a long shot to get your kid to the Olympics. But there are some ways to improve your odds.
You Can't Beat Genetics
The odds of making an Olympics are never in anyone's favor, but they're stacked higher in some sports than others. Start with swimming: All you need to get going is a pool and a Speedo. This makes for a massive number of possible competitors. The winners will come from the small group of people in this huge field who have won the genetic lottery. They'll need to train, of course, and perform well in races. But no amount of training by a kid dealt a losing set of chromosones will make him a contender.
So for an extremely motivated parent wishing for a vicariously-lived Olympic experience, the best way to improve a child's chances is to stack the deck as much as possible, minimizing the genetic lottery, and maximizing everything else.
Here are four factors to focus on when choosing a sport to turn your toddler into an Olympian:
Travel or Special Locations
Some sports require extensive travel or take place in very specialized locations. You may think that the accompanying expense makes it a bad choice for you, but exorbitant costs give you the opportunity to buy your way in. If you're willing to go to the show at all costs but your neighbor isn't, you have an advantage. There are basketball courts at nearly every school and playground in America, for example. But how many places in the can a kid practice the bobsled (formally, the bobsleigh), luge, or skeleton? Only two. That cuts down on the competition.
Expensive Equipment and Coaches
You can cross out sports that have low barriers to practice. So that means no taekwondo, since all you need is a mat and and some padding. No track events, either; all you need are shoes and a dream.
Instead think about something big. How about a horse, which equestrian "athletes" require. Or the horse and gun of modern pentathlon. Racing canoes are very expensive, and you need a car to get them places, since most cities don't have canal systems.
If most people can't afford this stuff and you can, you can buy your way in.
Technique Over Physiology
Your physiology has limits. That's why people take EPO and infuse blood bags—you can't really raise your body's ability to process oxygen naturally once you're trained. But not all sports require you to have superlative physical health or a particular body type (for example, tall for rowing and tiny for women's gymnastics). Many sports, even physical ones like tennis, reward practice, good technique, and knowledge more than raw physiology. Those are things that can be improved legally, if you can afford the coaching.
Lack of Popularity
The last important thing to consider is supply and demand. Or better named: participation and popularity. Certain sports just don't have the same cachet as others, and if fewer people are participating, your child doesn't have to beat as many people. A lot more kids are playing volleyball than handball. Keep that in mind.
And the Winners Are...
There are dozens of Olympic sports, but only a few qualify as truly great candidates for buying—in money and time—your way into the games. Archery, whitewater canoeing/kayaking, equestrian, modern pentathlon, sailing, shooting, bobsleigh, curling, luge, skeleton, and ski jumping are expensive, unpopular, exclusive, and forgiving of physiology. (See data table below for a list of all Olympic sports).
As for cost, they range from "not cheap" to "billionaire-only." But they're actually better deals than most other sports, once you consider expected value. Sure, being on the sailing team might cost megabucks, but your child would have a 10% chance of getting in. A sport with a 0.5% chance of making it to the Olympics would need to be more than 20 times cheaper to a better value.
You can get anecdotal confirmation of this strategy by seeing which sports are favored by royals. You can find out which events fit the bill in this partial listing neatly compiled by Wikipedia. A rare royal excels in a sport outside this list, but not many. At a glance:
Prince Albert II of Monaco was in five Olympic games for the bobsleigh (Albert did have some old-timey Olympic rowers in the fam, however).
Princess Anne of Great Britain was in the Montreal 1976 Olympics for equestrian.
Belgian aristocrat Joseph, Prince de Caraman-Chimay. was in the Paris 1900 Olympics for épée.
Constantine II of Greece was a sailor in Rome 1960, earning a gold.
Felipe VI of Spain sailed in the Barcelona Olympics in 1992.
King Harald V of Norway sailed in three Olympics.
Zara Phillips (Princess Anne's issue) won an equestrian team silver in London 2012. Her mom awarded her the medal.
Princess Haya bint Hussein of Jordan-show jumped in Sydney 2000.
Prince Hubertus of Hohenlohe-Langenburg (competing for Mexico) has been an unsuccessful alpine skier in six Olympics (and counting!)
Clearly, this is not the first time someone has sat down and though which sports are most conducive to money. In fact, it's something which TIME's own Joel Stein discovered recently. He landed on Dressage, which he described as a "magnet for sheiks." Dressage, for those of you without the Pimm's Cup in your hand, is pretty much making a horse dance.
But Before Your Sign Up for Dressage...
You should check to see if you can apply for citizenship in somewhere with a very weak team. Plenty of people end up competing for a contry to which they are tenuously connected. But if it's good enough for the IOC, it should be good enough for you!
Summer
Location specific
Unpopular
$$$
B+ physiology okay
Archery
✓
✓
✓
✓
Badminton
✓
✓
Basketball
Beach volleyball
Boxing
Canoe/Kayak slalom
✓
✓
✓
✓
Canoe/Kayak sprint
✓
✓
✓
Cycling
✓
✓
Diving
✓
✓
Equestrian
✓
✓
✓
✓
Fencing
✓
✓
Field hockey
Golf
✓
✓
✓
Gymnastics
✓
Handball
✓
✓
Judo
✓
Modern pentathlon
✓
✓
✓
✓
Rhythmic gymnastics
Rowing
Rugby sevens
Sailing
✓
✓
✓
✓
Shooting
✓
✓
✓
✓
Soccer
✓
Swimming
Synchronized swimming
Table tennis
✓
Taekwondo
✓
Tennis
Track & field
Trampoline
✓
Triathlon
✓
Volleyball
Water polo
Weightlifting
Wrestling
Winter
Location specific
Unpopular
$$$
B+ physiology okay
Alpine Skiing
✓
✓
✓
Bobsleigh
✓
✓
✓
✓
Curling
✓
✓
✓
✓
Figure skating
✓
✓
✓
✓
Freestyle skiing
✓
✓
✓
Ice hockey
✓
✓
✓
Luge
✓
✓
✓
✓
Nordic combined
✓
✓
✓
Nordic Skiing/Biathlon
✓
✓
Speed Skating
✓
✓
✓
Skeleton
✓
✓
✓
✓
Ski jumping
✓
✓
✓
✓
Snowboarding
✓
✓
✓