Costco for the 1%? Retail Chain to Launch Only for Members Worth $250M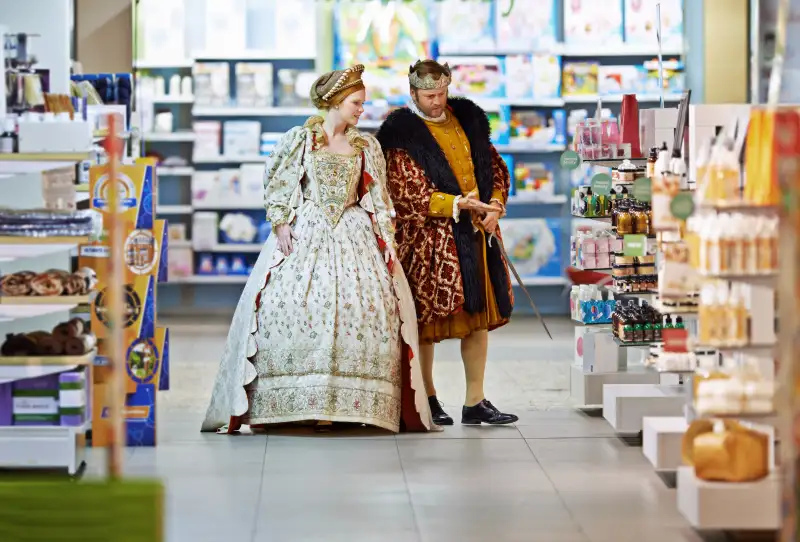 The North Carolina-based Guess Corporation runs a wide range of luxury businesses, including operations focused on yachts, diamonds, private jets, and private islands. Now it's planning on launching an elite, members-only department store chain reserved for exclusively for the ultra-rich too: To join, you must have a net worth of at least $250 million, so shopping there will be off-limits for the riff-raff and even America's upper-middle-class.
The store will be known as the Guess Private Merchant Company. Plans call for some 40 locations to open around the globe over the next four years, with initial retail stores in the works for New York, Beverly Hills, Dallas, Chicago, Miami, Atlanta, Dubai, Mumbai, Hong Kong, London, and Moscow, the Guess Corporation announced recently.
In addition to the net worth requirement, members will be subjected to an undisclosed annual fee—we're guessing it'll cost way more than Costco—and also spend a minimum amount each year in order to maintain memberships. The company also says it's going to limit membership ranks to 10,000 people around the world.
Obviously, the rich can (and do) shop wherever they want. So why would they want to jump through some hoops and cough up an annual fee to shop at this new concept store? The elitist aspect of the operation is one selling point: Members get platinum plated charge cards for use at the stores, along with the bragging rights that they're rich enough to qualify in the first place.
Read Next: Should You Ever Pay $450 for a Credit Card?
But what the Guess Corporation is really pitching is a pampered, super-luxurious shopping experience like no other. "Members will be greeted by a managing director who is accompanied by a concierge that will remain with the member during their entire visit to manage their overall experience," the company explained in a press release. "The store will be staffed with maids and butlers who will provide refreshments and beverages including wine and hors d'ouevre to members. There will also be on-site nannies and a childcare/nursery for members with younger children. All merchandise offered will be custom for members through special arrangements with luxury designers and items that are not offered anywhere else."
What's more, customers literally get the white-glove treatment, and they'll never ever be expected to do something so mundane as actually touch the goods they're buying:
If you're rolling your eyes right now out of disgust or skepticism, you're not alone. In a story about the concept store at Retail Wire, retail industry insiders overwhelmingly characterized the members-only store for the 1% as "a poorly thought-out model," in the words of Max Goldberg of Max Goldberg & Associates. "The ultra rich don't go somewhere to shop, they have product brought to them or services shared with them in the comfort of their home."
Read Next: The 1% Pocketed 85% of Post-Recession Income Growth
"How will members prove their net worth? Tax returns? Clearly, Donald Trump won't be eligible," retail expert Cathy Hotka mused. "The GPMC will probably be wildly successful (look at the Starbucks Black Card) but should leave a bad taste in the mouths of those of us whose incomes don't exceed the GDP of small countries. Expect some backlash."