Billy Graham Was One of America's Richest Pastors. Here's What We Know About His Money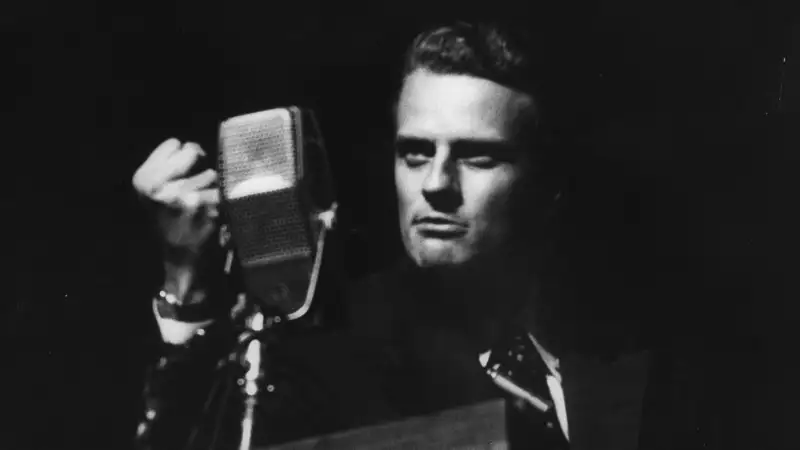 Ed Clark—The LIFE Picture Collection/Getty Images
Rev. Billy Graham, the famous evangelist who preached to full stadiums and advised presidents, died at the age of 99 on Wednesday.
Perhaps best known to young people today for his longstanding friendship with Queen Elizabeth II, which was recently depicted in the hit Netflix show "The Crown," Billy Graham served for decades as America's unofficial "national clergyman" the New York Times wrote in its obituary. Over the years, Graham preached the Gospel on TV and radio as well as arenas, presidential funerals, post-tragedy prayer services, and more.
"With the possible exception of Pope John Paul II, Graham can be said to have touched more lives for Jesus than anyone else in the modern era and to have extolled him directly to a greater swath of humanity than anyone else in history," summed up TIME, which featured Graham on the cover for the first time in 1954.
Billy Graham was also a wealthy man, leaving behind a fortune of real estate holdings, book royalties, and more—though biographers say his humility made him turn down opportunities to earn much more. Here's what we know about Billy Graham's money.
Billy Graham Net Worth
Charles Ommanney—Getty Images
Much is unknown about the famous evangelist's wealth. According to the wealth-tracking site TheRichest.com, Billy Graham's net worth was an estimated $25 million at the time of his death.
That would rank Graham as one of America's eight richest pastors, Beliefnet.com reported. Graham's estimated $25 million net worth is equal to that of Rick Warren, but lower than pastors such as Joel Osteen ($40 million) and Kenneth Copeland ($760 million).
Forbes has reported that two nonprofits associated with Billy Graham are among the biggest charities in the U.S. Samaritan's Purse posted revenues of $635 million in 2016, while the Billy Graham Evangelistic Association had $101 million in revenues in 2010. Both organizations are now run by Billy Graham's son William Franklin Graham III, who is paid well for his leadership roles. Better known as Franklin Graham, he received a whopping total of $1.2 million in 2008 and $880,000 in compensation in 2014 for running the two charities, according to the Charlotte Observer.
Chris Graythen—Getty Images
In 2005, Forbes listed Billy Graham as the highest-earning employee at the Billy Graham Evangelistic Association, with annual compensation slightly over $450,000. But it's unclear how much money he earned over the years, and how much he actually kept. A 1978 profile of the preacher in Texas Monthly said that Graham's salary was set at just $15,000 per year in 1950. It was up to $39,500 at the time the story was published, yet Graham estimated at the time that he also gave away roughly $600,000 that same year.
Long-time TIME contributors Nancy Gibbs and Michael Duffy, co-authors of The Preacher and the Presidents: Billy Graham in the White House, say that Graham regularly insisted that his crusades be audited and made public to avoid any hint of scandal, and that Graham could have easily made far more money if he wanted. "He was turning down million-dollar television and Hollywood offers half a century ago," Gibbs and Duffy wrote in TIME in 2007. "He never built the Church of Billy Graham, and while he lived comfortably, his house is a modest place. If he had wanted to get rich, he could have been many, many times over."
Grant Wacker, a professor at the Duke University Divinity School and author of America's Pastor: Billy Graham and the Shaping of a Nation, also says that Graham has led an exemplary life free of financial scandal. "People who didn't like Billy Graham spent a lot of time trying to find personal violations of his moral and ethical code, and they couldn't," Wacker told NPR after Graham's passing. "They didn't exist. He was a man who maintained absolute marital fidelity and moral and financial integrity. He was an evangelist who lived the way he preached."
Billy Graham Real Estate
Charlotte Observer—MCT via Getty Images
Billy Graham lived for decades at a mountaintop compound in Montreat, N.C., near Black Mountain. Graham has famously met and prayed with every U.S. president since Harry Truman, and among the visitors to Graham's North Carolina home was President Barack Obama, who stopped by in 2010.
Graham and the Billy Graham Evangelistic Association have purchased vast acres for various museums, libraries, and religious training centers, and spent tens of millions in their construction.
The Billy Graham Library, opened in Charlotte in 2007, was built at a reported cost of $27 million. In 1972 the association bought more than 1,000 acres in North Carolina's Blue Ridge Mountains, where the Billy Graham Training Center at the Cove now stands. It's a spiritual retreat center that hosts groups and individuals for special events like "Navigating Life's Challenges," a two-night seminar that costs $109 to $447 per person, with meals included.
From Brush Salesman to Best-Selling Author
Ed Clark—The LIFE Picture Collection/Getty Images
As a teenager in the late 1930s, Billy Graham took a summer job as a salesman for the Fuller Brush Company. "He actually proved to be a natural and by the end of the summer he was the most successful salesman in two states," David Aikman wrote in Billy Graham: His Life and Influence.
Graham later reflected that his early experiences in sales helped him become a successful evangelist. "Sincerity," he said, "is the biggest part of selling anything—including the Christian plan of salvation." Another memorable Billy Graham quote along these lines: "I am selling the greatest product in the world; why shouldn't it be promoted as well as soap?" he told TIME in 1954.
By then, Graham was a famous evangelist, stemming largely from an eight week "tent revival" he hosted in Los Angeles in 1949. This was followed in 1957 with Graham's extraordinary 16-week stint at New York City's Madison Square Garden, where he spoke to some two million people. NPR estimates that over the course of six decades, Billy Graham preached to more than 200 million in 185 countries.
Graham was also a prolific writer. He is the author of 33 books, including top sellers such as Just As I Am, Living in God's Love: The New York Crusade, and The Collected Works of Billy Graham.
Billy Graham Quotes About Money and Greed
Billy Graham's legacy includes a long list of memorable quotes and bits of wisdom, including many thoughts on money and greed. Some could argue this puts Graham at odds with proponents of so-called "prosperity theology," which holds that God delivers financial security and wealth to people with strong religious convictions and practices.
"The longer I've lived, the more I've come to realize just how destructive greed can be. One reason is because a greedy person is never satisfied," Graham wrote in one column.
"Greed causes a great deal of harm," Graham said in one interview. "Our hearts aren't satisfied by materialism. They can't be. That's why you see someone who has made millions driven on to make more millions. People confuse amassing money with security. But it is not so. What a pity to confuse real security with making money."
In another Billy Graham quote, he said, "Envy and greed always—always—exact a terrible price. I have never met an envious or greedy person who was at peace."
Yet money is not necessarily a bad thing, according to Graham. "Money represents your time, your energy, your talents, your total personality converted into currency," Graham once wrote. "We usually hold on to it tenaciously, yet it is uncertain in value and we cannot take it into the next world."