Gun Maker Says Sales Are Plunging
Money is not a client of any investment adviser featured on this page. The information provided on this page is for educational purposes only and is not intended as investment advice. Money does not offer advisory services.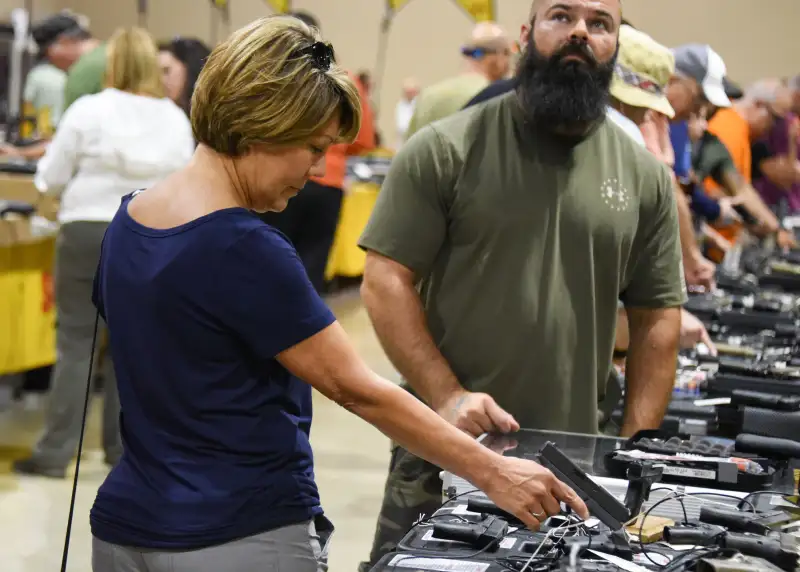 MICHELE EVE SANDBERG—AFP/Getty Images
Age limits and bans on assault-style rifles are in vogue now, but the biggest threat to gun sales may still be President Donald Trump.
Consumer demand is falling to "new, lower levels," according to the 166-year-old maker of Smith & Wesson firearms. The company, American Outdoor Brands Corp., is bracing for the downturn by cutting jobs and repaying debt. Rivals, including one in bankruptcy, are contending with the same slowdown.
Call it the Trump slump. The gun industry thrived under President Barack Obama, as firearms enthusiasts expected crackdowns and rushed to stockpile weapons. Those fears have eased—and sales have fallen—since Trump won the White House in November 2016. Gunmaker stocks, already on the ropes, took a further hit after the shooting last month at a Florida High School that killed 17 people.
"We will operate our business under the assumption that the next 12 to 18 months could deliver flattish revenues," American Outdoor Chief Executive Officer James Debney said Thursday on a conference call to discuss earnings.
The shares tumbled 13% to $8.20 in premarket trading Friday in New York. American Outdoor fell 27% this year through the close on Thursday. That followed a 39% drop last year.
Sturm Ruger & Co., a rival, fell after the close Thursday. Remington Outdoor Co., the iconic gunmaker controlled for years by Stephen Feinberg's Cerberus Capital Management, plunged into bankruptcy last month.
Public Scrutiny
The gun industry has come under greater scrutiny since last month's shooting in Parkland, Florida, even if the potential for tighter restrictions on firearms seems lower than when Obama was president.
A social-media movement against the National Rifle Association led to numerous companies cutting ties with the gun-rights group, including Symantec Corp., Hertz Global Holdings Inc., Avis Budget Group Inc. and MetLife Inc.
Dick's Sporting Goods Inc., Walmart Inc. and Kroger Co. said this week they would no longer sell assault-style rifles such as the AR-15, the weapon used in the Florida shooting and made by American Outdoor. The retailers also said they would increase the purchasing age for firearms and ammunition to 21 in their stores.
Despite Trump's support for gun rights under the Second Amendment, he tweeted this week about potential restrictions. In a meeting with lawmakers late Wednesday, he said some politicians were "petrified" of the NRA. Senator Chuck Schumer, a New York Democrat, called on Trump to support tougher curbs Thursday, saying the gun-rights group has had Republicans in a "headlock for decades."
By Thursday, the president had tweeted about a "Good (Great) meeting in the Oval Office tonight with the NRA!" The discussion with the NRA's chief lobbyist suggested that Trump could be shifting position again in a gun-safety debate that has been deadlocked for years.
"Given the more fluid political environment, it's hard to read demand going forward, particularly given growing grass-roots push for controls on sales" of assault rifles, Cai von Rumohr, an analyst at Cowen & Co., said in a note to investors Friday.
Lower Profits
Some forms of gun control, including magazine restrictions and strengthened background checks, are unlikely to have much impact on the manufacturer, James Hardiman, an analyst at Wedbush Securities, said in a Feb. 27 report. Still, the buying sprees seen in past years, when gun rights were perceived to be threatened under Obama, haven't materialized under Trump.
The larger problem is flagging demand. It's not just politics. There's also fewer hunters and a diminished sense of urgency around personal protection in an era of declining crime rates.
American Outdoor chopped its profit forecast for the third straight quarter. The company projected earnings of 31 cents to 33 cents a share for the current fiscal year, which ends April 30. That trailed the lowest of six analyst estimates compiled by Bloomberg. Wall Street had been expecting 60 cents a share.
The gunmaker also lowered its sales target for the year to a midpoint of $599 million from a December projection of $662.5 million. Analysts had predicted $655.6 million.
Gun Discounts
"We've been adjusting in this challenging market environment and obviously, working really hard internally to get aligned with this market demand," CEO Debney said.
Debney warned about the sales slump in December, saying the fear-based buying of years past was no longer happening. Slack demand and a glut of inventory were forcing firearm manufacturers to discount heavily, Debney said.
Firearm background checks compiled by the Federal Bureau of Investigation, a proxy for gun sales, fell 8.4% last year after increasing in 13 out of the last 14 years. The checks in January were the lowest in six years on an adjusted basis, Debney said.
American Outdoor, preparing for an extended slowdown, has repaid $75 million in recent months and extended the due date on $75 million of notes to August 2020.