This Is the Absolute Best Drink to Order at Your Office Happy Hour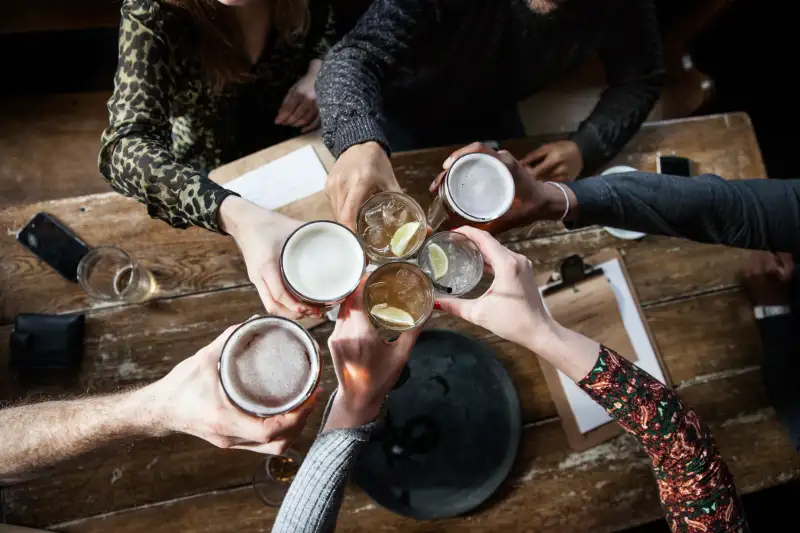 Henrik Sorensen—Getty Images
The after-work hang is a delicate ecosystem.
Between the cliques, the forced conversations and the unwavering power imbalances, mastering the art of corporate sponsored fun™ takes some serious practice. Throwing booze into the mix doesn't make it any easier.
Obviously, you don't want to be "that guy" (too drunk, too obnoxious, too dramatic). But you also don't want to be hopelessly bored; swirling a straw around your highball, desperate to find common ground with the new intern.
So what's the "right" beverage to order at a work function? We put that question to a handful of career experts, and — allergies and sobriety notwithstanding — found a clear winner.
The Moscow Mule.
Boom.
Here's why. For starters, it's a simple cocktail — vodka, ginger beer and lime juice, traditionally served in a chilled copper mug — that every bartender knows how to make. Ordering one shows you care about what you drink. But not too much.
"I've given this a lot of thought over the years," says Valerie Streif, senior advisor at the jobs site The Mentat. "And I think the 'right' drink is a Moscow Mule. It's a classic, it's more interesting than a martini, and it doesn't dive into the fussy drink realm like appletinis or a lemon drop."
The mule is a good go-to cocktail for other reasons, too. It's token copper mug keeps the drink colder than traditional glassware, so you can sip it slowly. It has a handle ("Martini spillage can really ruin a professional moment," Streif notes), and it also just ... looks cool.
"If you want a safe choice you should opt for a Moscow Mule," says career adviser Zachary Painter. "It's one of the most palatable cocktails, and the presentation of the drink invites conversation."
Don't drink liquor? Craft beers are the way to go, based on a similar theory.
For one, snagging a local brew over your old standby gives you something to talk about with your coworkers. And even if the event is Snooze Town, at least you'll have tried something new.
"Find something local," suggests Ricky Klein, head brewer of the Vermont-based Groennfell Meadery. "And find the lowest ABV [alcohol by volume] beverage in a style that you like. Happy hour is about making connections, and bringing your best (mostly sober) self to the table."