Watch Out for These Charity Scams After Hurricane Harvey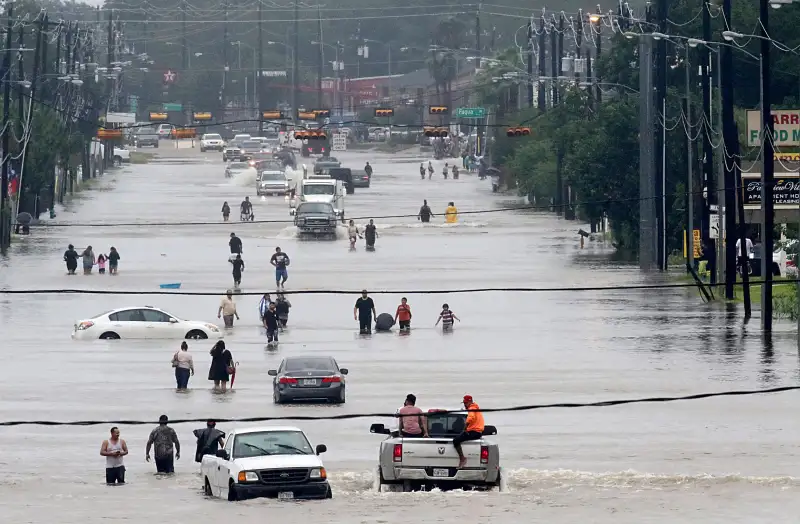 Thomas B. Shea—AFP/Getty Images
As torrential rains continue to wreak havoc on Houston and the surrounding area in the aftermath of Hurricane Harvey, people across the country are sending money and supplies to help the millions of people affected by a disaster officials have said is "beyond anything experienced."
Dozens of reputable charities and organizations are on the ground helping rescue residents from their flooded homes and bringing food and medical care to those in dire need. And while plenty of people will continue to help Houston, people donating and recovering from the storm should be aware that scammers will also likely arrive to prey on a vulnerable population. (A post is already circulating on social media that purports to show a phone number for the National Guard but is actually the number for an insurance company, according to local news outlets.)
Here's what to know.
Scams Affecting Those Donating to Help Victims of Storm
As Money has reported in the past, disasters that attract national attention are often used by scammers to create fake charities and crowdfunding campaigns to rip off people donating to help a worthy cause.
To avoid that, GoFundMe has created a centralized page for campaigns benefitting those affected by Hurricane Harvey, and the site is working with organizers to make sure the money goes where it's intended.
If you're donating to a charity or nonprofit, there are a few general tips to remember. It's best to donate to a reputable organization that was not created in the direct aftermath of a disaster. For example, bogus charities were created in the wake of September 11 and the Sandy Hook shooting that preyed upon people's emotions. Scope out a charity's website for financial info to make sure it's legit. If it doesn't say how the funds will be used, that's a deal breaker.
You can also research charities on the following websites to see how they use their funds:
When you donate, try to donate directly through an organization's website. Scammers use phishing emails to try and gain your personal information and you should never donate using Facebook or Twitter directly.
If you donate via text, only do so to organizations that you trust and have protections in place, like the Red Cross and the Salvation Army.
The Federal Trade Commission offers more advice here. If you suspect you've fallen prey to a charity scam, you can file a complaint with the FTC.
Scams Affecting Those Impacted by Storm
With so many homes and businesses ruined by the flooding, scammers are likely to stay in Houston long after the rains have subsided. According to Consumerist, one of the most common ways to scam people after an event like this is by posting fake rental listings to attract people whose homes have flooded. "If someone claiming to be a landlord or property manager requires that you send this money via wire transfer before ever seeing the property, it's a huge red flag that something is wrong."
This is also true for repair services in the aftermath of storms or other events. If you're hiring a contractor or handyman to make repairs to your house, appliances, or car, Consumerist advises people to remember the following:
Don't hire a complete stranger: Ask around for a reference from people you trust
Ask for their license and proof of insurance: Licensing requirements vary by state, but in Texas you can look up licensed electricians via an online portal. Additionally, they should provide proof of insurance.
Get everything in writing before the work begins: No verbal contracts
Make a payment schedule and never pay in cash: Never pay in full upfront before the work is done. "The FTC says a pre-work deposit of one-third the total cost is standard," TIME previously reported.
Scammers may also try to steal your money via high-fee loans or by selling water-damaged cars. Identity theft is also a common occurrence, with crooks posing as government agents