The World's 10 Creepiest Hotels—and How Much a Night Costs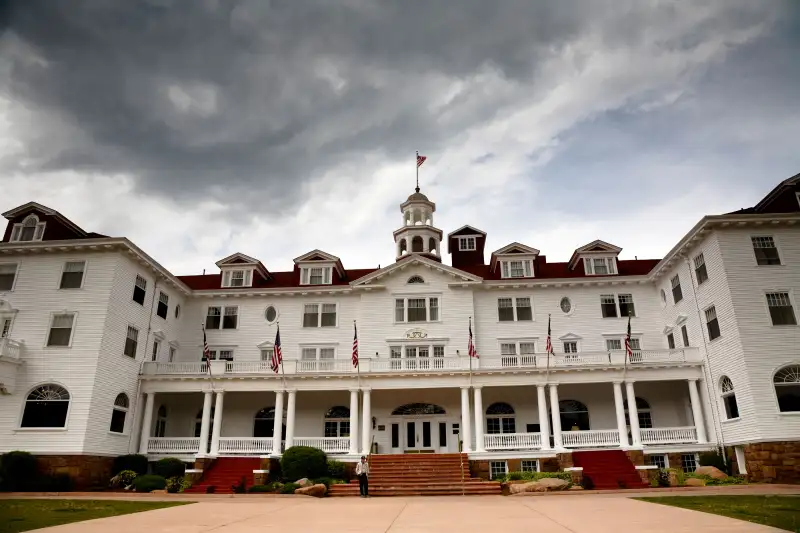 If you're craving more tricks than treats this Halloween, shake up your routine by taking the ultimate Halloween getaway—a night in one of the creepiest hotels on the planet.
Some may dare to step into Dracula's Bran Castle in Romania, or perhaps gawk at the infamous Hotel Cecil in Los Angeles, but the truly adventurous will want to brave any ghosts that come out to play in hotels when the clock strikes midnight.
With help from Lonely Planet—and inspired by its new book, Secret Marvels of the World: 360 Extraordinary Places You Never Knew Existed and How to Find Them—Money has put together a list of 10 super-creepy hotels where you can actually spend the night Halloween weekend, including some that are even thought to be haunted. Hotel prices are pulled from the lowest standard rate available as of early October.
But remember, book a creepy (or even haunted) hotel at your own peril. You might not last the night.
---
1. Hotel Viru
Tallinn, Estonia
Halloween weekend rate: $140 per night
Do you ever get the sense that someone is watching you? During the Soviet era, that might well have been the case at Hotel Viru, where government officials bugged the guest rooms of foreigners. Today, the hotel even has a KGB Museum you can visit (€11 for hotel guests) housed in the former surveillance room.
---
2. The Clown Motel
Tonopah, Nevada
Halloween weekend rate: $50 per night
"Sliding out of the desert horizon like a nightmare, the Clown Motel features a lobby of glassy-eyed clown dolls," says Alex Howard, a Lonely Planet destination editor. Adding to the creepy factor is the Tonopah Cemetery, which sits next door. This hotel was recently sold, but the new owners have kept all the clowns and are welcoming brave new visitors.
---
3. Karosta Prison
Liepaja, Latvia
Halloween weekend rate: $18 per night
After having served as both a Nazi and Soviet prison for much of its history, the Karosta hotel now offers stays to brave tourists. But the atmosphere may not have changed much: Hotel guests have to sign a waiver agreeing to the harsh prison treatment, which may include verbally abusive guards and mandatory exercise regimens.
---
4. The Stanley Hotel
Estes Park, Colorado
Halloween weekend rate: $414 per night
Looking to have a ghostly encounter? Try your luck at the Stanley Hotel. Built in the early 1900s, the hotel served as the inspiration for Stephen King's infamous novel, The Shining. And hotel guests have reported haunted run-ins that go beyond fiction—one visitor even captured a photo recently of what appears to be an apparition.
---
5. The Skylodge
Natura Vive/REX Shutterstock—AP
Cuzco, Peru
Halloween weekend rate: $464 per night
If heights freak you out, then the Skylodge hotel will really terrify you. To even reach your bed for the night, you'll have to climb over 1,300 feet. The hotel consists of three transparent pods that hang vertically off a cliff face in the Sacred Valley outside Cuzco. But breakfast and a gourmet dinner with wine are included in the price—if you can stomach eating, of course.
---
6. No Man's Fort
Bournemouth Ne/REX Shutterstock—AP
Hampshire, England
Halloween weekend rate: $550 per night
How would you handle being stranded on a deserted island? You can find out by booking a stay at No Man's Fort. Almost an hour's trip from land, the manmade island was originally built in part by a team of divers as a military outpost; it's now home to a small luxury hotel. Showered with gunfire throughout two world wars, the outpost is so remote that you'll have to take a boat to reach it—or, for that matter, to escape it.
---
7. CasAnus
Le.Mat—Flickr Creative Commons
Stekene, Belgium
Halloween weekend rate: $142 per night
If human innards make you a bit queasy, book a stomach-churning weekend at the CasAnus hotel and art installation. Designed by Dutch artist Joep Van Lieshout, the one-bedroom space is shaped like a giant human intestine—complete with bulging veins and red paint galore.
---
8. Hotel Crypt
courtesy of The Hotel Crypt
Lewiston, Maine
Halloween weekend rate: $280 per night
Waking up in a coffin is the stuff of nightmares for most people, but if you're willing to risk it, the Inn at the Agora has you covered. The creepy boutique hotel—which is housed in a former rectory—has a basement crypt that housed the remains of a priest for over a century, but is now available to rent for the night. You'll be sleeping (if you can) in a custom pine box coffin, but guests do receive some liquid courage—in the form of a souvenir bottle of wine.
---
9. Henn na Hotel
Kiyoshi Ota—Bloomberg via Getty Images
Nagasaki, Japan
Halloween weekend rate: $87 per night
Terrified about a coming robot revolution? Meet your future overlords at this Japanese hotel. The first hotel to be staffed by robots, Henn na Hotel can definitely be creepy for those who find cyborgs unsettling. And there's no escaping them: The hotel employs robots as receptionist and porters, while the doors have facial recognition technology.
---
10. Hotel Burchianti
Florence, Italy
Halloween weekend rate: $92 per night
Situated in the heart of Florence, the Hotel Burchianti oozes old-world charm, but its lovely facade hides a spooky past. Called one of the most haunted places in Europe, the hotel is said to be haunted by a number of very active ghosts, with hundreds of sightings over the years. Check in to the haunted hotel to commune with the dead—just make sure you don't die of fright overnight.