8 Things We Already Know About the 2014 Holiday Shopping Season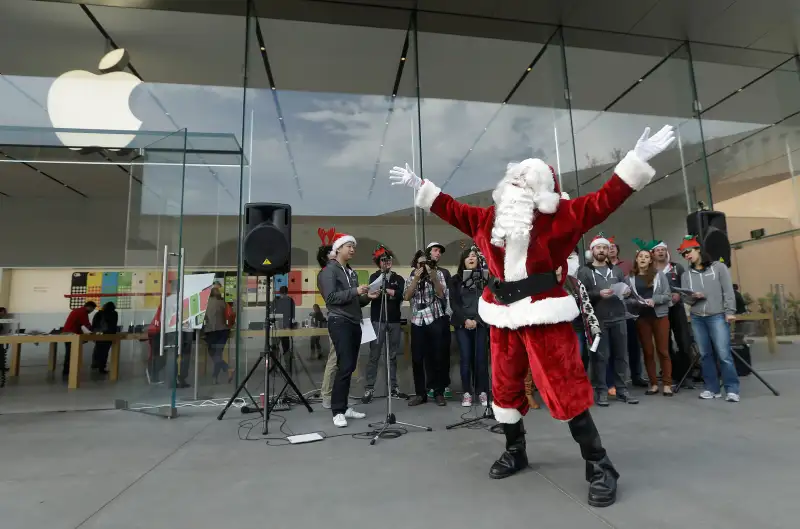 It's still only September, and there are many unknowns about the end-of-the-year holiday shopping period. We don't know exactly how aggressive retailers will be in terms of starting price wars with the competition, for instance, nor what the chances are of a surprise "it" toy emerging as a must-have gift for legions of American children. Still, even at this early date, it doesn't take a crystal ball to see the way much of the season ahead will play out. Here's what we know:
The holiday season already started. Sure, the back-to-school shopping period is considered to last through September, and autumn and Halloween are increasingly important for the marketing of everything from scary costumes to pumpkin spice lattes. But everything—everything—pales in comparison to the importance retailers place on the winter holiday shopping season. That's why stores try to make the season a little bigger every year. Kmart launched its first Christmas ad, or rather a coy "non-Christmas ad," in early September. And soon after, Walmart, Target, Toys R Us, and others rolled out various versions of the season's "Hot Toy" list, long before kids even start thinking of making wish lists of their own.
You'll be required by law to buy gadgets and "Frozen" merchandise. OK, it will only seem that way. That's because the hot toy lists are dominated by "Frozen" products even though it's been months since the Disney film was in theaters. When the lists aren't directing parents to 3-foot-tall Elsa dolls, they're steering buyers to techie items for kids like this Vtech smartwatch. Tech for adults will arguably be an even hotter category this season, what with a series of new tablets from Amazon and, of course, Apples's hot-selling iPhones.
Stores will have longer hours and shorter checkout lines. Shoppers have come to expect the former around the holidays, with stores sometimes open for 88 hours in a row, or even longer, in the days leading up to Christmas. This year, Target launched longer hours (including midnight closings at some locations) before the summer even ended, with the hope of rebuilding its reputation as a convenient, fashionable spot to shop. What's come as more of a surprise—and a welcome one at that—is Walmart's promise to keep all of its checkout lines open during peak shopping hours throughout the season, starting on Black Friday weekend. As for Thanksgiving store hours themselves, experts expect big box retailers to open doors on the holiday even earlier than they did last year.
Black Friday won't have the season's best prices. On the day after Thanksgiving, stores will surely draw in the masses with promises of amazing discounts and doorbuster deals—but only on some merchandise. Because Thanksgiving store hours essentially mean that Black Friday begins on Thursday, because "Black Friday" sales start appearing days or even weeks before the actual Black Friday, and because retailers are known to launch wild sales out of the blue to stir up business before, during, and after Black Friday week, it's foolish to assume that all of the prices shoppers encounter on the day after Thanksgiving are the lowest of the season. For some merchandise, including toys, name-brand TVs, and jewelry, shoppers can expect prices to drop after Thanksgiving weekend is over. Meanwhile, the discount-shopping site Ben's Bargains anticipates that tablet prices will hit rock bottom in early November, and that prices for sports apparel and winter clothing will be cheaper in mid-November than they will be around Black Friday.
It's a great year to snag a seasonal job. In 2008, retailers hired about 325,000 workers for the holiday period. The figure's been on the rise ever since, hitting 786,000 a year ago. In a new report, researchers at Challenger, Gray & Christmas say they expect "seasonal employment gains in the retail sector to significantly outpace 2013." Toys R Us, for instance, announced this week that it is hiring 45,000 seasonal employees, which more than doubles the company's existing workforce, while UPS is planning on hiring 95,000 workers for the upcoming season. "We could see retailers add more than 800,000 seasonal workers for the first time since 1999," said Challenger CEO John A. Challenger.
People will shop online earlier to avoid last year's shipping nightmare. According to a new survey from Pitney Bowes, an e-commerce and shipping consulting firm, half of the consumers polled (49%) said that for the upcoming holiday season they will shop online earlier than they did last year. The most popular reason for doing so is to ensure that gifts and other packages arrive in plenty of time for the holidays. A year ago, many families were disappointed on Christmas morning because shipping delays caused orders from Amazon, Kohl's, and other retailers to arrive after December 25. (Hopefully, the additional hires made by UPS will help ease the shipping problems of a year ago, but it's smart for shoppers to play it safe by ordering well in advance.)
Apple loyalists will outspend Android users. Last November, the average order placed on a mobile Apple iOS device was $121.48, compared to just $89 for Android devices, according to a new IBM report. The data also shows that while we do more web-surfing with smartphones (accounting for 24% of all website traffic, compared to 14% via tablets), consumers are more inclined to make purchases on tablets (11.5% of website sales) than smartphones (5%). Again, Apple mobile device users outspend the rest of the field, representing 13.6% of web sales in March 2014, compared with 2% of site sales made via Samsung, LG, HTC, Motorola, and Nokia devices combined.
We'll be heavily influenced by digital, but make most purchases in person. The forecast from Deloitte calls for a 4% to 4.5% overall increase in consumer holiday season spending. While researchers point out that 50% of sales will somehow be influenced by digital interactions (browsing online, for instance), only 14% of purchases will come in the form of non-store sales (primarily, e-commerce sales).