Walmart Swears Your Kids Want This New Smartwatch for Christmas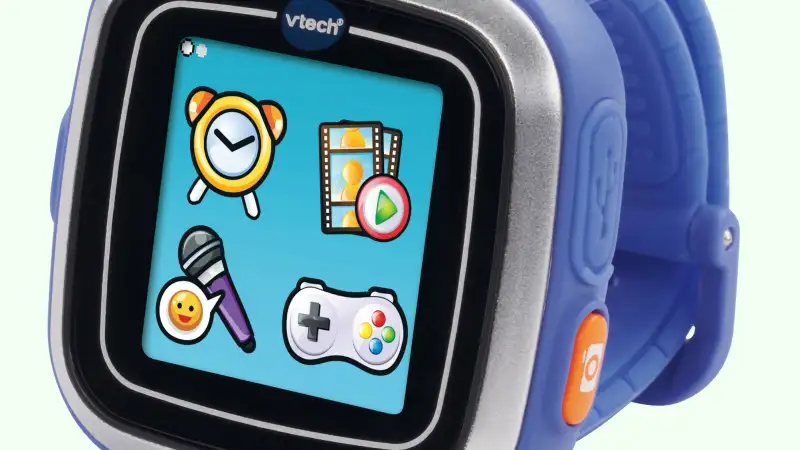 Well, at least not yet. But that may only be because the freshly introduced Apple Watch isn't on sale until early 2015.
Though critics have voiced plenty of concerns about the new Apple Watch—you still need a phone to use it, battery life is limited—the assumption is that young people especially will be eager to strap on the fancy, futuristic new gizmo and see what it can do. This, in turn, has caused some to rally parents to put up a united front and just say no to kids having Apple Watches, which will sell at retail for a hefty $350 after all.
Lots of kids will have smartwatches anyway—and they'll get them even before their parents are noodling around excitedly to see what their own Apple Watches can do. According to Wal-Mart, which just released its "Kid-Approved Holiday Toy List," one of the top gifts young children crave under the tree come December 25 is something of a knockoff of Apple's hot new gadget. The VTech Kidizoom Smartwatch just entered the marketplace, and after consulting hundreds of children, Wal-Mart claims that it will be one of the hottest toys of the season. VTech lists the product as best for kids ages 4 to 7, and it sells for the comparatively low price of $60.
What does VTech's Smartwatch do? Mostly, it takes photos and video and can be used for a few games. It has a touch screen, and, yes, it has a clock (50+ different designs) with an alarm and a timer. It doesn't have Siri or the ability to track your heart rate or communicate with others, so there shouldn't be any confusing this watch with the Apple offering.
Early reviewers of the device—many of them mommy bloggers who say upfront that they were given one free to test and write about—rave about it, for the most part. A PCMag.com review rated the Kidizoom at four out of five stars, with strong marks given because it's easy and fun and takes decent videos and photos, but it loses a few points because of limited memory (a few minutes of video and you're tapped out) and battery life that didn't live up to what's promised.
Yet all things considered, there's good reason to be a little skeptical that kids will make this one of the hottest toys of the season. And if it does wind up being a hot holiday gift, who knows how long this device will actually hold a child's interest?
Then again, who knows about any of this? A few years back, there was plenty of skepticism about the idea of buying tablets for kids, but before you knew it gadgets like the Leapfrog LeapPad tablet were in high demand around the holidays.
Bear all of this in mind when determining whether or not to purchase the supposedly "Kid-Approved" new smartwatch as a holiday gift. And if you do buy one, good luck convincing your kid that the VTech smartwatch is just as good as Apple's when its smartwatch goes on sale to the public a few weeks after Christmas.