Here's How Much You'll Pay to Stay in D.C. for Trump's Inauguration -- or the Women's March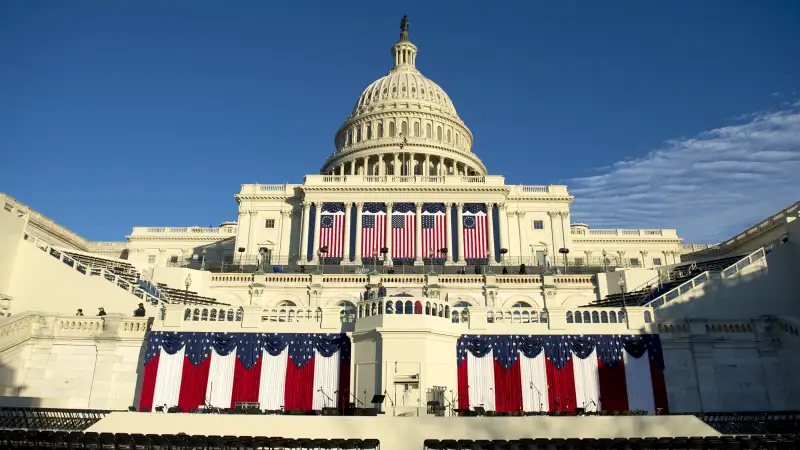 Saul Loeb/AFP/Getty Images
If you're looking to attend the inauguration on January 20, or you're heading to Washington D.C. for the Women's March the following day, there are still places to crash.
But unless you're willing to shell out hundreds per night, be prepared to stay outside the District in either Maryland or Virginia. With the historic events on deck for next week, rooms are going for a lot higher than the average $234 a night Hotels.com reported during the first half of 2016.
In fact, about 62% of all the hotel rooms in Washington, D.C., and the surrounding area already have been booked ahead of the back-to-back events next week, the booking site reported Wednesday. The least expensive room you can book for a trip down to see President-Elect Donald Trump take the oath of office is about $115 a night (as of Tuesday, according to Hotels.com), while the priciest option will set you back well over $2,000.
Even the Courtyard Marriott near the Washington Convention Center will set you back $899 a night for a room, a Money search found Wednesday.
Looking to stay at the president-elect's namesake hotel in D.C.? You're out of luck: The Trump International Hotel is sold out and even the wait list for rooms was shut down last month, according to a representative for the hotel. Those who did snag rooms paid dearly for the pleasure. The cheapest rooms were going for $1,250 a night, with a five-night minimum, according to the New York Times.
If you think Airbnb will be cheaper, don't count on it. Prices aren't that much better than for a far-flung hotel room in Maryland or Virginia, although you may be able to get closer to the action.
The average cost for rooms still available is about $495 a night, according to AirDNA, a site that tracks Airbnb prices. But that's not to say deals can't be found. On Wednesday morning, Money found an apartment for rent in Logan Circle -- roughly a half-hour's walk from the National Mall -- for just $190 a night during the inauguration.
Those who booked ahead paid much less -- around $230 on average, AirDNA reports -- while those renting shared space in someone else's home spent just $77 a night.
If you're heading to D.C. for the Women's March on January 21, a day after the inauguration, your options are a little cheaper -- but not by much. Hotels.com reported Tuesday that the cheapest room for the nights preceding and following the march was $105 a night -- although if you are staying for just the night after the march, you can snag a room for around $76.
Airbnb might be a better option here, with crash pads available for an average of $206 a night. As of Wednesday, about 11% of Airbnb listings were still available for the nights bracketing the women's march, with dozens still open in the District itself. The cheapest option Money found was a futon bed in the D.C. neighborhood of Bloomingdale, that was available for $85 a night.