This Hotel Booking Scam Is on the Rise. Here's How to Spot It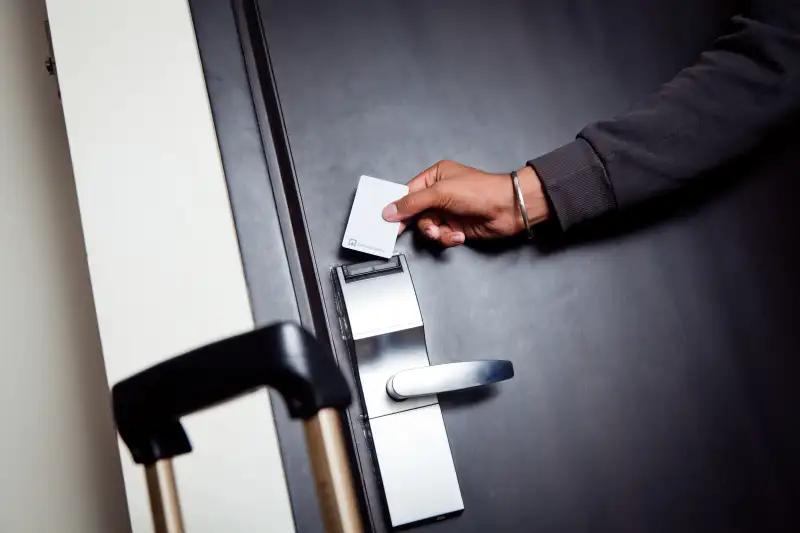 There are about eight hotel reservations made in the U.S. every second. But a growing number of people are being scammed when they go to book a room.
In fact, almost one in four American travelers reported booking on what they thought was a hotel website, only to find later it was another site, according to AHLA research released in April. That's up dramatically from the just 6% of travelers who reported being duped by a lookalike in 2015.
"Hotel booking scams are a major problem in the hospitality space today," says Mike Tanenbaum, who works on cybersecurity issues for insurance company Chubb.
Part of the issue is the wide range of booking options travelers now have for hotels—from booking directly to using a travel agent to making a reservation through an aggregation site. And even within the aggregation sites, there is a wide range, from the big names like Expedia, Hotels.com, and Priceline to lesser known sites like Reservation Counter and AMOMA.
So it pays to watch closely who you're booking with. "There are scam websites out there—small, fly-by-night affiliates looking to make a quick buck," says a spokesman for Reservation Counter.
Even legitimate sites can run into trouble if consumers are confused. Reservation Counter, for instance, says it made some cosmetic changes in recent months on the advice of a Google team, increasing the size of its logo and changing some of its ad links to make its own branding clearer. "It doesn't do any good to mislead or deceive consumers," the spokesman said. "You can't brand if you're confusing customers."
Even if you don't lose money on these scams, you may lose out on hotel loyalty points or other perks—and special requests for bed configurations or disability access may not find their way to the hotel, AHLA warns.
If you do think you've been scammed, contact your bank and credit card company immediately, Tanenbaum says. And the next time you're booking a hotel room, take these precautions to protect yourself.
Check the Booking Site's URL
When booking a hotel, check the website's URL carefully. Legitimate hotel sites generally will begin with the characters "https:"—with the "s" denoting a secure site—rather than just "http:," according to the AHLA. Tanenbaum also recommends that consumers look for the lock symbol in the upper left hand side of the search bar, a sign that denotes the site is secure.
If there's a website that does not have the locked symbol or an "https" in the web address, do not do business there, Tanenbaum warns: "I'd never put secure credentials [credit card information, a password, or any form of identification] into it."
Also avoid booking with websites whose URLs contain vague names that you don't recognize, such as "national reservation center," after the hotel's name, according to the AHLA. These sites are likely using the hotel name in the URL to make it seem that they are the official hotel website.
Know When You're Making a Nonrefundable Payment
Be wary of sites that charge for rooms in full, in advance—and be especially careful with sites that do all of this without your express authorization, the AHLA says. Most legitimate hotels will take your payment information and charge you when you arrive, or perhaps charge a deposit to hold the room. Some may also offer price breaks for payment in advance. But either way, at the time you are booking, the sites should clearly and transparently communicate when the payment is due.
No matter when you're making a payment, always use a credit card for a hotel booking. Credit cards generally offer more fraud protection than debit cards; you can usually work with the credit card company to recoup your money if there is a scam afoot.
"It's still better to use your credit card than your debit card," Tanenbaum says.
Ask Questions
If you have any doubts about the site you're using, call it directly, using any customer service number it provides, and ask to speak to the local staff. Ask questions that only legitimate front desk staff would be able to answer, the AHLA suggests—like recommendations for local restaurants and attractions. "The actual hotel should be able to provide this information, a third-party call center won't," the AHLA says.
Even if you don't reach out to the hotel while you're booking, it's worth contacting the property before you arrive. You can call or send a short email to the hotel confirming your reservation. This will help you avoid showing up to a completely booked hotel with no reservation on file.