This Is the Hottest Real Estate Listing in Every State. Nearly All Have One Thing in Common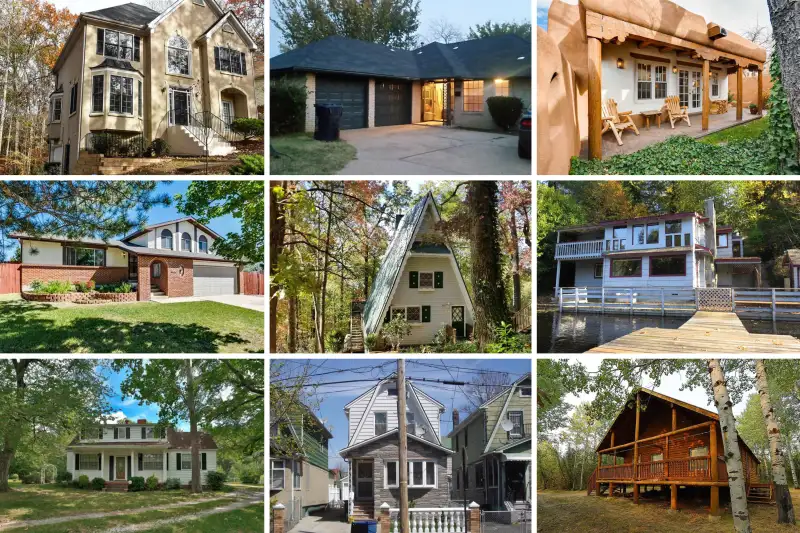 New York's most-desired house isn't located on Manhattan's tony Upper East Side or the Hamptons. It also doesn't come with doorman service, underground parking or access to a 24-hour gym. And with nearly identical neighbors on either side, it's not architecture that sets it apart. It's the price tag.
Curious to know what buyers really want in a home, Money asked real estate listings website Trulia to compile a list of the houses in each U.S. state that potential buyers most often bookmarked for future reference. Despite different locales, styles and amenities, the vast majority of the homes most desired by Trulia's millions of users have a single thing in common: affordability.
That is certainly the case for the two-story, turn-of-the-century house on a side street in Jamaica, Queens -- the perennially overlooked New York City borough where President Donald Trump grew up -- although not where he chose to live his life as a real estate tycoon and reality TV star.
Listed for just over $200,000, the house is a bargain in a competitive neighborhood where listing prices average $480,000. But it's not just a deal by New York City standards. The median U.S. home listing price is $261,500, according to Zillow.
And that's far from the only one. A pueblo-esque Santa Fe-style condo in New Mexico? Under $261,500. An A-Frame lake house in the woods of North Carolina? A whopping $161,600 below the median U.S. listing price. A combination estate/private nightclub perched above Los Angeles and designed by Lenny Kravitz? Well, okay, maybe not that one.
But, of the homes on Trulia's list, 44 of 50 are below the median U.S. listing price, while all but four fall below their respective state's median home listing.
At a time when quality starter homes are hard to find, it makes sense that buyers have their eyes peeled for deals. Excluding California's multimillion-dollar outlier, the average house on Trulia's list (compiled as of March 1) is a 1,670-square-foot three bedroom, two bathroom house listed for $169,713.
Wondering what buyers have their eyes on in your state? Check out the list below:
Alabama
Address: 2601 Elton Road, Huntsville
Bedrooms: 5
Bathrooms: 3
Square feet: 1,446
Price: $113,000
State's median home listing price: $190,000
---
Alaska
Address: 7824 W Mustafa Circle, Wasilla
Bedrooms: 5
Bathrooms: 3
Square feet: 1,934
Price: $265,000
State's median home listing price: $274,900
---
Arizona
Address: 12646 N 38th Ave., Phoenix
Bedrooms: 3
Bathrooms: 2
Square feet: 1,692
Price: $125,000
State's median home listing price: $275,000
---
Arkansas
Address: 16 Gold Lake Club Road, Conway
Bedrooms: 3
Bathrooms: 2
Square feet: 3,150
Price: $179,000
State's median home listing price: $161,000
---
California
Address: 1894 N Stanley Ave., Los Angeles
Bedrooms: 5
Bathrooms: 7
Square feet: 10,700
Price: $38,000,000
State's median home listing price: $499,900
---
Colorado
Address: 5515 Escapardo Way, Colorado Springs
Bedrooms: 3
Bathrooms: 2
Square feet: 2,000
Price: $294,900
State's median home listing price: $415,000
---
Connecticut
Address: 74 Wilmot Road, Hamden
Bedrooms: 3
Bathrooms: 2
Square feet: 1,376
Price: $159,900
State's median home listing price: $309,000
---
Delaware
Address: 13 E Weald Ave., Bear
Bedrooms: 3
Bathrooms: 2
Square feet: 1,850
Price: $150,000
State's median home listing price: $277,900
---
Florida
Address: 1945 SE 37th Court Circle, Ocala
Bedrooms: 3
Bathrooms: 2
Square feet: 1,562
Price: $50,000 starting bid
State's median home listing price: $288,000
---
Georgia
Address: 3139 McMurray Drive, Atlanta
Bedrooms: 6
Bathrooms: 4
Square feet: 2,589
Price: $198,000
State's median home listing price: $241,900
---
Hawaii
Address: 4999 Kahala Ave. #346, Honolulu
Bedrooms: 2
Bathrooms: 2
Square feet: 1,258
Price: $150,000
State's median home listing price: $610,000
---
Idaho
Address: 3650 N Rugby Drive, Boise
Bedrooms: 4
Bathrooms: 3
Square feet: 1,435
Price: $289,900
State's median home listing price: $287,990
---
Illinois
Address: 1302 28th St., Rockford
Bedrooms: 3
Bathrooms: 2
Square feet: 1,300
Price: $87,900
State's median home listing price: $214,900
---
Indiana
Address: 1049 E Huntstead Lane, Indianapolis
Bedrooms: 3
Bathrooms: 1
Square feet: 1,795
Price: $130,000
State's median home listing price: $167,400
---
Iowa
Address: 954 23rd St., Des Moines
Bedrooms: 2
Bathrooms: 2
Square feet: 1,341
Price: $75,900
State's median home listing price: $174,900
---
Kansas
Address: 6906 Horton St., Overland Park
Bedrooms: 2
Bathrooms: 1
Square feet: 1,446
Price: $179,000
State's median home listing price: $169,900
---
Kentucky
Address: 9000 Willowcreek Drive, Louisville
Bedrooms: 3
Bathrooms: 2
Square feet: 1,125
Price: $110,000
State's median home listing price: $174,900
---
Louisiana
Address: 17857 Barrett Lane, Baton Rouge
Bedrooms: 3
Bathrooms: 2
Square feet: 1,333
Price: $164,900
State's median home listing price: $200,000
---
Maine
Address: 352 Center St., Bangor
Bedrooms: 3
Bathrooms: 2
Square feet: 1,661
Price: $159,900
State's median home listing price: $224,900
---
Maryland
Address: 10179 Campus Way S, #24, Upper Marlboro
Bedrooms: 3
Bathrooms: 3
Square feet: 2,440
Price: $169,999
State's median home listing price: $295,900
---
Massachusetts
Address: 159 Main St., North Andover
Bedrooms: 3
Bathrooms: 2
Square feet: 1,795
Price: $394,900
State's median home listing price: $419,900
---
Michigan
Address: 24070 Morton St., Oak Park
Bedrooms: 3
Bathrooms: 2
Square feet: 1,430
Price: $130,000
State's median home listing price: $160,000
---
Minnesota
Address: 265 120th Lane, Blaine
Bedrooms: 4
Bathrooms: 2
Square feet: 911
Price: $245,000
State's median home listing price: $264,000
---
Mississippi
Address: 2219 Gregory Blvd., Gulfport
Bedrooms: 4
Bathrooms: 2
Square feet: 2,715
Price: $169,900
State's median home listing price: $175,000
---
Missouri
Address: 1310 S Cedarbrook Ave., Springfield
Bedrooms: 3
Bathrooms: 2
Square feet: 1,008
Price: $124,900
State's median home listing price: $165,900
---
Montana
Address: 319 E 2nd St., Corvallis
Bedrooms: 2
Bathrooms: 1
Square feet: 912
Price: $194,000
State's median home listing price: $310,000
---
Nebraska
Address: 3613 Center St., Omaha
Bedrooms: 4
Bathrooms: 2
Square feet: 1,600
Price: $129,900
State's median home listing price: $204,900
---
Nevada
Address: 213 Garfield Drive, Henderson
Bedrooms: 3
Bathrooms: 2
Square feet: 1,767
Price: $200,000
State's median home listing price: $299,900
---
New Hampshire
Address: 77 High Range Road, Londonderry
Bedrooms: 4
Bathrooms: 2
Square feet: 2,318
Price: $249,900
State's median home listing price: $279,900
---
New Jersey
Address: 270 Heywood Ave., Orange
Bedrooms: 4
Bathrooms: 3
Square feet: 2,555
Price: $275,000
State's median home listing price: $285,000
---
New Mexico
Address: 334 Otero St., #4-2, Santa Fe
Bedrooms: 1
Bathrooms: 2
Square feet: 856
Price: $142,500
State's median home listing price: $219,000
---
New York
Address: 10909 Pinegrove St., Jamaica
Bedrooms: 3
Bathrooms: 1
Square feet: 1,224
Price: $205,000
State's median home listing price: $379,000
---
North Carolina
Address: 20 Swiss Ridge Drive, Hayesville
Bedrooms: 2
Bathrooms: 2
Square feet: 1,152
Price: $99,900
State's median home listing price: $254,784
---
North Dakota
Address: 306 15th Ave., Fargo
Bedrooms: 3
Bathrooms: 2
Square feet: 2,346
Price: $171,900
State's median home listing price: $226,900
---
Ohio
Address: 2338 Wienburg Dr., Dayton
Bedrooms: 4
Bathrooms: 3
Square feet: 1,864
Price: $137,700
State's median home listing price: $149,900
---
Oklahoma
Address: 1108 NW 103rd St., Oklahoma City
Bedrooms: 3
Bathrooms: 2
Square feet: 1,323
Price: $89,000
State's median home listing price: $178,900
---
Oregon
Address: 2020 NE 134th Place, Portland
Bedrooms: 3
Bathrooms: 2
Square feet: 1,348
Price: $250,000
State's median home listing price: $359,500
---
Pennsylvania
Address: 110 S Sunset Dr., Greentown
Bedrooms: 2
Bathrooms: 1
Square feet: 858
Price: $69,900
State's median home listing price: $190,000
---
Rhode Island
Address: 115 Prentice Ave., Pawtucket
Bedrooms: 3
Bathrooms: 1
Square feet: 858
Price: $199,000
State's median home listing price: $285,000
---
South Carolina
Address: 7543 Peppercorn Lane, North Charleston
Bedrooms: 3
Bathrooms: 1
Square feet: 974
Price: $139,900
State's median home listing price: $239,000
---
South Dakota
Address: 2920 N Saint Paul Ave., Sioux Falls,
Bedrooms: 4
Bathrooms: 2
Square feet: 1,674
Price: $129,900
State's median home listing price: $224,250
---
Tennessee
Address: 4519 Oakwood Drive, Chattanooga
Bedrooms: 3
Bathrooms: 2
Square feet: 1,891
Price: $169,900
State's median home listing price: $225,900
---
Texas
Address: 3317 Marymount Drive, Denton
Bedrooms: 4
Bathrooms: 3
Square feet: 2,707
Price: $200,000
State's median home listing price: $269,900
---
Utah
Address: 1223 E 1100 S, Clearfield
Bedrooms: 7
Bathrooms: 5
Square feet: 3756
Price: $175,000
State's median home listing price: $344,990
---
Vermont
Address: 292 Hiram Atkins Byway, Quechee
Bedrooms: 5
Bathrooms: 2
Square feet: 2,384
Price: $69,900
State's median home listing price: $255,000
---
Virginia
Address: 8609 Village Way, Alexandria
Bedrooms: 3
Bathrooms: 3
Square feet: 1,330
Price: $214,900
State's median home listing price: $294,900
---
Washington
Address: 4115 Thornton Road, Olympia
Bedrooms: 3
Bathrooms: 2
Square feet: 1,727
Price: $250,000
State's median home listing price: $359,000
---
West Virginia
Address: 119 Trailblazer Lane, Hedgesville
Bedrooms: 3
Bathrooms: 2
Square feet: 1,202
Price: $135,841
State's median home listing price: $149,500
---
Wisconsin
Address: 1308 S 77th St., West Allis
Bedrooms: 4
Bathrooms: 1
Square feet: 1,285
Price: $129,900
State's median home listing price: $199,000
---
Wyoming
Address: 445 Cut Throat Drive, Thayne
Bedrooms: 3
Bathrooms: 2
Square feet: 1,276
Price: $170,000
State's median home listing price: $235,500