This Is How Much the Average American Spends on Housing At Every Age. How Do You Stack Up?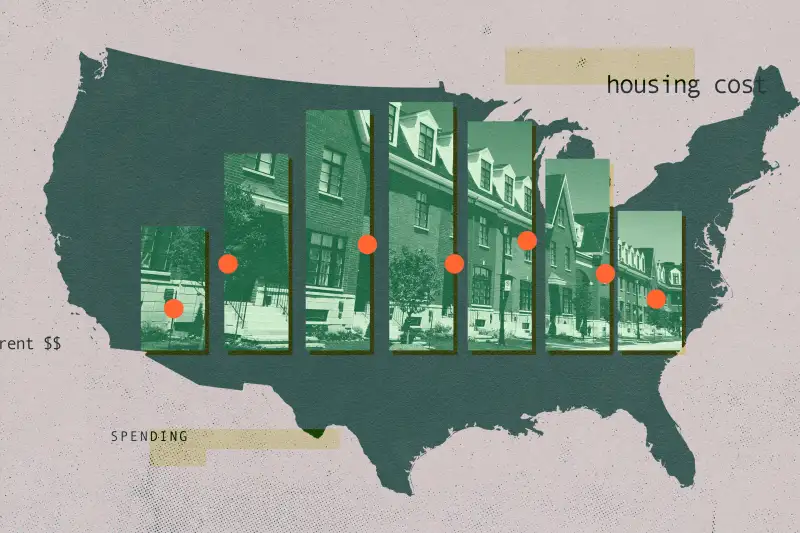 Photo Illustration by Lixia Guo; Getty Images
Housing costs eat up a big part of American budgets — and young people feel the crunch more than almost anyone else.
Those under the age of 25 spend nearly 24% of their pre-tax income so-called shelter expenses alone, according to data from the Bureau of Labor Statistics. That's among the highest of any age group.
If housing expenses are eating up more of your budget than you might expect, don't fret: the percentage of your paycheck that goes to housing will likely lessen as you age. The 2017 BLS data, the latest date available, shows the burden eases to 14% in your mid-40s.
Housing expenses may increase during a person's peak earning years, explains Jeff Tucker, an economist at Zillow, but salaries increase faster. And often, these households have two earners instead of one — a factor that shrinks the burden of housing costs even further. "Coming from both directions, that's more money to work with," Tucker says.
To be sure, those costs aren't gone for good. Those over the age of 65 begin to see shelter costs eating up more of their income. By the time they hit 75, the burden looks similar to the under 25 group.
The BLS tracks average U.S. housing costs as part of its Consumer Expenditure Survey. Costs for "shelter" include what Americans pay for rent and mortgage interest, property taxes and maintenance, among other costs. (The BLS does not count mortgage principal because the BLS considers principal payments as reducing homeowners overall liabilities. In a sense, you are paying yourself.)
Feeling pinched? Experts recommend spending no more than half of your income on month-to-month expenses, with no more than 30% dedicated to housing, Tucker explains. "By keeping housing down to 30%, the standard rule of thumb for decades, you leave a more comfortable 20% of income to accommodate other required costs like transportation, food and utilities."
If you're approaching that 30% cutoff, you might be able to trim your housing costs by finding a roommate, Tucker says. "Splitting the rent almost always saves money," Tucker says. "The rent per bedroom on a two-bedroom apartment, for instance, is very rarely twice as much as the rent on a one-bedroom apartment."
While no one age group's average shelter expenses exceed the cutoff, that burden is bound to vary from person-to-person based on individual circumstances. For example, the total amount you pay will likely be different based on whether you own a home or rent, and where you live. A recent Freddie Mac analysis named Miami, San Diego, Los Angeles and New York among the most rent-burdened metro areas.
US. Bureau of Labor Statistics
METHODOLOGY: We used data from the Bureau of Labor Statistic's 2017 Consumer Expenditures Survey. We considered data in the report's "shelter" subsection, which includes consumer expenditures on owned properties, rented properties and other lodging, but excludes expenditures on utilities, textiles and principal mortgage payments, which the survey considers repayment of a loan. For more information, visit the survey's glossary.