How Much Is Renters Insurance?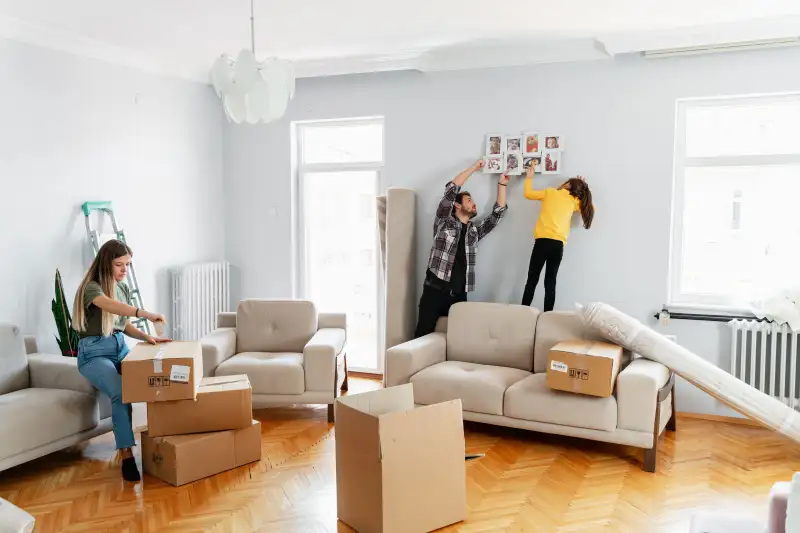 *Content includes branded mentions of our sponsor Lemonade."
The most recent statistics by the U.S. Census reveal that 34.1% of Americans live in rental properties. When you rent your home, your landlord has insurance on the structure, but you may not know that this coverage doesn't extend to your belongings. That's what renters insurance is for, and it can be as low as just $5 a month. Keep reading to learn about the average cost and the factors that can affect your premiums.
How much does Renters Insurance Cost on Average?
The best renters insurance policies include several coverage types. The primary coverage protects your possessions, but a typical policy will also include liability coverage, medical payments and additional living expense coverage. The average cost of renters insurance is around $15 per month, according to the Insurance Information Institute. Of course, you might pay more or less than this for your policy depending on your location, needs and situation.
Factors that Contribute to the Final Cost of Your Renters Insurance Premium
Renters insurance companies calculate quotes by considering several factors related to you, your home and what you need in a policy. To get an accurate quote, you'll need to supply the following necessary details to an agent or site.
Location
Your location affects your renters insurance costs due to its effect on risk levels. Some cities and areas are safer than others, and you'll pay more if you live in a high-crime area. The second location-related factor is the risk of natural disasters — such as wildfires and hurricanes — in your area. You'll pay lower rates if your area has a low risk of being hit with a natural disaster. The proximity of your rental to fire hydrants and a fire department can also affect your rates.
Type of Rental Property
There are two main types of rental properties: apartments and single-family homes. Apartment renters insurance generally costs less than for single-family homes because apartments have lower risk levels for claims. For example, theft and vandalism are more common in single-family homes than in apartments.
Additionally, larger apartment complexes typically have more safety features, including high-quality sprinkler systems. As a result, renters insurance premiums tend to be lower for rentals in larger buildings with many units.
Amount of Coverage
As with most insurance policies, higher coverage amounts are more expensive. With renters insurance, you can choose the personal property coverage amount — most renters go for $25,000 to $50,000 — determined by an accurate inventory of your property. You can also add other coverage types, such as liability coverage, and choose the coverage amount for the add-ons as well. A typical policy includes $50,000 to $100,000 of liability coverage.
Your plan's valuation method also affects your premiums. Most companies offer two methods:
Actual cash value (ACV). This method compensates you for losses by calculating the actual value of the items lost, taking into account each item's depreciation.
Replacement cost. This method values your lost items by calculating the amount you'll need to replace them. The replacement method is more costly than ACV but provides more compensation.
To better understand how both valuations compare, imagine you lost your TV to a fire. If you paid $1,000 for the TV five years ago, the ACV method might state that it's worth $200 today and compensate you that amount. The replacement method, on the other hand, would compensate you the amount it would cost to replace the TV today with a comparable model, so you might receive $1,200.
Credit History
There's a correlation between credit scores and insurance losses and claims. Specifically, people with higher credit scores tend to file fewer claims. As a result, you'll pay more for your coverage if you have a lower credit score. In addition to your credit, an insurance agent will consider your previous claim history. You'll pay higher rates if you have claims on your record.
Deductible
You'll pay cheaper renters insurance premiums if you choose a higher deductible for your plan. High deductibles reduce the risk the insurance company assumes when providing renters insurance policies, but they also leave you responsible for more money out-of-pocket when filing a claim. Higher deductibles may also discourage some renters from filing claims.
You can review several renters insurance quotes with different deductibles to find a plan you can afford with the coverage level you need. Most renters choose deductibles between $500 or $1,000.
How to Only Pay for the Coverage You Need
Given the affordability of renters insurance relative to, say, car or health insurance, you might be tempted to choose the highest coverage limits and all the available add-ons. But it still pays to avoid signing up for coverage you don't need. Here are several tips to help you choose the right types and amounts of coverage for your situation.
Make an Accurate Inventory of Your Belongings
Creating an inventory of your possessions is vital for two reasons. First, it helps you choose the proper coverage amount. For example, purchasing $25,000 of coverage is pointless if your belongings are only valued at $10,000. Second, an inventory provides proof of ownership. When you file a claim, the insurance company might ask you for a list of everything you lost. Having proof of ownership of those items will strengthen your claim. Unfortunately, only 49% of homeowners complete physical inventories, according to data from the Insurance Information Institute.
There are several ways to take inventory of your belongings. For example, make a list or spreadsheet of your items and place them into categories, such as clothing, kitchenware, linens, furniture and decorations. Calculate how much money you'd have to spend to replace each category, and include the amounts on your list. You should also write down any serial numbers and purchase dates for your expensive items and list these items individually.
For added protection, take pictures and videos of your items, and make digital copies of these files or store the lists and pictures in a fireproof box. This documentation will act as your proof of ownership if you experience a loss. And that loss doesn't necessarily have to happen in your home — some insurers, like Lemonade, will also cover your personal property anywhere in the world.
Talk to your insurance company about any especially valuable items on your list. You might need to add one or more riders to your policy, for extra protection on specific items. For example, a typical renters policy might offer $500 of coverage for jewelry. If you own $2,000 worth of jewelry, you'll need a rider to protect the extra $1,500 of jewelry. The same applies to other valuable items, such as artwork, instruments or electronics.
Choose a Deductible that You're Comfortable Paying
The deductible is the amount you pay when you file a claim. The insurance company then covers the remaining amount of your loss if the claim is covered under your policy. Though your deductible only directly affects you if you file a claim, it also affects your rates: higher deductibles yield lower premiums.
But before rushing to choose a high deductible, consider how much you could afford to pay if you experienced a loss and had to file a claim. You can't predict when you'll experience a loss, so you need to choose an amount you can afford. You should also consider the deductible's effects on your premiums. You can compare quotes with different deductibles to see the difference. Cheap renters insurance plans cost less but generally have higher deductibles.
Consider Personal Liability Protection and Medical Payments Coverage
Renters insurance primarily covers your personal belongings, but you can add extra coverage to your plan.
Liability Coverage
Renters liability insurance covers damages that others may experience as a result of accidents inside your rental property. For example, a guest could sue you if they get hurt while visiting your rented home. Liability coverage removes the financial responsibility from you personally by covering the legal fees and settlement for the event. The coverage amount is normally at least $50,000, but you can choose a higher amount for added protection.
Coverage for Medical Bills
Where liability coverage addresses the legal expenses associated with lawsuits from injuries, medical payments coverage applies to injuries a person incurs at your rental property. Choose an amount you're comfortable with, but remember your policy will cost more for higher coverage levels. A typical policy includes anywhere from $1,000 to $5,000.
Additional Living Expenses (ALE) Coverage
ALE coverage provides compensation if you experience a problem with your rental that forces you to move out temporarily. For example, your insurance company will pay for hotel costs if you have to rent a hotel room while your landlord fixes your apartment damage. It also pays for the extra costs of food and incidentals while you live somewhere else during the repairs. The average ALE coverage amount with renters insurance is $10,000.
Smart ways to Save on Renters Insurance
Though the average cost of renters insurance is around $20 a month, your policy might cost more or less than that. You can save money on a plan with the proper coverage by following these tips.
Opt for Paperless Billing
First, many insurance companies offer discounts to policyholders for choosing paperless billing. This is because the insurance provider saves money when it doesn't have to send paper statements to customers. They might cut a few dollars off your premium.
Hunt for Discounts
You might qualify for a discount on your renters insurance if your apartment building has a security system, locked exterior doors or a full-time door person monitoring the building. You might also qualify if your unit has proper smoke alarms or a deadbolt on the door.
Ask whether the company offers discounts for a claim-free history if you've never filed a claim. Requesting quotes from several insurance agents is helpful because it allows you to compare rates and coverage options to find the best balance.
Pay for a Full Year
When buying insurance for renters, remember that companies sometimes give discounts to policyholders when they pay in advance for a full year of coverage. An insurance company rewards customers who pay in full by offering discounts because prepayments reduce its risks and workload. Consider that one year of renters insurance coverage is only $180 ($15 per month on average).
Bundle with your other Insurance Policies
It's popular to bundle multiple types of insurance and purchase them from one insurance company because most companies will give you a discount for doing so. For example, if you already have an auto insurance policy and your insurance company offers rental insurance, you may receive a discount for purchasing both policies from that company.
Is Renters Insurance worth it if you don't own High-Value Items?
You might wonder if you need renters insurance coverage if you don't own expensive items. The answer, in most cases, is yes. Renters insurance provides important protection when you rent your home, including liability coverage, which protects you from lawsuits and costly legal fees. It also provides medical payments to guests injured while visiting your rental home and ALE coverage if you have to move out.
Furthermore, some landlords require tenants to take out a renters insurance policy before they move in.
Summary of Money's How Much Is Renters Insurance?
When analyzing the cost of renter's insurance, you'll see that it depends on your credit score, location and coverage amounts. The best renters insurance plans offer enough coverage for all your belongings and provide the additional coverage types you need when renting, including liability and medical payment protection.
Shop around with renters insurance companies to find the best policy and save money by following the tips listed here. You can expect to pay around $15 monthly. However, you might need to spend a little more on your policy for added protection.