How Tesla Became the Most Valuable Car Company in the U.S.
Money is not a client of any investment adviser featured on this page. The information provided on this page is for educational purposes only and is not intended as investment advice. Money does not offer advisory services.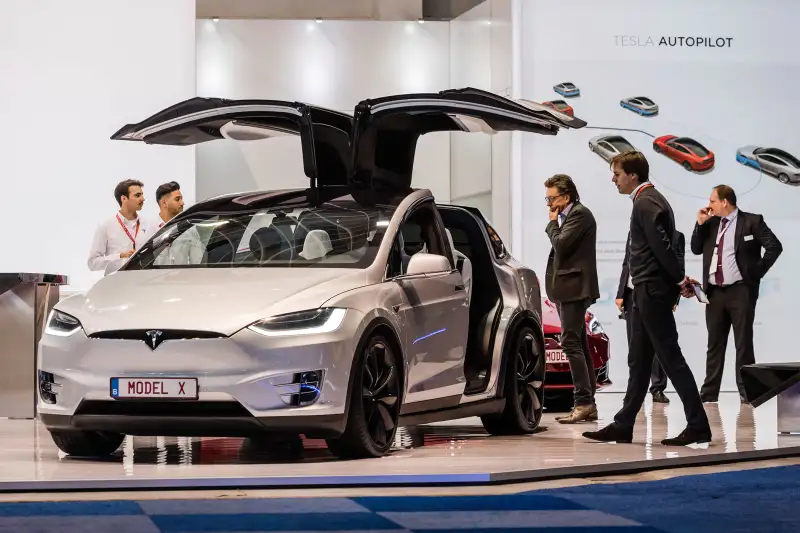 Geert Vanden Wijngaert—AP
The most valuable car company in America isn't based in Detroit.
It has never turned a profit.
And it has never mass produced millions of vehicles in a single year, like virtually every other major auto manufacturer does.
Yet thanks to a 65% jump in its stock price this year, Tesla — which disrupted the auto industry with its long-range electric cars, and wants to do the same with trucking with an all-electric big rig in the fall — has surpassed General Motors to become the valuable car maker in the United States.
Tesla now sports a market capitalization of $59 billion, versus $52 billion for General Motors and $44 billion for Ford.
You can thank Tesla founder and visionary Elon Musk for much of that. He has captured investors' imagination by not only proving that demand exists for all-electric vehicles, but that his Silicon Valley firm has the technological wherewithal to actually manufacture high-quality cars that drivers covet. Tesla has won numerous awards for quality and was recently named the "top American car brand" by Consumer Reports.
But not everyone is sold. Famed hedge fund manager David Einhorn of Greenlight Capital recently told his investors that "the enthusiasm for Tesla and other bubble-basket stocks is reminiscent of the March 2000 dotcom bubble." He went to note that "while we don't know exactly when the bubble will pop, it eventually will."
So which fabulously successful billionaire should you believe — Musk or Einhorn?
Sales are Increasing

Tesla is the rare tech start-up that makes something consumed in the physical universe. Driven by two high-end products — the Models S and Model X — worldwide sales jumped from just over 5,000 vehicles in 2012 to more than 76,000 last year. Revenues have also jumped as a result. Tesla rang up $7 billion in total revenues last year, up from a mere $200 million five years earlier. And it's estimated to take in $19 billion in 2018, according to Bloomberg.
But now comes the hard part.
Musk & Co. are about to start production of the highly anticipated Model 3, Tesla's first stab at a truly mass marketed car. The Model 3 will retail for as low as $35,000, which is about half the base sticker price on its high-end Model S. There's already a wait list of around half a million pre-orders, each reserved with a $1,000 deposit.
Tesla expects to produce 5,000 Model 3s a week by the end of this fiscal year, and 10,000 sometime in 2018, with the help of its lithium-ion battery factory in Sparks, Nevada — the so-called Gigafactory.
Producing 500,000 vehicles in 2018, after making less than 100,000 two years earlier, is why investors are salivating, especially since they're sold directly to customers without a dealer. But it's also why some investors are worried.
As Musk himself conceded at the company's annual shareholder meeting on Tuesday, "It's crazy hard to make cars. There's 10,000 unique items, and it only moves as fast as the slowest item."
That's not even counting the headache of replacement parts, repairs, customer service, and recalls to handle for possibly a dozen — which is the average age of cars on the road today. And those things will be harder for a company that does not rely on a network of traditional dealerships scattered around the country.
Risks are Rising
Tesla has experienced production delays before on both its Model S and Model X. And it wouldn't be surprising if the same issues crop up with the Model 3.
That's especially true because of the larger manufacturing scale. But it's also because Tesla is reportedly skipping the usual preliminary run of vehicles to test its production equipment and going straight to a permanent install of manufacturing equipment.
Not everyone thinks Tesla is up to the task.
"[Elon Musk] has yet to actually take any money and turn it into a profitable business and I don't have any optimism that will change," David Einhorn told Bloomberg News in June. Einhorn, who is shorting the stock, earlier referred to investors as being "hypnotized by Tesla's CEO."
General Motors sold more than 10 million cars in 2016 (or about 9.9 million more than Tesla) and delivered a return on equity of 24%, compared to Tesla's -25%.
The Long Game
In addition to whether Tesla is up to the challenge of becoming a giant car manufacturer, there's still this question: Just how many people want an electric car?
"Global mass adoption of pure electric vehicles is still a long way off," notes Morningstar analyst David Whiston.
And even if there are millions of drivers waiting for an electric vehicle, it's not yet clear how quickly Tesla will be able to meet demand. Tesla will need to spend billions and billions to build up other gigafactories across the country needed to actual produce them, after upping its debt load when it bought solar panel company Solar City.
If Musk can pull it off, Tesla could soon challenge Toyota for global supremacy. But investors will have to pay a high price to find out. Tesla's price-to-sales ratio is six times higher than GM's, and it doesn't have a price-earnings metric since it won't make a profit anytime soon.