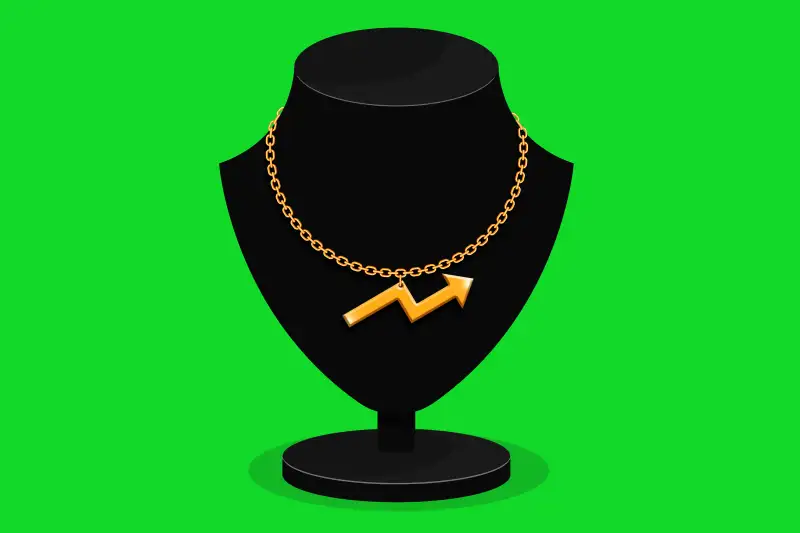 Kiersten Essenpreis for Money
There are two main ways for people to invest in gold. They can purchase physical gold in the form of bullion bars, coins, and jewelry. Alternatively, they can invest in financial instruments: whether by purchasing shares of mutual or exchange-traded funds or by trading futures and options.
Our guide on how to purchase gold in 2021 will help you understand your different purchase options and what to look out for when investing.
What to know before you buy gold
Check the current price
Before buying gold, whether in its physical form or as an investment instrument, check the current spot price of gold (also called the live price). This is determined using the nearest month gold futures contract with the most volume.
In the U.S., the COMEX is the primary exchange that trades gold, and therefore where the price is set. The London Bullion Market Association also provides a twice-daily "fix" price used as a benchmark for large market participants.
Not all sellers will automatically fix their markup prices according to the market, so you may very well end up paying more than the actual value. As of March 30, 2021, the price of gold is $1,684.48 per ounce.
Be aware that you won't be able to buy physical gold at the spot price, since there are premiums involved due to manufacturing, procuring and selling the product.
How to Buy Physical Gold (and Where)
Gold bullion bars
When most people are looking to own gold, bars of bullion — physical gold of high purity, usually in the form of ingots, bars, rounds or coins — are likely what first comes to mind. These can be purchased in different weights, from just a few grams to 400 ounces for around $700,000 (the same bars held and traded by central banks around the world).
You can purchase investment-quality gold bars with 99.5% (995) purity, considered the world standard. Legitimate gold bars are stamped with the manufacturer's name, karat purity, and weight.
Where to buy gold bars
Gold bullion bars and rounds are generally sold and then mailed to you by online gold retailers — such as JM Bullion, APMEX, Provident Metals, Westminster Mint, or Money Metals Exchange — which can offer discounts for paying with a credit card or for members of the military, as well as for purchasing large quantities. Some retailers consider buying 100+ gold bars (or 500+ gold coins) a "bulk" purchase, but this will depend largely on the seller.
You may be able to buy smaller gold bars, ranging from half a gram up to 100 grams, in stores that specialize in numismatics, pawnshops, or some jewelry stores.
Gold coins
Several countries and private mints currently mint uncirculated gold coins, including the U.S., Australia, China, Canada, and even Kazakhstan, to name a few. Though they are technically legal tender and could be used to theoretically pay for a soda at the corner store, bullion coin's face value is less than could be had by melting them down (meltdown value).
In other words, a 1oz American Gold Eagle 2019 coin's face value might be $50, but if it was melted down, the value of the gold itself is $1,742.20.
There are also collectible coins that have an even higher market value due to their rarity or because of high demand.
Minted coins usually range in weight from one-tenth (dollar value ~$200) to an ounce (dollar value ~$2k) to accommodate different investors' buying power. The gold percentage in coins is regularly between 22- to 24-karats, with the purity guaranteed by the government mints that produce them.
Popular choices include the American Eagle and U.S. Mint 24K Gold Buffalo (made by the U.S. Mint), the Canadian Maple Leaf, South African Krugerrand, Vienna Philharmonic, Mexican Gold 50 Pesos, British Sovereign, and the Australian Kangaroo.
Where to buy gold coins
Most people buy gold bullion coins directly from the mints that manufacture them. Other points of sale include coin shops, online dealers, eBay, TV dealers, or coin shows.
These are some of the most well-known gold mints in the world:
Government - U.S. Mint, Royal Canadian Mint, Royal Mint, the Central Mint of the People's Bank of China, and the Perth Mint,
Privately-owned - New Zealand Mint, Sunshine Minting, Valcambi, Austrian Mint, South African Mint, Geiger Edelmetalle, and PAMP Suisse
Jewelry
When buying gold jewelry, keep in mind that pricing will be tied to the craftsmanship and that the amount of gold contained in the piece is just a percentage (karat) of the total weight. In effect, this means that the price of the piece will be inflated to account for its manufacture and any alloys employed in its make — so, you'll be paying more money for less gold.
To demonstrate, the most common type of gold used in jewelry in the U.S. is 14K gold, produced from 58.3% pure gold and 41.7% mixture of other metals like copper, silver, nickel, and zinc. The most common mixtures of gold are 14K, 18K, and 22K.
Caveats to Buying Physical Gold
Know where your gold is coming from
Gold mining can leave a significant toll on the environment, to say nothing of social, human rights and governance issues, as many gold mines are located in conflict-affected or otherwise high-risk areas.
In 2019, the World Gold Council took steps to implement guidelines for member companies, as did the International Council on Mining and Metals. Both require that participating mining companies publish information on their progress publicly, making it easier for consumers to find.
If you're buying gold bullion rounds or bars, it's best practice to look for pieces stamped with information about the maker, weight, and purity of the gold.
When purchasing gold jewelry, some retailers are taking additional transparency measures similar to those implemented against so-called "blood diamonds" from conflict areas. They're often sold under the tags "ethical" or "sustainable."
Understand the fees involved with physical gold
Buying physical gold entails a number of different costs (including taxation) that you won't find when investing in financial instruments. These include the storage fees in a bank deposit box or precious metals depository, insurance costs, transportation and delivery costs, transaction fees whose percentage is based on the value of the trade, and even fabrication fees. Gold dealers may also impose buy-back fees on any transaction. Small purchases may also involve processing fees and small lot fees.
Confirm the purity of your precious metals
Make sure you know the 'caratage' of the gold you're acquiring, that is, the actual gold content in the piece.
The highest karat you can buy is 24 karat or 999 gold, which by all measures is considered pure gold. The lower the karat, the less gold per part.
Usually, the lowest jewelry and investment grade gold is 14 karats, which is 58% gold and 42% alloyed metals.
How to Invest in Gold
Gold ETFs
An ETF (exchange-traded fund) is a financial instrument, or security, that typically tracks an index, (though some may track a sector, commodity, collection of securities, or the value of an underlying asset).
In the case of gold exchange-traded funds (ETFs), then, the index being tracked is usually the spot price of gold and gold-related indexes. Some gold ETFs deal with the commodity itself, either by owning physical gold in a vault or entering into futures contracts. Others invest in companies within the gold industry, often either gold mining stocks or gold streaming companies that provide financing for gold miners.
ETFs that invest in baskets of gold miners' stocks (often called gold stocks) are more complicated investments, since they don't track the price of gold per se, which tends to remain basically stable, but rather the rise and fall of the mining company stocks. Since this can be affected by outside factors, such as a strike or a mining accident, they may diverge considerably from the price of physical gold.
How to invest in gold ETFs
The fund either purchases stock in gold-related companies or buys and stores gold bullion itself. Investors then buy shares in the fund through a stockbroker, whether in-person or online.
Unlike mutual funds, which we'll get into further down, ETFs are typically passively managed, meaning that they don't have a fund manager or team to research, analyze, and trade securities. While this results in lower fees, the ETF will still have an expense ratio — a management fee deducted from the fund's assets.
This doesn't mean you'll have to pay the fee out of pocket, but rather that you receive the total return of the ETF, less the expenses. Expense ratios for gold index ETFs average around 62%, according to ETF.com, with gold miner ETFs averaging 75%. Doing the math, this comes out to $62 for every $1,000 invested, in the case of a gold index ETF.
Before investing, it's a good idea to check whether the ETF is accurately tracking the performance of its index. Ideally, your ETF should both have low expense ratios and closely replicate the performance of either the price of gold or gold-related indexes.
Some of the gold ETFs that trade in the U.S. are:
SPDR Gold Shares ETF (GLD)
iShares Gold Trust ETF (IAU)
SPDR Gold MiniShares Trust (GLDM)
Invesco DB Precious Metals Fund (DBP)
Aberdeen Standard Physical Gold Shares ETF (SGOL)
GraniteShares Gold Trust (BAR)
VanEck Merk Gold (OUNZ)
Gold Mutual Funds
Gold mutual funds typically invest in gold mining or refining companies' stock, though some own small amounts of bullion. Their value fluctuates according to the gold market and the value of said companies, in the manner of gold miner ETFs, and can therefore be similarly volatile.
Make sure to check your mutual fund's expense ratios and fees, since these can differ considerably. Mutual fund expense ratios tend to be higher than those of ETFs because they're usually actively managed, meaning there's a fund manager or team of people conducting research, analyzing it, and then making investment decisions for the fund.
If you're already a shareholder, this information can be found in the yearly prospectus — if not, financial news websites, journals, and fund screeners may also have the information.
Likewise, it's a good idea to look into the fund's long-term performance, if it's active.
How to invest in gold mutual funds
Mutual funds can be purchased through a brokerage (in-person or online) or via online stock trading apps.
Some of the gold mutual funds that trade in the U.S. stock market are:
Sprott Gold Equity Fund (SGDIX)
Franklin Gold and Precious Metals Fund (FKRCX)
Gabelli Gold Fund Class AAA (GOLDX)
Invesco Gold and Special Minerals FD (OPGSX)
US Global Investors and Prec Mtls Fd (USERX)
First Eagle Gold Fund (SGGDX)
Van Eck International Investors Gold Fund (INIVX)
USAA Precious Metals and Minerals Fund (USAGX)
Fidelity® Select Gold Portfolio (FGDAX)
Gold Mining Stock
Of course, rather than invest in a mutual fund that pools money from multiple investors, you could also buy stocks in gold mining companies directly.
Some of the major players in the gold mining industry are:
Barrick Gold (GOLD)
Newmont Corp. (NEM)
Newcrest Mining Ltd. (NCM)
Kinross Gold Corp. (K.TO)
B2Gold Corp. (BTO.TO)
AngloGold Ashanti (AU)
Karora Resources Inc. (KRR.TO)
Sibanye-Stillwater Ltd. (SBSW)
Dundee Precious Metals Inc. (DPM.TO)
There are a few questions that may help you narrow down your search and figure out where you'd prefer to invest.
Determine the scope you're looking for
While some companies only have a single mine as their primary revenue and profit source, others are giants of the mining world, with operations that span the globe.
Do you want to focus solely on gold?
If you do, investing in a mining company can be tricky, since it's rare that they don't also mine for other metals or base materials. In some cases, gold can be a smaller revenue source overall. If you don't want market exposure to other metals, these might not be the choice for you.
Consider whether you want to invest in South Africa
South Africa has long been a fertile gold mining ground thanks to the considerable natural resources. Though not strictly a commodity-dependent economy (defined as more than 60% reliant on commodity exports), the World Bank reports that minerals make up roughly half of South Africa's goods exports. This dependence has made the country particularly susceptible to volatility in commodities prices. Rising operating costs and government regulations have led some large mining companies, like Anglo Gold Ashanti, to leave the area altogether. If you buy shares in a South African mining company, make sure to understand the risks.
How comfortable are you with risk?
Typically, the gold mining stock you'll find in exchange-traded funds (ETFs) is from companies that rely on existing mines in production, with (possibly) some mines in development thrown into the mix. However, you could also buy stock in junior gold mining companies. These are defined as small- to medium-sized market cap companies, whose total value of all the company's shares outstanding add up to $300 million to $2 billion, or $2-$10 billion, respectively. The value of their stock depends on their ability to get out of the developmental stage and into the production one. While the payoffs for these may be sizable once the mining operation gets off the ground, investing in them at that stage carries a lot of inherent risk.
Are you interested in gold streaming?
Streaming companies bypass all the messy work of actual mining and simply provide capital to miners for production, exploration, or paying down debt. In return, they obtain the right to buy either a set amount or a percentage of the mine's gold — at a fraction of the market value — in the future. The success of the streaming company relies on the success of the mine, but their exposure to both risk and potential gains is limited. Further, none of the major streaming companies, such as Franco Nevada Corp. (FNV) are purely dedicated to gold, with most portfolios also adding exposure to silver.
Gold Futures Contracts
Gold futures are an agreement to trade a certain amount of gold (often 100 troy ounces) decided and standardized at a set time, with a future settlement day in which the trade will be finalized. The buyer locks in the right to buy the gold at the current contract price, and the seller locks in the price to deliver the gold on the agreed-upon date. In most cases, futures contracts are resold or renegotiated before the settlement date.
Every futures contract has two sides, the long position (buyer) and the short position (seller). The latter agrees to deliver the commodity, while the former agrees to receive it. As the price of gold goes up or down, the contract's value fluctuates as well.
Futures contracts are usually offered for 100 troy ounces and quoted in US dollars per ounce. In the US, gold futures are traded in the New York Mercantile Exchange (NYMEX). You can learn more about futures in short video courses offered by CME Group Gold Futures.
What makes a futures contract attractive is the low margin deposit requirement needed to trade, anywhere between 2% and 20% the total value of the contract. This performance margin is set based on the risk of market volatility — as prices have more variance, the required deposit then grows.
Further, if the account falls below a specified maintenance margin, the broker sends the investor a margin call requiring him or her to deposit enough funds to bring the account back to the initial margin level.
Still, since the investor is only putting up a fraction of the value of the contract, they have a lot of leverage, meaning the ability to trade and manage a high-value asset for a (comparatively) small initial investment.
Word to the wise: it's quite rare for individual investors, even experienced ones, to invest in futures contracts due to their substantial risks and complexity.
Should You Buy Gold?
Hedging your bets
There are many different reasons for an investor to consider buying gold. Historically, it's been considered a great hedge (or way to reduce risk) against inflation, since the price of gold tends to go up when there are increases in the cost of living.
Some recent research contradicts that to a certain extent, proposing that when the inflation-adjusted price of gold is high (as it is now), it has a low prospective real return. However, this doesn't take into account the unprecedented money creation the Federal Reserve undertook in March or the massive rise in world-wide holdings of gold ETFs.
A safe port in the storm
Gold is also considered a safe haven that diversifies your investment portfolio and retains or increases in value during highly volatile periods in the market. As a physical commodity, gold isn't printed like paper money, and its value isn't impacted by government-made interest rate decisions. Likewise, it's not correlated to stocks, bonds, or real estate. Further, gold has high liquidity, meaning it's easy to sell at or around its spot price, on the open market.
Allocating to gold
The percentage of gold in your portfolio depends on a number of factors, including your risk tolerance and long-term financial goals.
Bear in mind that investing in gold is unlikely to bring huge immediate returns. It's not a basic portfolio building block like stocks and bonds, but rather something that can fit into your diversification box.
That being said, gold became a wildly popular option last year, in part because it's easier to buy than in decades past and in part due to its 28% increase in 2020, according to S&P Global.
How to Buy Gold FAQs
When to buy gold?
As with almost any other asset, the best time to buy gold is when it's inexpensive but projected to increase, so you can sell high. While much has been said about gold's seasonality, with prices rising through the middle of the year, and going down from late February to early July, this is not a hard and fast rule.
Remember that prices fluctuate considerably, and that different buying and selling strategies can make sense with your personal investment portfolio.
Generally speaking, experts recommend buying gold as a hedge against a financial crisis, when the cost of living tends to rise and gold is seen as a safe haven. This isn't necessarily the case during inflationary periods, as we explained above.
What is the best way to buy gold?
If you're looking to buy physical gold, buying online is probably your simplest option. Reputable dealers will sell marked gold coins and bars that show information about their origin, weight, and purity. When buying online, make sure that the seller fully insures their shipments. If buying stock or ETFs, consult with your financial advisor and procure stock through well-known stockbrokers or trading apps.
Do banks sell gold?
Some banks may carry gold coins, but in general, they do not sell gold. Before walking into a bank in hopes of buying gold, it's best to call your financial institution and ask what, if any, gold assets are available for purchase.
Can you make money from buying gold?
The price of gold is constantly fluctuating, so making money off it will depend on the net gain or loss of your investment during a period of time. Apart from selling your gold at a higher price than you bought it, it's important to know what taxes will apply to your transaction. Taxes on profits from gold sales are taxed at a maximum of 28%.
[money-faqs-item question="What's the current value of gold?"]
As with any tradeable asset, the price of gold is in constant flux. The current 10-year-high sits at $2,067.16, while the 10-year-low stands at $1,049.41 (as of April 2021).
In March 2020, the gold price was $1,635.14, while it's currently going for $1,732.78 (as of March 27, 2021). For current gold prices, you can check pages such as J.M. Bullion or Goldprice.org.