The Mega Millions Jackpot Is $1.6 Billion and Yes You Can Buy Tickets Online. Here's How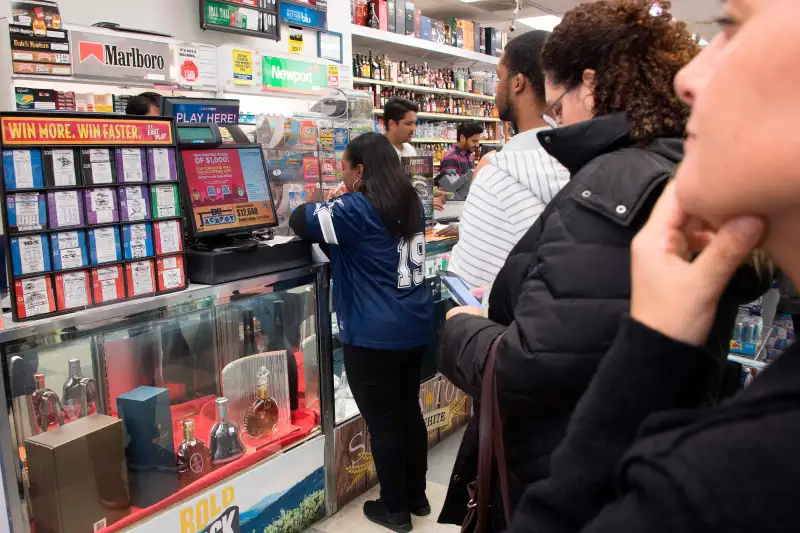 JIM WATSON—AFP/Getty Images
The Mega Millions jackpot is now up to a whopping $1.6 billion. That's the highest lottery jackpot in U.S. history!
The drawing for the record-breaking $1.6 billion Mega Millions jackpot is Tuesday, October 23, at 11 p.m. ET. Don't wait until the last minute, though: Depending on where you are playing the lottery, the deadline to buy Mega Millions tickets arrives 15 minutes to more than an hour before the drawing.
If your ticket has all six Mega Millions winning numbers and it's the only winner, the $1.6 billion jackpot would be yours — though it wouldn't be quite so large, what with the lump sum payout coming to $904 million, before taxes are taken out.
Naturally, with the enormous $1.6 billion jackpot on the line this week, you may be wondering: How do you buy Mega Millions tickets? And, for those of us who spend our days in front of a screen, or for people who simply want to avoid long lines at stores selling Mega Millions tickets, another question: Is it possible to buy Mega Millions lottery tickets online? Here are the answers.
Where Can You Buy Mega Millions Tickets Online?
Mega Millions tickets cost $2 each and are sold by retailers in 44 states, plus Washington, D.C., and the U.S. Virgin Islands. However, only seven states let you buy individual Mega Millions tickets online. They are:
• Georgia
• Illinois
• Kentucky
• Michigan
• New Hampshire
• North Carolina
• North Dakota
Subscription lottery purchases — where you can set how many games you play over a set time frame — can also be bought online in the following states:
When you buy a subscription lottery online, it works similarly to individual Mega Millions ticket sales, though there are minimum deposits and time commitments required with subscriptions. In Virginia, for example, the minimum Mega Millions subscription is two weeks and a $20 deposit.
How to Buy Mega Millions Tickets Online
Not everyone can buy Mega Millions lottery tickets online. For one thing, you must be a resident of one of the states where online lottery tickets are sold, and you must physically be located within that state's borders at the time you are buying Mega Millions tickets online. In other words, online Mega Millions tickets are not available across state borders.
Also, you must register with your state lottery before you can buy Mega Millions tickets (or any lottery tickets) online. To open an account, you must enter a valid email address, physical address, date of birth, and other personal information, plus a form of payment.